The electronic music world is orbiting around Miami this weekend and even the Fresh Prince wanted in on the action.
Nearly every DJ and key industry player has descended on the 20th annual Ultra Music Festival. Talent ranges from the bankable big guys plastered on L.A. billboards (like Tiesto, who has played 16 of the 20 Ultra festivals), to producers who architect the summer season in Ibiza, to founding generation names like Sasha and Digweed.
On Saturday night, the 155,000 fans made room for one more: Will Smith.
Also Read: Jimmy Fallon, Will Smith Perform the 'History of TV Theme Songs' - Yes, Including 'Fresh Prince' (Video)
Smith was the first of a few surprise guests to join crossover pop DJ Marshmello on the main stage, emerging from behind the turntables to rap "Welcome to Miami."
Marshmello and his manager, Moe Shalizi, are acutely tuned in to their fan base and the zeitgeist — so they married two of the dominant pop culture trends of the moment, '90s nostalgia and hip-hop's resurgence with Gen-Z. Will Smith is the human embodiment of both.
He's old enough to be most of the ravers' dad (the ultimate "Rave Dad") but no one will accuse him of being a "parent who just doesn't understand."
Also Read: Mark Zuckerberg's Net Worth Has Dropped $10 Billion in the Last Week
Beyond Smith's novelty cameo, Ultra's performers pilot eight stages that have invaded the waterside Bayfront Park for three day and nights of "oontz oontz" with a side of fireworks, pyro and LED-heavy megastructures (above).
On the opening day alone, The Party Report spotted British producer Hot Since 82 spinning from inside the head of a fire-breathing spider stage.
Nearby, hands-up "big room" producers Hardwell and Armin Van Buuren blinded even the back of the field with the main stage's lighting towers. Dancing visuals were projected on to Miami's skyline as synchronized light shows seemed to emanate from within downtown corporate office towers.
At this festival, "backstage" is a yacht docked next to the park. Aboard that yacht, international charisma brand Steve Aoki casually stuck out his hand to introduce himself minutes after unplugging from a sunset main stage performance with Daddy Yankee and Desiigner (below).
Also Read: Coachella 2018 Lineup: 15 Surprises and Snubs
"You can't do Miami without a yacht," publicist Romina Magorno-Ayala (there with her client Aoki) educated the out-of-towner Party Report.
Beyond tropical trappings, Ultra has a reputation for expanding their fan base's music diet.
"We've always offered a radical view of dance music by incorporating crossover and live performances," Adam Russakoff, Ultra's Executive Producer/Talent Buyer, recently told Ocean Drive. "It's vital to remain unique while still staying within the confines of electronic performances."
As the first major music festival of the 2018 summer season, artists leverage Ultra to set the table for the year ahead. Similarly for the Ultranauts (read: fans), many of them dedicated festival goers, it's like opening day. Suddenly, Coachella is only two and a half weeks away.
Accordingly, this dive in to Ultra comes through the lens of a professional Indio enthusiast.
Also Read: Coachella Says No Weed This Year -- Even Though It's Legal in California
Here's what it's like on the ground:
What are these Stages? A fire-breathing Spider and the Carl Cox MegaStructure
The aforementioned Arcadia "Spider" stage travels the world as a hybrid art installation and performance space.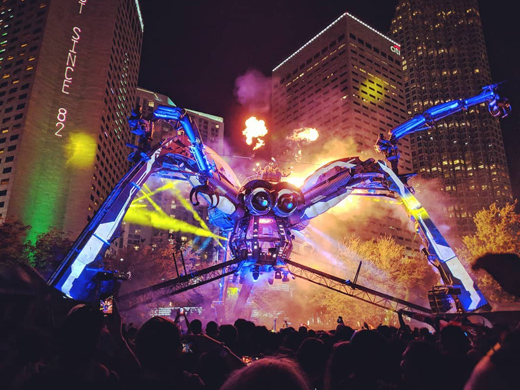 The Ultra Worldwide stage is an LED rainbow:
Rezz, a 22-year-old female producer from Canada (below), sounds like Skrillex was her babysitter. She  rocked under the arch on Friday night (March 23).
Rezz mixed up her chunky "wub wub" sound by sprinkling in some Rage Against the Machine with "Killing in the Name" ranking as highlight (above). She's on the bill in Indio and one to watch at Coachella.
Also Read: Bill Hader's 12 Best Characters Ranked, From Stefon to Vincent Price (Photos)
Finally, festival Uber & Lyft that actually works

Kudos to festival founder Russell Faibisch. He and his team solved the scarce Lyft and Uber problem that plagues Coachella, EDC and other festival fans at the end of a long day. Here, both services had multiple "flaggers" and people holding signs directing thousands of departing people toward an expedited valet system.
Rides are not an issue at the "walk-on, walk-off" grounds of Lollapalooza in downtown Chicago, but here in Miami with only a fraction of the space that Coachella has to work with in the desert, the lots were nearby and efficient. The show ended at midnight. At 12:04 a.m., The Party Report was in a Lyft.
Ultra breaks news (Part 1)

Fliers handed out on site announced the festival's 2019 dates, an early warning shot for many of the international attendees. Earlier in the week, Ultra announced that it had acquired Winter Music Conference, the once-prominent electronic and DJ industry conference that used to be the main event in Miami every March.
From Ultra's 1999 origin on South Beach as a sideshow that used to accompany a professional conference, Ultra has grown enormously. For the past several years, it was the tail that wags the Winter Music Conference dog. No more. This week, it ate the dog.
Ultra break news (Part 2): A Swedish house mafia reunion?
The festival is known for nurturing "moments." Justin Bieber's comeback began here in 2015 with a surprise appearance with Diplo and Skrillex to reveal "Where Are Ü Now?" for the first time. Madonna once turned up, made a bad joke and caught the wrath of Deadmau5.
Also Read: Madonna Set to Direct Ballerina Film 'Taking Flight'
The big 2018 rumor was a reunion by EDM super group Swedish House Mafia, which broke up after a final performance at this same festival five years ago. Two of the three, Axwell and Sebastian Ingrosso, have gone on to pump out new hits like "On My Way" and "Dreamer" and tour the festival and nightlife circuit.
With about 15 minutes left in their Friday night headlining set, Axwell Λ Ingrosso teased the audience by playing Swedish House Mafia's final single, "Don't You Worry Child," but that's as far as the reunion went…for now.
The listed set times included an intentionally blurred name as the final performance on Sunday night, heavily tipped to be this reunion. In a festival known for "moments," that would be the headline.
Others are less impressed.
"So, in other words, (estranged third member) Steve Angello walks on stage to play the same songs they have all played for years and years," Reddit user LA90036 snarked online.
Also Read: Corden Tells Kim Kardashian Who Is His Least-Favorite Jenner: 'F-- Her, She's the Worst' (Video)
This is a Jenner-free zone

Though Bayfront Park in downtown Miami is more densely packed than Lollapalooza's footprint in Chicago, there's less urgency in Ultra's crowd. While one disinterested local professional slugged Ultra-goers as "freakazoids" and a Miami public relations executive sighed "Ugh. Why?" when I told her that I was going to the festival, there's only a fraction of the selfie narcissism that runs through Coachella.
The phones come out, but in a more healthy "back camera" to "front-facing camera" ratio. Shooting the stages and performers seemed at least as important as snapping yourself.
Bonus: There were no Jenners, Kardashians, or flower crowns spotted. Glitter, sequins, and Will Smith? Those are unavoidable.
The 20th Ultra Music Festival continues through Sunday night, Mar. 25 and is livestreaming on UMF TV on YouTube.