Univision tried to speak to advertisers Tuesday in a language they all understand: ratings.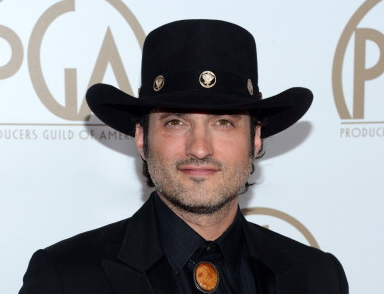 Aided by fake snow, neon and a guest appearance by film icon Robert Rodriguez, the country's biggest Spanish-language network repeatedly reminded advertisers at its upfront presentation that it is steady while its English-language rivals are down.
No visual cue went unused: At one point, Steve Mandala, Univision's executive vice president of advertising, lugged oversized children's blocks across the stage, turning them to make different points with each letter.
Univison's biggest news was a new partnership with Rodriguez's new El Rey cable network. The "Spy Kids" and "Machete" filmmaker announced plans for a new drama series from "Star Trek" producers Roberto Orci and Alex Kurtzman and an adaptation of the 1996 film he directed and co-scripted with Quentin Tarantino, "From Dusk Till Dawn."
The network, which Rodriguez had previously announced, targets young-adult audiences and will debut in December with carriage on Comcast.
Rodriguez, dressed in a leather jacket and cowboy hat, provided the biggest surprise in a presentation that would do anything to hold ad buyers' attention. Executives danced, fake snow fell from the rafters, and Enrique Igesias did a musical number beamed to Times Square, outside the site of the upfront, the New Amsterdam Theater.
The network also offered a first-look at the "Breaking Bad" adaptation "Metastasis" and the "Gossip Girl" adaptation "Gossip Girl Acapulco," both of which will air on Univision's UniMas network.
Univison wanted vibrant visuals implanted in advertisers' minds to overcome any language barrier: It is trying to make the case that they should ditch ABC, CBS, Fox and NBC, which Mandala said "used to be called the Big 4 networks."
Although Univision lags those networks in ratings and viewers, it occasionally beats one or more of them in primetime — and very occasionally even wins primetime outright. It is also steady at a time when its English-language rivals are slipping.
The English-language networks are all down in the ratings this season, and all but CBS are losing total viewers. (CBS is up very slightly.) Univision is flat in the ratings and up slightly in the ratings.
But it still gets lower numbers overall: Its 1.5 average rating in the key 18-49 demographic lags the 2.2 for ABC, the lowest-rated English-speaking network, and has only 3.7 million average total viewers, compared to 7 million for NBC, the English-language network with the smallest number of total viewers.