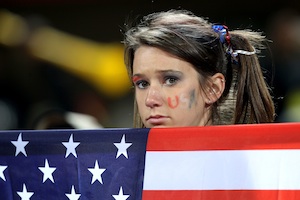 Well, it wasn't a total loss: The United States' weekend exit from the World Cup was also the most-watched game from the men's tournament in U.S. history.
Ghana defeated the United States 2-1 with a quick goal in extra time. The match drew 14.9 million viewers in the U.S., according to Nielsen fast national ratings.
Only the 1999 women's final World Cup match on ABC, in which the U.S. defeated China, drew more viewers — 17.9 million.
Saturday's match also ranks as the third highest-rated men's World Cup game, drawing an 8.2 rating, behind two 1994 matches — U.S. vs. Brazil, which draw a 9.3 rating and the final between Italy and Brazil, which drew a 9.5 rating.
The 1999 women's U.S. vs. China match delivered an 11.4 rating.
The U.S.-Ghana match drew 13 percent more viewers than the U.S. vs. England match on ABC on June 12 which ended in a 1-1 draw.
As has been the case for most of the matches televised on ABC and ESPN so far, San Diego was the top market for the U.S.-Ghana telecast, delivering a 15.4 rating. Rounding out the Top 10 local markets for the match were: Washington, D.C. (13.8); San Francisco (13.3); Cincinnati (12.8); Las Vegas (11.7); Austin, Texas (11.4); Columbus, Ohio (10.6); Norfolk, Va. (10.6); Seattle-Tacoma, Wash. (10.6) and West Palm Beach, Fla. (10.5).
Through 50 games of the 2010 FIFA World Cup, the ESPN networks (ESPN, ESPN2 and ABC) are averaging a 1.8 rating and 2.7 million viewers per match. The rating is up 48 percent from the same number of games during the 2006 World Cup and viewers are up 60 percent. Those ratings are based on the actual game times, and do not include pre- and post-game studio show ratings.
The next World Cup matches on ESPN will be on Tuesday.