A version of this cover story about "Veep" first appeared in The Race Begins issue of TheWrap Emmy Magazine.
Her: a veteran politician who briefly held lots of power and then saw it slip away. Him: a dope who somehow managed to scrape together enough votes to be elected to an office for which he is monumentally unsuited.
Any resemblance to real people, living or dead, is strictly coincidental.
Or maybe it's not. "I would like to take this opportunity to personally apologize for the current political climate," said "Veep" star Julia Louis-Dreyfus in September, when she won her fifth consecutive Emmy for playing former vice president Selina Meyer. "I think that 'Veep' has torn down the wall between comedy and politics. Our show started out as a political satire but now feels more like a sobering documentary."
---
Also Read: 'Handmaid's Tale' Showrunner Credits Trump Supporters' 'Cruelties' for Shaping Series
---
She said that in the heat of last fall's campaign, before Donald Trump was elected president. That outcome upset Louis-Dreyfus, a Hillary Clinton supporter, and it also impacted a show that started out taking politics to ludicrous extremes and then found itself eclipsed by real life.
But "Veep," now in its sixth season on HBO, has thrived — it's still one of the funniest, sharpest and most biting shows on television, managing to say a lot about this country even as it dwells in a fictional universe in which the current president doesn't even exist.
Louis-Dreyfus and Timothy Simons, who plays the dunderheaded freshman congressman Jonah Ryan, seemed to be a logical place to start as TheWrap explored the ways in which real-life politics are shaping modern TV.
Julia, when you won the Emmy last year, you talked about how real events have caught up with political satire. Does that make it more difficult for "Veep"?
JULIA LOUIS-DREYFUS I'm not sure. The thing about our show is that we're not satirizing current-day politics. We never have. As crazy as it may get, our agenda is not parody. We leave that to the professionals at "SNL" and John Oliver and Stephen Colbert and the like. Beside the fact that we never identify party on our show, from an American history point of view, we've never really identified any real people past Reagan. I think that's when the "Veep" world splits with the real world, and all of a sudden it's President Hughes and Stevens and all the rest.
TIMOTHY SIMONS We shifted timelines. And in real life, we're currently living in the darkest timeline.
LOUIS-DREYFUS Yes.
SIMONS Does that make "Veep" an aspirational show now?
LOUIS-DREYFUS Not so much. We're living in a parallel dark time, possibly.
---
Also Read: Sean Spicer's Hitler Remarks Turned Into 'Veep' End Credits by YouTube Hero (Video)
---
But the election must have had an impact on you personally, and on the show.
LOUIS-DREYFUS  Well, I will say that the results of the election were head-spinning for a lot of people, including us. And there was a moment when I thought, "Oh, my God, I don't feel funny anymore. I don't know how to do this anymore, I can't hear my comedic voice anymore." But then I sort of got my shit together and we figured it out.
SIMONS There was about a week or so when I just didn't want to make a joke about anything. Luckily that was a down week.
LOUIS-DREYFUS That's right, you weren't working that day.
And you were, Julia?
LOUIS-DREYFUS Oh, yes. We were shooting a scene in which Selina is monitoring the first free and open election in the country of Georgia. So yeah, it was deep with irony.
SIMONS I was getting drunk at home.
LOUIS-DREYFUS Per usual, I might add.
---
Also Read: Obama Aides Say 'Veep' More Accurate Than 'West Wing,' 'House of Cards'
---
Was the feeling on the set different when you went back to work after the election?
LOUIS-DREYFUS Well, sure. We live in California, and a reality show host, swindler…
SIMONS …con man…
LOUIS-DREYFUS …just got elected, so it was kind of mind-blowing to us. But then, like I say, we have this great gift, which is that we have created this alternate universe. That was the saving grace.
SIMONS I did go into the writers' room, and the feeling there, I'm not kidding, the closest thing I could relate it to was a funeral. There was a lot more hugging than there usually is, and I feel like there's a fair amount of hugging on our set anyway. Somebody would tell a joke, and there would be bursts of cleansing laughter that would fall into reflective silence. Everybody was a little bit shell-shocked.
In those days after, I don't think it was ever, "How is this going to affect the show?" It was more, "This is a really bad thing for our country." I think we get into comedy because we have a deep wave of empathy, and that was sort of under attack.
---
Also Read: 'Veep' Star Julia Louis-Dreyfus Says Trump Beating Clinton 'Rocked Our World' (Video)
---
You said you didn't want to make jokes about anything. What did it take to get you out of that?
SIMONS For me, it was a little bit of time passing, and it was finding other things that were funny and had nothing to do with politics. I do think comedy is a useful tool, and a good weapon against somebody like [Trump].
Did you have to change anything through the rest of the season?
LOUIS-DREYFUS We had one pee-pee joke, about going pee-pee on somebody. And we took that out. It wasn't in there because of the tape that's supposed to be out there — it was there because it was a funny joke. But our concern, of course, is that it would be immediately connected to Donald.
SIMONS I remember there was another thing in the second episode about a dash-cam video. I think they were filming that the day after the "Access Hollywood" tape was released, so they had to change the language to take the word pussy out.
LOUIS-DREYFUS Oh, yes. We're not going to hear a lot about pussy on our show. Consider that a gift.
It does feel as if there is something in TV comedy that has the ability to rise to times like these.
LOUIS-DREYFUS I'm hoping we're doing it. We're very focused on the post-presidential life of Selina Meyer, and that's a hugely ripe area. And we also stay inside the Beltway, too.
I feel as if we're in pretty good shape. And understand, our stories were mapped out well in advance of this election, and they remain the same.
---
Also Read: IFC Films Picks Up 'Veep' Creator Armando Iannucci's 'The Death of Stalin'
---
When you came on "Veep" to play the vice president, I assume you had no idea that she would become the president and then the ex-president.
LOUIS-DREYFUS No, none of that had been mapped out. In fact, it wasn't until Season 3 when Arm [original show creator Armando Iannucci] said to me very early on, "I think maybe we should make her president at the end of the season." I said, "Yeah, that sounds awesome. Even though we're blowing up our premise, let's do it." I liked the idea of shaking it up completely and seeing what happened. And we've done the same thing with [current showrunner] Dave [Mandel].

And Tim, I can't imagine that when you started playing Jonah you had any sense that he could end up in Congress.
SIMONS No. It's really cool. I honestly had no inclination that he could end up in office. But as we've spent more time in that world and I've come to understand a little bit more about Washington and ascension there–when you reverse-engineer it, maybe it makes us look like geniuses that we had the dumbest character get to this point. And this season I've got a wicked crazy storyline, because Jonah starts to find himself with more and more power in Congress and a groundswell of support back home that more seasoned congressmen have to contend with.  
LOUIS-DREYFUS It's unheard of! A nincompoop rising from the ashes!
SIMONS  Rising from the ashes to power in Washington. I know that sounds outlandish.
LOUIS-DREYFUS It's never happened before.
Go here to read more of The Race Begins issue of TheWrap Emmy Magazine.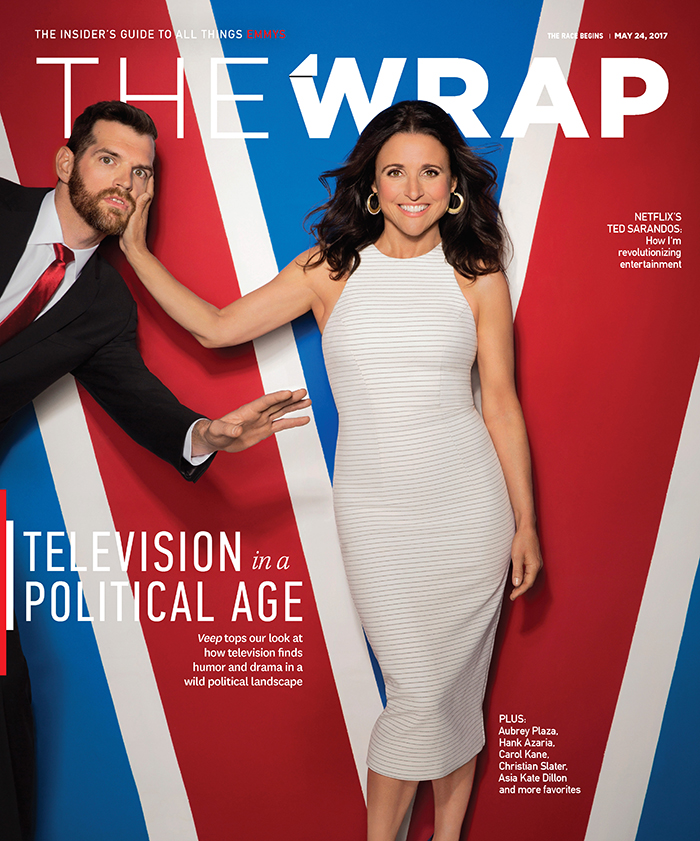 'Veep' Stars Julia Louis-Dreyfus and Timothy Simons Portraits (Exclusive Photos)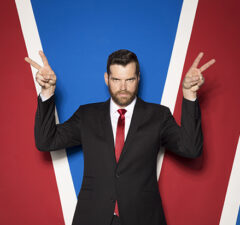 (Tap photo and swipe to view gallery)