It finally happened on Tuesday. After years of false starts, CBS and Viacom finally announced their intentions to get back together.
The all-stock deal, which values Viacom at $12 billion, puts Bob Bakish as the head of the newly-named ViacomCBS, with Joe Ianniello staying on board as the CEO of all CBS-branded assets. The agreement puts the CBS broadcast network, Viacom's stable of cable channels like MTV and Nickelodeon, and the Paramount film and TV studio under one roof.
Below, TheWrap sizes up the winners and losers from Tuesday's long-awaited announcement.
Winner: Shari Redstone
Bob Bakish may have gotten the keys to the kingdom but make no mistake: Shari Redstone comes out the biggest winner of Tuesday's announcement. She completed her three-years-long quest to reunite CBS and Viacom, which had been separated since 2006. She is chairman of the board and got to install her hand-picked guy as chief executive. The question for her now is what will she do for an encore?
Loser: Les Moonves
Moonves is already persona-non-grata following his ugly exit from CBS after being accused by dozens of women for sexual misconduct. Before that however, he waged a legal war against Redstone to try and stop this merger from ever happening, so his legacy is even further tarnished now.
Winner: Bob Bakish
It's been quite a rise for Bakish, who started on the international side of Viacom's business and has been a favorite of Redstone. He is credited with turning around Viacom following the disastrous tenure of Phillipe Dauman, and is poised to have greater sway in the ever-changing industry. But with that comes more pressure, because he better deliver for Redstone. As Biggie once said: Heavy lies the crown.
Winner/Loser: Joe Ianniello
Ianniello finally gets the interim tag removed his CEO, but it comes with a catch: He is in a charge of a CBS that is under Bakish. He helped steer CBS through a tough time following Moonves' ouster and remains a key figure, signing a new contract that takes him through 2021. While both execs are playing nice following Tuesday's announcement — Ianniello will steer CBS-branded assets, but those now exclude Showtime and Pop TV — it has to sting a little bit for Ianniello not to be the top executive.
Loser: Consumers Wary of Consolidation
After Disney bought Fox and AT&T bought Time Warner, consumers were already feeling uneasy about so few companies being in charge of so many entertainment operations. With CBS, MTV, Nickelodeon, Comedy Central and Paramount Pictures now moving under roof, they might need to reach for the Pepto right now.
Winner: Star Trek fans
But there might be one specific consumer group that should be celebrating Tuesday's merger: Star Trek fans. While CBS All Access has been ramping up its "Star Trek" output, the fan-favorite IP has been stuck between two worlds: CBS TV Studios owned the TV rights, while Paramount owned the film rights. ViacomCBS can now turn Star Trek into something that could one day rival what Marvel has achieved under Disney.
Winner: CBS All Access
ViacomCBS executives were pretty evasive about what exactly they will do with their many disparate streaming assets, but no matter the outcome, CBS All Access is about to be infused with a bevy of new content, most notably Nickelodeon's popular kids' programs. The streaming service has been a priority for CBS Corp. as it tries to compete in the streaming game. It figures to be the centerpiece of whatever comes next, and CBS Interactive CEO Jim Lanzone will be relied on a lot.
Loser: Viacom's Other Streaming Options Like Pluto TV and BET+
On the other side, it's unclear about the fate of Viacom's streaming options, which include the free streaming app Pluto TV and the upcoming BET+. ViacomCBS execs hinted that Viacom programming will be available on CBS All Access, which could make PlutoTV redundant. It will depend how important having a free option for consumers is to the company. BET+, which won't launch until this fall, could easily slide into All Access, which would surely love to have Tyler Perry in its stable.
Winner: David Nevins — Nevins becomes another executive who is sitting pretty right now. Already taking on a larger role in CBS Corp., with Bakish and (for now) Ianniello as the top business-focused executives at ViacomCBS, Nevins figures to the be chief creative at the larger company. Though for now, he'll have to answer to both Bakish and Ianniello – with Showtime moving under Viacom's purview.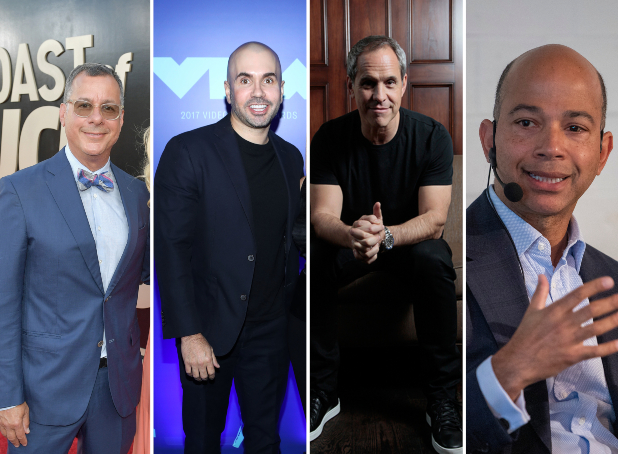 Loser: Other Top Viacom TV Leadership — Viacom restructured last year, which reduced its brand groups from five to four, and now could face even further consolidation. Kent Alterman, who gained Paramount Network oversight in that move, is well-liked at Viacom, and Brian Robbins is new at Nickelodeon. But along with Chris McCarthy (MTV) and Scott Mills (BET), this could be a case of too many cooks in the kitchen. At very least they're all under one more layer of executive leadership.
Loser: CBS/Viacom Employees — Layoffs are a sad byproduct of these large corporate mergers. It may not be as bloody as when Disney took the hatchet to Fox's film divisions, but a lot of people are unfortunately going to find themselves expendable. ViacomCBS projects $500 million in synergy savings, some of which will come through the elimination of overlapping corporate operations.