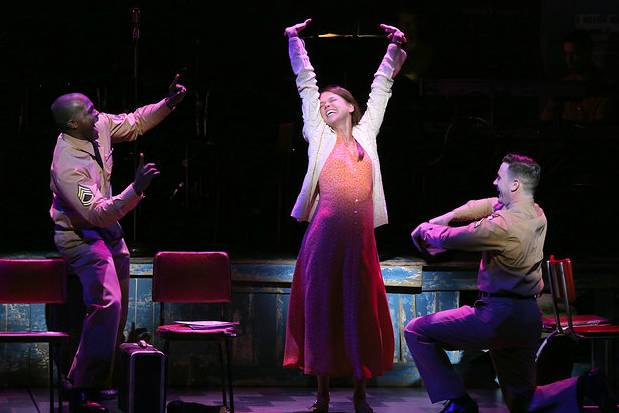 "Violet" is this Broadway season's Cinderella story. In 1997, when the musical by Brian Crawley and Jeanine Tesori had its world premiere at Playwrights Horizons, the big bad wolf was Ben Brantley, who gave the new show a downbeat review in the New York Times. No, let's not mix our fairy tales. Brantley played the evil stepmother, with his review squashing the show's chances of being kissed by a producer-prince who would transfer it to Broadway, where it would run happily ever after.
Crawley and Tesori have reworked their little musical, and coming off last year's "Encores! Off Center" engagement, "Violet" finally opened Sunday on Broadway at the American Airlines Theatre under the auspices of the Roundabout Theatre Company.
Also read: 'Act One' Theater Review: Tony Shalhoub Does Triple Duty in Moss Hart Memoir
A simple and homespun affair, "Violet," as directed by Susan H. Schulman at Playwrights Horizons, tells the story of a facially disfigured young woman who meets and befriends two soldiers on her long bus ride across the South to see a TV evangelist. The faith healer turns out to be a fake, but one soldier's love is the real thing, and Violet emerges beautiful.
On Broadway, the set design, by David Zinn, remains bare-bones simple – not much more than a platform, tables and chairs – but otherwise the Cinderella makeover is extreme. Leigh Silverman's direction puts the broad back in Broadway, with three star performers who would make a terrific cast if anyone gets around to doing a musical version of Noel Coward's "Design for Living."
If you thought Idina Menzel's character in "If/Then" had great-looking men pursuing her, check out these two soldiers in "Violet." Scars? Who needs Mederma when Colin Donnell and Joshua Henry are there to serenade the leading lady.
Also read: 'Of Mice and Men' Theater Review: James Franco, Chris O'Dowd Bring Vibrant and Poignant Life to Steinbeck Revival
"Serenade" isn't quite the right word. "Blow your socks off" is more like it. No sooner has Henry stopped the show big time with "Let It Sing" than Donnell lets loose with equal force on "Last Time I Came to Memphis." Are they competing for Violet's love or a Tony nomination? Violet's journey then takes her to a music hall where a singer (Anastacia McCleskey) belts out the song "Lonely Stranger," which is nothing compared to the gospel singer (Rema Webb) who later caterwauls "Raise Me Up" at a whole new decibel level. Interspersed throughout is a very talented young singer named Emerson Steele, who pops up to play Annie, I mean, the young Violet.  In this spirit of anything you can do, I can do bigger, the amplification could beat "Rocky" for loudest on Broadway in that upcoming awards sweepstakes.
And it's not just someone working the dials like a varmint strung out on moonshine. Since every other song is geared to bring down the house, it's a surprise the American Airlines Theatre still stands. Several spare but lovely melodies continue to run through Tesori's music; one thing that the original "Violet" had going for it was simplicity, and the composer didn't overreach with a big "Rosa's Turn" the way she did with the eleven o'clock numbers in her subsequent shows "Caroline, or Change" and "Fun Home." Some of that unadorned lyrical beauty remains in Violet's ballads, nicely sung by Sutton Foster. She succeeds in not competing with the showbiz brashness surrounding her, although the actress's signature can-do spunk doesn't always jibe with Violet's self-image. Perhaps that little inconsistency doesn't matter. The generic hillbilly twang that everyone sports is just make believe. Give these country folks a song, and they can't help but turn into Broadway babies.
Again, think Cinderella, but not Violet.