With so many singers competing on television, the return of "The Voice" Monday will test how much music audiences can take.
"The Voice" is back even as ratings are down for the NBC hit and TV's other top singing contests, Fox's "American Idol" and "X Factor." But singing shows still do better than almost anything else, so viewers don't seem ready to abandon them yet.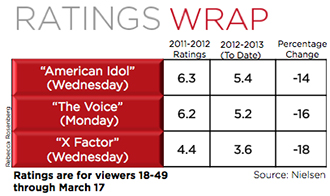 "Idol" was television's No. 1 show for the eight years it had the singing-competition niche almost to itself. But then came "The Voice" and "X Factor."
With so much music in the air, "Idol" no longer rules.
Also read: 'The Voice': Ratings, Talent … But Where Are the Breakout Stars?
It has set all-time lows for its Wednesday performance shows for the last four consecutive weeks. (The show's Wednesday installments, like those of "X Factor," earn higher ratings than the Thursday results shows. Similarly, NBC earns higher ratings for "The Voice" on Mondays than on Tuesdays.)
"Idol" fell from the top spot last season, losing it to "Sunday Night Football." Even worse for the series, "The Voice" nearly tied it for TV's second-most popular show.
Also read: 'American Idol' & 'Voice' Winners: Who's Broken Out, Who's Just Broken (Slideshow)
This season, the Wednesday edition of "Idol" is behind not only "SNF" but also the scripted CBS series "The Big Bang Theory." The fall Monday edition of "The Voice" is behind all three of those shows, as well as ABC's "Modern Family."
But even with lower ratings, "The Voice" is still NBC's top show, aside from "SNF" and its pre-game coverage. So the network is doubling down.
"The Voice" is the first of the three singing shows to attempt two different versions in the same year, one in the fall and one in the spring. Fox airs "X Factor" in the fall and "Idol" in the winter.
"The Voice" is trying to stay fresh by changing its judging panel for the second cycle, adding Usher and Shakira.
But new judges don't necessarily help: "X Factor" is down despite adding Britney Spears and Demi Lovato," and "Idol" is slipping after the addition of Mariah Carey, Nicki Minaj and Keith Urban.
The good news for viewers whose ears are starting to ache? No other singing show has taken hold like the Big 3. ABC's "Duets" failed to catch on over the summer.