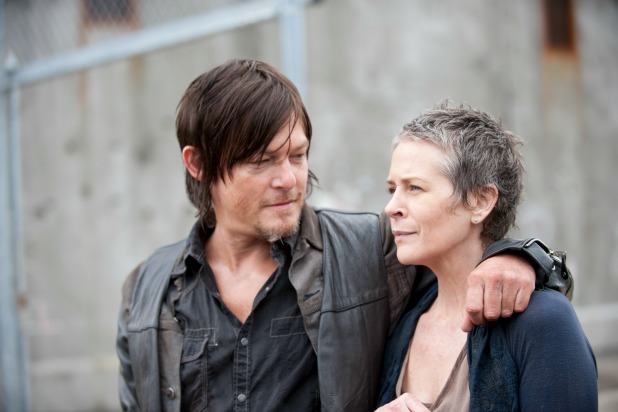 (Update: In final numbers released Tuesday, "Sunday Night Football" beat "The Walking Dead" with an 8.4 rating.)
"The Walking Dead" was the top-rated series on television last season, landing behind only "Sunday Night Football." This season, the zombies have a shot at beating football, too.
"Sunday Night Football" and "NCIS" still lead "The Walking Dead" in total viewers. But in the key 18-49 demographic, Sunday's Season 4 premiere of AMC's zombie drama scored an 8.2 — higher than anything else on TV in the 2013-14 season so far.
Official national ratings for Sunday's Redskins-Cowboys game won't be available until Tuesday. But the game appears unlikely to crack an 8.0 rating. "SNF" did score an 8.4 rating on Sept. 15 and a 10 on Sept. 8, and NBC's season opener on Sept.5 scored a whopping 10.3.
But those all aired before the official start of the TV season on Sept. 23.
Also read: 'Walking Dead' Demolishes Record With 16.1 Million Viewers (Update)
That means if "The Walking Dead" ratings stay steady or keep climbing — and football ratings stay at their current level — the zombies could have the top-rated show of the regular TV season.
And that would be… stunning. "Walking Dead" was already the first cable show to win in the demo when it beat every scripted or reality show last season. To also sweep sports in the demo would be an incredible achievement for a basic cable show.
Or any show.
Also read: 'Walking Dead' Reviews: Was Anyone Else Kind of Bored?
Last season, "The Walking Dead" gained dramatically from its season opener to its season finale. Sunday's premiere blew them both away.
"The Walking Dead" didn't just clean up in its original airing at 9 p.m. Besides the 16.1 million total viewers it earned at 9 p.m., it had another 2.7 million at 11 for 18.9 million viewers in all — almost catching up to the 19.7 million total viewers for football.
In the demo, it had 10.3 million viewers at 9 and another 1.9 million at 11, for 12.3 million in all.