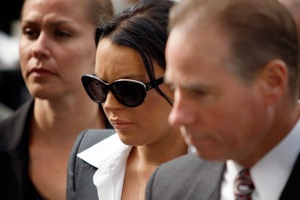 A bench warrant for Lindsay Lohan's arrest was issued and her bail was doubled to $200,000 after her alcohol-monitoring device apparently reported a violation — which the starlet denies.
The troubled actress' attorney met with prosecutors Tuesday at a Beverly Hills court, where Judge Marsha Revel, who's been handling the probation case, said she had received new information from Lohan's SCRAM bracelet, court spokesman Allan Parachini told TheWrap.
The bench warrant means Lohan could be taken to jail if she encounters police before the new bail is posted.
Reports surfaced earlier Tuesday that Lohan's bracelet went off sometime Sunday after she attended the MTV Movie Awards. Lohan immediately began posting furious denials to her Twitter account.
"This is all because of a FALSE accusation by tabloids& paparazzi," she posted. "I've been more than I'm compliance &feeling great."
Lohan's father, Michael Lohan, told TheWrap on Tuesday that he had a similar bracelet when he was on parole for assault charges in 2008 and early 2009.
"When the light goes off, more likely than not in Lindsay's case, it's because of the battery going off on the bracelet … I would say that as her father and as someone who wore one."
The judge did not reveal how she determined that Lohan was in violation, but said the hastily called hearing was the result of "results" from the alcohol monitor, which Lohan was ordered to wear last month. Lohan was fitted with the device after missing a probation hearing because, as the actress claimed, she was stuck in Cannes after her passport was stolen.
Lohan is due back in court July 6. She faces jail time if Revel decides then that the "Mean Girls" star has violated her probation terms.
Lohan's probation dates back to 2007, when she pleaded guilty to drug charges and driving violations. She has since failed repeatedly to meet the terms of her probation, which was extended last October.
Read also:
Lohans Eye 'Celebrity Apprentice' — But Who's Courting Whom?
Lindsay Lohan Gets a New Bracelet From an Angry Judge