There was some confusion at the BET Awards over who won the viewer's choice award: Chris Brown, or the ex-girlfriend he pleaded guilty to assaulting.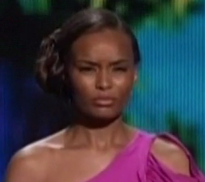 A fan who came onstage to present the award apparently got mixed messages from a tablet and Teleprompter. Reading from the tablet, Tiffany Green (left) first announced Brown as the winner. Then, looking understandably confused, she corrected herself based on the Teleprompter, and said Rihanna had won.
Also read: Chris Brown Scores 4 BET Awards; The Complete List of Winners
Drake accepted for Rihanna, saying, "Well this is awkward." But BET later clarified that Brown had, in fact, won.
Green later tweeted: "Bawling backstage. They totally f—ed me up."
BET programming executive Stephen Hill later took the blame, tweeting: "That BET Awards Viewer's Choice mix-up was due to human error. And I was the human that made that error. I apologize to ALL affected."
The video: