RADiUS-TWC, the multi-platform label from the Weinstein Company, has acquired North American and French rights to Sundance documentary, "Cutie and the Boxer."
Directed by first-time feature filmmaker Zachary Heinzerling, below, the film focuses on the 40-year love story of Ushio and Noriko Shinohara, two Japanese artists who met and married in New York in the early 1970s. Heinzerling won the U.S. Documentary Directing Award on Saturday night at Sundance's awards ceremony.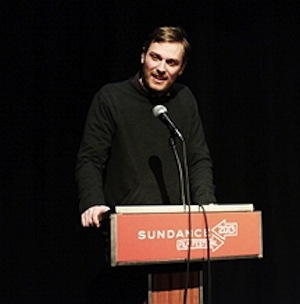 The film was produced by Lydia Dean Pilcher, Patrick Burns and Sierra Pettengill. Kiki Miyake is the executive producer. David Teague is the editor and Yasuaki Shimizu is the composer.
Given a 2013 release date, it makes the fifth major purchase for the boutique label at Sundance. It also has acquired "20 Feet From Stardom," "Concussion," "Lovelace" and "Inequality for All."
Ushio sailed to New York from Tokyo in 1969, looking for international recognition; there he met art student Noriko, 21 years younger. Now 80, Ushio is best known for his boxing paintings, and Noriko has become an artist in her own right, with a series of drawings entitled "Cutie and Bullie," depicting her chaotic relationship with Ushio.
"The beauty and complexity of the Shinoharas' love affair and their art is nothing short of stunning," RADiUS co-president Tom Quinn said in a statement. "Exquisitely crafted, Zachary has made a mesmerizing and unforgettable portrait of artistic genius. We couldn't be more proud to bring this surefire crowd pleaser to audiences everywhere."
"I'm thrilled to be working with RADiUS on this film that is very close to me," director Heinzerling added. "Tom, Jason and the RADiUS team see the same magic in the Shinoharas' love story that I did when I began this project, and I couldn't feel more honored to put the film in their accomplished hands."
RADiUS co-presidents Quinn and Jason Janego negotiated the deal with Submarine's Josh Braun, Dan Braun and David Koh on behalf of the filmmakers.