As of Monday morning, a couple of guys at PricewaterhouseCoopers know the identity of all the 2009 Oscar nominees.
By the end of the day, a couple dozen Academy staffers will know as well.
Tuesday morning about 4 a.m., Anne Hathaway and a few technicians will be let in on the big secret.
And at 5:38 and 30 seconds, everybody else – at least, everybody who's awake and paying attention – will learn the news.
Until then, we can guess. I think what'll happen Tuesday morning may be pretty straightforward, but I'm hoping it's not. It'd be more fun – or more exciting, or more infuriating, or more depressing – if Academy threw some monkey wrenches into all the pundits' musings and prognostications.
But here are my best guesses in the 10 categories that'll be announced on Tuesday morning by Hathaway and AMPAS president Tom Sherak, delivered with the caveat that I hope I'm wrong.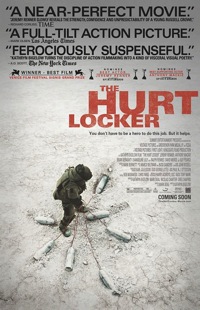 Best Picture: I'm sure of the first five. And I can come up with perfectly good reasons why any of the next five might not get in, why voters could go to an entirely different batch of films, from "Star Trek" to "The Messenger," "The Blind Side" to "The Last Station," "Crazy Heart" to, gulp, "Nine."
"Avatar"
"The Hurt Locker"
"Inglourious Basterds"
"Precious"
"Up in the Air"
"District 9"
"An Education"
"Invictus"
"A Serious Man"
"Up"
Best Director: I don't know if Lee Daniels is a lock, but he's starting to feel like one. If he doesn't make it, this could be the arty pick. (Michael Haneke?) The other four seem secure.
Kathryn Bigelow, "The Hurt Locker"
James Cameron, "Avatar"
Lee Daniels, "Precious"
Jason Reitman, "Up in the Air"
Quentin Tarantino, "Inglourious Basterds"
Best Actor: Is anybody on the list vulnerable? Something tells me support for "Invictus" is flagging, but Morgan Freeman as Nelson Mandela is too perfect for the Academy to ignore, right?
Jeff Bridges, "Crazy Heart"
George Clooney, "Up in the Air"
Colin Firth, "A Single Man"
Morgan Freeman, "Invictus"
Jeremy Renner, "The Hurt Locker"
Best Actress: Again, things feel secure … but it's possible that somebody like Emily Blunt has more quiet support than I realize.
Sandra Bullock, "The Blind Side"
Helen Mirren, "The Last Station"
Carey Mulligan, "An Education"
Gabourey Sidibe, "Precious"
Meryl Streep, "Julie & Julia"
Best Supporting Actor: A race in flux. Molina, Plummer and Tucci once seemed like near-locks; now they feel like question marks, possibly pushed out by the likes of Matt Damon, Anthony Mackie or Peter Sarsgaard.
Woody Harrelson, "The Messenger"
Alfred Molina, "An Education"
Christopher Plummer, "The Last Station"
Stanley Tucci, "The Lovely Bones"
Christoph Waltz, "Inglourious Basterds"
Best Supporting Actress: Three locks (Mo'Nique and the "Up in the Air" duo) and a whole lot of uncertainty. A big chance for Samantha Morton, Diane Kruger, Maggie Gyllenhaal or even Marion Cotillard (campaigned as lead, not supporting) to slide into the race.
Penelope Cruz, "Nine"
Vera Farmiga, "Up in the Air"
Anna Kendrick, "Up in the Air"
Mo'Nique, "Precious"
Julianne Moore, "A Single Man"
Best Adapted Screenplay: Don't bank on "D9" or "Single Man," and don't count out "Crazy Heart" or "Julie & Julia."
"District 9" Neill Blomkamp and Terri Tatchell
"An Education," Nick Hornby
"Precious," Geoffrey Fletcher
"A Single Man," Tom Ford
"Up in the Air," Jason Reitman and Sheldon Turner
Best Original Screenplay: The "(500) Days" spot is vulnerable, with some heavy hitters ("Avatar," "The Hangover") waiting in the wings. But the writers branch likes small more often than big.
"(500) Days of Summer," Scott Neustadter and Michael H. Weber
"The Hurt Locker," Mark Boal
"Inglourious Basterds," Quentin Tarantino
"A Serious Man," Ethan Coen, Joel Coen
"Up," Pete Docter and Bob Peterson
Best Animated Feature: The safer bet probably says that "Ponyo" is out and the Academy turns to something like "Cloudy with a Chance of Meatballs" instead. I think "Up" and "Princess & Frog" might fill the commercial quotient, and allow voters to get artier with the other choices.
"Coraline"
"Fantastic Mr. Fox"
"Ponyo"
"The Princess and the Frog"
"Up"
Best Foreign-Language Film:
A selective 30-person executive committee makes the final choice from a nine-film shortlist. That should skew the result toward, tough, critically acclaimed films, although they can't ignore the mainstream sensibilities of, say, the Argentinian entry.
"El Secreto de Sus Ojos," Argentina
"Un Prophete," France
"The White Ribbon," Germany
"Ajami," Israel
"Winter in Wartime," The Netherlands
So those are my predictions. And I hope I'm wrong, and that the Academy's choices are weird and unexpected.
Coming up: the surprises I'd love to see, and the possibilities that scare me.