Given the endless torrent of franchise reboots, sequels and reimaginations that flood the genre landscape, it's almost hard to believe how many entirely new feature films (16) and television shows (seven) are coming to the Comic-Con floor in San Diego this year.
Of course, all the biggest hitters at this year's Con, which begins in earnest on Thursday and runs through Sunday, are names you've heard before: "Tron," "Thor," "The Avengers" – hell, they even devoted an entire day to "Star Wars." But within the 55,000-word schedule of sanctioned events are about 2,500 words devoted to those franchises whose characters and storylines are making their on-screen debuts.
So what's new under the Comic-Con sun? Not as much as we'd like, but probably more than you'd think.
TheWrap brings you all the new stuff below: We've separated the movies from the TV shows, and ranked them top to bottom according to our own sense of their relevance/importance (yours will certainly differ, gentle reader).
But in terms of getting fresh stories their place in a major Hollywood event, we're all winners here, right?
NEW IN FILM:
"Scott Pilgrim vs. the World" (Universal). Based on a graphic novel of epic epicness, or so we're told. Everyone from this genre-bending, fourth-wall-breaking feast of comic-book mojo will be there, from Michael Cera to Anna Kendrick and all points between. If there's one film that fit Comic-Con to a T, this would be it: sassy, nerdy, subversive, stylish, super nerdy, full of action and also extra-super nerdy. Thursday at 6 p.m., Hall H.
"Cowboys & Aliens" (Universal/DreamWorks): We still don't have word on an "Iron Man 3," but Jon
Favreau bought his ticket to this year's Con with this action-thriller based on the graphic novel about an Old West uprising against extraterrestrial varmints. If there's one thing we've learned, it's to not bet against Favreau at Comic-Con. 4:45 p.m. Saturday, Hall H. (Image at right was recently tweeted by Favreau, by the way.)
"The Expendables" (Lionsgate): All we know is that someone raised a challenge to manly men everywhere to make this film No. 1 when it opens against "Eat, Pray, Love." And if it doesn't, America is broken. Thursday, 4:45, Hall H.
"Megamind" (DreamWorks Animation): Early trailers look painfully derivative, but perhaps that's the point behind DreamWorks Animation's first entry at the Con. Its spoofy tone and characters (Metro Man is like a mashup of every superhero stereotype of the last 50 years) would seem to indicate as much. Will Ferrell, Tina Fey and Jonah Hill provide voices, and are expected in attendance with director Tom McGrath. (Voice actor Brad Pitt is rumored to be appearing at the Con.) 10 a.m. Thursday in Hall H.
"Salt" (Sony): Makes it under the gun by a day – "Salt" presents Thursday at Comic-Con, then opens wide Friday. And yes, Angelina Jolie will be there to answer the inevitable "Who is Salt?" wisecrack. She's a top CIA agent who's accused of treason and then goes on the run from those who created her … blah blah blah … hmm. Maybe this isn't new after all. 10 a.m., Hall H.
"RED" (Summit Entertainment): A couple of the CIA's top agents are accused of treason and go on the run from those who created – hey, WAIT A MINUTE. Starring Bruce Willis, Morgan Freeman, John Malkovich and Helen Mirren; directed by Robert Schwentke ("Flightplan"). 2:15 Thursday, Hall H.
"Battle: Los Angeles" (Sony): Aaron Eckhart defends Los Angeles from attack, and no one knows why! Kidding aside, Eckhart is a local Marine staff sergeant who leads a platoon of fresh meat in a street-by-street defense of "an enemy unlike any they've ever encountered before." Let's hope Eckhart, Michelle Rodriguez, Neal Moritz and director Jonathan Liebesman get more specific at the panel. Thursday, 10 a.m., Hall H.
"Drive Angry 3D" (Summit Entertainment): Somewhere along the way, Comic-Con picked up its horror/vengeance/torture cousins and never dropped them off anywhere. Starring Nicolas Cage as a crazy-unhinged type, no doubt. A "high-octane, blood-spattered road trip through hell!" Yes, very geeky, that. 11:15 Friday, Hall H.
"Skyline" (Universal/Relativity Media Rogue Pictures): A sci-fi horror/thriller in the "Alien" vein. Strange lights descend on Los Angeles, drawing people outside, kinda like the Ecstasy years, only with more ravenous alien monsters. Noon, Friday, Hall H.
"Super" (This Is That Productions/Ambush Entertainment): Comedic costumed crimefighters with no superpowers who go on an ill-advised, hyper-violent caper. Where "Kick-Ass" failed, writer-director James Gunn hopes to deliver with Rainn Wilson, Ellen Page, Liv Tyler, Nathan Fillion and more. Thursday, 1 p.m., Hall H.
"Don't Be Afraid of the Dark" (Miramax): "A hair-raising, spine-chilling tale of horror about a little girl (Bailee Madison) who is sent to live with her father (Guy Pearce) and his girlfriend (Katie Holmes) in the old mansion they are renovating, only to unwittingly unleash malevolent creatures bent on destroying all of them." This sounds infinitely terrible until you realize it was written and produced by Guillermo del Toro. So it could also be a masterpiece, a la "Pan's Labyrinth." 2:15 Friday, Hall H.
"The Other Guys" (Sony): Comic-Con makes another left turn, this one into buddy-cop action comedy, but we're going with it because it's co-written and directed by Adam McKay. Will Ferrell and Mark Wahlberg play bumbling cops propped up by non-bumbling ones (Dwayne Johnson and Samuel L. Jackson). 4 p.m. Friday, Hall H.
"Sucker Punch" (Warner Bros.): Comic-Con darling director Zack Snyder, who debuted "300" and "Watchmen" at Cons past, brings a sneak preview of his dark fantasy with an ensemble cast that includes … Jon Hamm? That Jon Hamm? 11:45 Saturday, Hall H.
"Paul" (Universal): A sci-fi comedy-adventure with an impressive ensemble cast that includes Simon Pegg, Nick Frost, Kristen Wiig, Jeffrey Tambor, Seth Rogen, Sigourney Weaver and others. Metaphysically enough, it's about two geeks who get entangled with aliens on their trek to Comic-Con. 4:45 p.m. Saturday, Hall H.
"Priest (3D)" (Sony): A "western-infused post-apocalyptic thriller, set in an alternate world — one ravaged by centuries of war." And yet it has nothing to do with Steven King's "The Dark Tower" series. It does have to do with vampires, so this is by no means a vampire-free Comic-Con (we'll settle for "Twilight"-free). Paul Bettany plays a legendary fighter/cleric who retreats into obscurity after the ruin of war, but then is called back into action by a damsel in distress. Help us, Obi-Wan Kenobi. You're our only hope. Friday, 4 p.m., Hall H.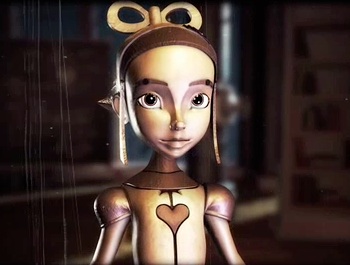 "The Clockwork Girl" (Luximation Animation): Billed as "a stereoscopic 3D computer-generated feature film," "Clockwork" will appeal to fans of steampunk, with its mechanical leanings of a Pinocchio-like robot girl created with steel and leather and lots of welding. It's based on a graphic novel/comic series from Arcana, but it's new to us. 11. a.m. Thursday in Room 9.
NEW IN TELEVISION:
"Terra Nova" (Fox): What? This program has been CANCELED? The one new TV show that looked like it really belonged here canceled its appearance? Maybe Fox couldn't get its act together in time, or maybe something went wrong with the time-space continuum thing. But don't show up at 3:30 on Thursday; like the San Diego shoreline in 2149, "Terra Nova" won't be here.
"The Walking Dead" (AMC): Based on the Image comic book series (and every freakin' zombie movie ever), AMC hopes blood-puking animated dead bodies are the new vampires. They're not, but we'll find out in October whether reanimated puss-buckets and the struggle to defeat them appeals to a mass audience.
"Falling Skies" (TNT): Steven Spielberg wades back into the alien-abduction theme with this series about a handful of survivors who hold the fate of humanity in their hands. 4:45 Friday in Room 6A.
"The Cape" (NBC): A cop is framed for murder and assumed killed – so naturally he becomes a caped-crusader superhero guy. A look at the pilot and a copy of the comic it's based on are for the having at 2:15 on Friday, Room 6A
"The Event" (NBC): Diving headlong into the sci-fi/thriller/fantasy hybrid genre that brought shows like "Fringe" and "Flash-Forward" to television, NBC debuts "The Event" this fall, and brings the bulk of the cast to its Comic-Con, errr, event. We'll know a lot more about this government-conspiracy thriller after Saturday at 11:15 a.m., when NBC plans to screen the pilot in Room 6A.
"Bob's Burgers" (Fox): A new animation series by creator/executive producer Loren Bouchard ("Home Movies") and executive producer Jim Dauterive ("King of the Hill") debuts footage, etc., at 11 a.m. Thursday, Room 25ABC.
"Neighbors From Hell" (TBS): OK, so "Neighbors From Hell" technically debuted at the end of June, but it's still very new and tender, so we'll give it a break. With a strong comedy pedigree and all-star voice cast, this show about a family of demons living on earth is irreverent and fresh, and it will debut an all-new episode at the Con, noon on Thursday, Room 25ABC.
"Reign of the Dinosaurs" (Discovery Channel): Billed as an "epic miniseries" in dinosaur storytelling. It will no doubt equally fascinate and terrorize 4-year-olds the world over when it debuts next spring. In the meantime, the crew behind it talks at 7:30 Friday in Room 6BCF.
Did we miss something? Email the author at josh@thewrap and we'll include it!
Follow Josh Dickey on Twitter.