We do a pretty good job in this country of convincing poor kids to dream about being Beyoncé or Kobe Bryant. But in a global economy that's advancing faster than ever, the U.S. is doing a poor job of getting them to dream about being a highly compensated Google engineer.
"Smartphone makers are pushing to make sure their chips are the fastest in the world, but no one is pushing our kids to be the fastest in the world. Why aren't our kids learning about education and science?" said will.i.am, founder of the Black Eyed Peas, on Tuesday.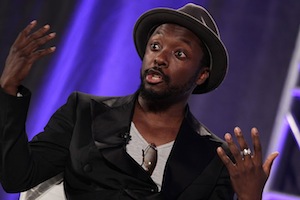 The seven-time Grammy winner and pop group founder led a wide-ranging discussion at TheWrap's media leadership conference, TheGrill, at the SLS Hotel in Beverly Hills.
(Photo by Jonathan Alcorn)
"My 7-year-old niece wants to be like Beyoncé, which is cool," he said. "She's probably not going to want to be a code writer at Google. She doesn't know about it. She doesn't know about how much money she can make, or how she could get to travel. She won't know that's an option until we shine a light on it."
(To see the full video of will.i.am's session at TheGrill, where he talks about an array of topics ranging from the poor health of America's schoolkids to the need for people to build up their own communities, click here.)
Speaking to Sharon Waxman, founder and editor-in-chief of TheWrap, Will.i.am's one-on-one followed a day of appearances at the SLS by media and technology leaders.
Also read: SoundCloud's Ljung at TheGrill: Sound Could Be Bigger Than Video on the Web
The pop-group frontman is known as a technology innovator in a music industry roiled by change.
But he spent most of Tuesday's interview focused on biting cultural criticism.
Known on his birth certificate as William James Adams Jr., the performer noted that, while not every school in American ghettos has a science lab, they all have football fields and basketball courts.
"And it's not for health," he said. "Everyone in high school has high blood pressure and is probably going to get diabetes. We don't value what we put in our body, we don't value what we put in our mind and we don't' value what we put in our neighborhood."
Will.i.am, who produced and self-financed the aspirational youth-targeted documentary "I.am First: Science Is Rock and Roll," attributed his perspective — and newfound activism — to working on President Barack Obama's 2008 campaign.
Also read: Forget Obama — will.i.am's Stumping for Science
"Obama changed me by reminding me how I could support my community," said the performer, who grew up in government-funded housing in the Los Angeles-area neighborhood of Boyle Heights, but received his early education in the much more affluent beach enclave of the Palisades.
Not that the experience of working for Obama gave him any love of politics.
"I don't get politics," he said. "How can we have homeland security when everyone is sick? What is terror when it should be terrifying when you have four kids and you can only buy sh– to feed them? After 9/11, which was terrible, we spent trillions of dollars, but people are dying in the 'hood every day."
So how does a pop-music performer from Boyle Heights gain such a wide-reaching perspective? Will.i.am said it started in the late-'90s, when the Peas — who still hadn't made it big in the U.S. — were frequently on tour in Europe.
He said he'd sit in his hotel room all day on his laptop, searching — and researching — whatever his curious mind had an impulse for.
"I just started knowledgeing up while sitting in a hotel room," he said.  "You travel and you learn. That's how I've knowledged up and have this weird perspective."
As for his affinity for making music on the laptop, that started about five years ago, when he was in Australia, on the set of an "X-Men" sequel, recovering from a broken foot. He hobbled into a local club, and noticed that the DJ was playing all his tracks from a computer.
"I fell in love with this new culture of making beats on a laptop and sharing it," he said, noting that the ubiquitous closure of music stores at home at the time was convincing him to innovate everything about his career — from how he distributed music all the way down to how he created it.
"I knew something funny was going on when Sam Goody closed," he said.