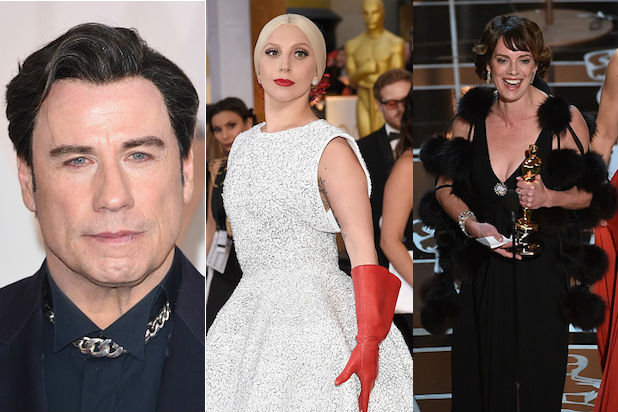 Big dresses and non-black tuxedoes are old hat for the Oscar elite, who have decided to embrace unusual accessories in order to stand out from the crowd and get the photographers looking in their direction.
A year after his infamous "Adele Dazeem" gaffe, John Travolta puzzled audiences with his unusual man-choker necklace that seemed to come from a "Sons of Anarchy" fan club.
Perhaps Lady Gaga wanted to give a silent shout-out to her millions of fans (known collectively as "Little Bleeders") by wearing blood-red gloves to the 2015 Oscars that looked appropriate for dishwashing. With the white dress, the whole effect is that of an unusually stylish mad scientist.
Also Read: Oscar Predictions: Here's How the 'Revenant' vs. 'Big Short' Dogfight Will End
Before and during her acceptance of the 2015 Oscar for Best Short Subject Documentary, Dana Perry sported an unusual wrap of interconnected fuzz balls.
It's almost like a weird psychological game: Do you see a pom-pom wrap or shawl made of Tribbles?
Vote for the weirdest accessories ever seen at the Oscars!
The Nuttiest Accessories Stars Ever Rocked During the Oscars