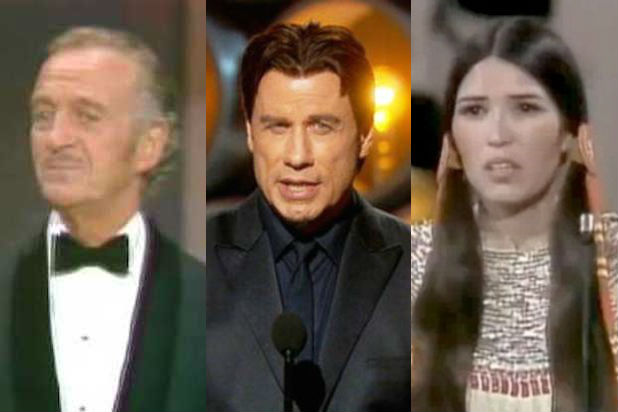 Long before we became a meme culture, the Oscars were known for generating buzz through gaffes and well-planned stunts. As one of the most watched events in the world, every little mistake has the potential to be seized upon and remembered forever. Which moment stands out as the most memorable?
While hosting in 1974, David Niven was when a streaker ran across the stage. In a moment of coolness that would make James Bond proud, Niven turned back to the crowd and casually joked about the man's "shortcomings," cementing the event as an iconic Oscar moment.
In a moment that convinced everybody their sound had gone out, John Travolta mispronounced "Frozen" star Idina Menzel's name as he introduced "Adele Dezeem" to a worldwide audience. The flub inspired thousands of memes (and more than a few name generators), and will likely stick with Travolta for much longer than he'd like.
Also Read: Oscars Nominee Ad Campaigns: It's a Dogfight to Be 'The Important Movie'
Marlon Brando famously refused to show up to accept his Oscar for "The Godfather" in 1973, instead sending a Native American representative to protest their representation in Hollywood.
As one of the earliest political statements in Oscar history, it grabbed much attention at the time and is still widely remembered today.
Vote now for the most memorable Oscar moment of all time.