Director Kevin Macdonald and producer Ridley Scott have invited 26 filmmakers from around the world to the Sundance Film Festival for the world premiere of "Life in a Day," a film assembled from 80,000 video submissions shot this past July 24 and sent in via YouTube.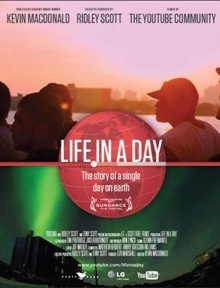 The filmmakers, who will be credited as co-directors on the project spearheaded by Macdonald ("State of Play," "The Last King of Scotland"), come from around the world. Five are from the United States, and others from countries as far-ranging as Nepal, Peru, the Ukraine, Indonesia and Afghanistan.
According to the press release announcing the premiere, film clips from the contributors "capture a wide array of life experiences, including a Korean man who has been cycling the world for nine years, a young mother battling cancer, and a Russian free-runner making Moscow his playground."
"Life in a Day" was designed, say its creators, "to capture life around the world in a single day." It drew 4,500 hours of footage, most uploaded to a special YouTube channel but some taken with cameras that had been shipped to areas without Internet access.
The film will premiere at Sundance on Thursday, January 27, and will stream live at 6 p.m. Mountain time that day at youtube.com/lifeinaday. It will be re-broadcast the following day at 7 p.m. local time around the world, subtitled in 25 languages.
The film will later become available in theaters and on demand before its permanent online release later in 2011.
The contributors invited to Sundance:
Massoud Hossaini (Kabul, Afghanistan)
Cristina Bocchialini, Ayman El Sayed Hassan (Cairo, Egypt)
Soma Helmi (Bali, Indonesia)
Hiroaki Aikawa, Taiji Aikawa (Tokyo, Japan)
Marek Mackovic, Okhwan Yoon (Kathmandu, Nepal)
Alberto Rauizo Gonzalez, Cain Abel Tapia Chavez, Aveliro Tapia (Arequipa, Peru)
Renat Ardilanov, Alexander Bayturin (Moscow, Russia)
Patricia Marinez del Hoyo, Toniu Xou, Virginia Salvado Segu, Araceli Segu Muste (Barcelona, Spain)
Boris Grishkevich (Zakarpatska, Ukraine)
Harvey Glen (Dubai, United Arab Emirates)
Caryn Waechter (New York, NY, United States)
Christopher Brian Heerdt (Naperville, IL, United States)
David Jacques (Woonsocket, RI, United States)
Betsy DelValley (Urbana, IL, United States)
Bob Liginski Jr., Bobby Liginski III, Catherine Anne Liginsky (Grayslake, IL, United States)