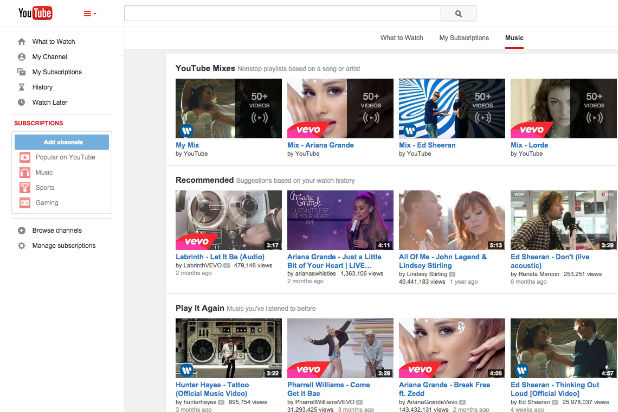 YouTube unveiled Music Key subscription service in an effort to throw down against Apple and Spotify.
The tech giant is offering access to the service to Google's top music fans for a six-month, invite-only free trial. Following the invite-only period, the service will be available for a promotional price of $7.99 per month (discounted from $9.99 monthly) for an ad-free experience. The subscription includes 30 million songs from Google Play Music and the ability to curate playlists and listen offline.
See photos: YouTube's 25 Biggest Stars (Photos)
"If a song exists in this world, you can probably find it on YouTube," the company wrote on its blog. "But until today you couldn't easily find and play full albums. In the coming days, you'll be able to see an artist's discography on YouTube, and play a full album with both their official music videos and high-quality songs our music partners added to YouTube."
In addition to Spotify and iTunes, YouTube's competitors include Amazon, Rdio and Rhapsody. Similar to the other services, Music Key will also offer recommended music playlists, but Music Key's will be based in part on what's trending across YouTube.
Also read: 'Hunger Games' Spin-Off Videos to Feature YouTube Talent
"Whether that's a morning motivators playlist or Boyce Avenue YouTube Mix, check out the newest songs from channels you subscribe to," the company said. "Or quickly find the songs you've played over and over and over again."
Music Key is also launching in Spain, Italy, Portugal, Ireland, the U.K. and Finland.