The Oscar race got a little clearer over the last week, with Ridley Scott and Matt Damon showcasing "The Martian" for Academy voters, Danny Boyle's "Steve Jobs" screening for its first audiences outside of Telluride and Steven Spielberg's Cold War drama "Bridge of Spies" debuting at the New York Film Festival and screening for media in Los Angeles.
It's now safe to say that all three could figure into this year's race, expanding the group of true Best Picture contenders to about 15 films that have been screened so far, and another handful that have yet to be unveiled.
Robert Zemeckis' "The Walk" could join that group as well, though it might be hurt by a softer-than-expected IMAX debut and a lot of reviews that praised the film's second half far more than its first.
Also Read: Toronto: Johnny Depp, Michael Keaton, Idris Elba, Brie Larson Arrive With Big Awards Buzz
Still, the sense from this vantage point is that the race is a crowded one, lacking any clear frontrunners but boasting lot of films that could find their way onto ballots.
If I had to guess, I'd say the likeliest Best Picture nominees as of early October are "Steve Jobs," "Spotlight," "The Danish Girl," "The Martian," "Room," "Carol," "Brooklyn," "Inside Out" and "Bridge of Spies," though it's hard not to imagine that some combination of the yet-unseen "The Revenant," "Joy" and "The Hateful Eight" won't crash the party as well.
Here are 33 films that could make the cut with the Academy, arranged roughly in what I see as the order of likelihood. The first 23 are films I can evaluate because I've seen them, but the last 10 belong in their own category, because they have yet to start screening.
THE TOP 10
"Steve Jobs"
It's words, words and more words — two hours of conversations between Steve Jobs and the colleagues, friends and family members who come up to him just before he's about to make three crucial product presentations. Aaron Sorkin has found a novel and daring approach to the life and career of the tech giant — and though it shouldn't work, his fiercely entertaining script, Danny Boyle's ability to turn conversation into cinema and Michael Fassbender's mesmerizing performance somehow manage to make this one of the two frontrunners at this point.
See video: New 'Steve Jobs' Trailer Emphasizes Drama of Creating 'Most Tectonic Shift to Status Quo... Ever' (Video)
Boyle, Sorkin and Fassbender are among the top contenders in their categories, but Kate Winslet is in many ways the heart of the film as Jobs' long-suffering PR chief, while Seth Rogen as Steve Wozniak has a couple of great scenes that could well put him in the supporting-actor race.
There's no telling if a movie this talky can go all the way, but in my book "Steve Jobs" is the leader in the clubhouse. Beware, though, of the kinds of attacks that almost always commence when a fact-based movie gets far in the Oscar race.
"Spotlight"
If only a group of filmmakers had uncovered years of sexual abuse and coverup in the Catholic Church, "Spotlight" could be the odds-on favorite — after all, we know how much Hollywood loves movies about Hollywood. But instead, a group of journalists from the Boston Globe are the focus of Tom McCarthy's smart, tense journalistic procedural, which is brilliantly acted and quietly gripping enough to stand alongside "Steve Jobs" as the year's likeliest and most deserving Oscar movie.
"Spotlight" is a true ensemble piece, which could spell trouble for its large group of top-notch actors, all of which are being pushed in the supporting categories. Michael Keaton is probably a lock for a nomination, but it's possible to see Mark Ruffalo, Rachel McAdams, Liev Schreiber and others being passed over — though the more of them who can land nominations, the better the chances for "Spotlight" to be a real contender to win.
Also Read: 'Spotlight' Venice Review: Michael Keaton Exposes the Catholic Sex Abuse Conspiracy
As it is, Open Road should have its first Best Picture nomination, and probably a batch of other noms to boot. But can the relatively new company find its way into the winner's circle? The last time they had a real contender was last year's "Nightcrawler," and it didn't even land nominations in categories in which it was thought to have a real chance (Best Picture, Best Actor). But that was a dark, risky movie by Academy standards, where "Spotlight" is the kind of classic storytelling that voters should embrace.
"The Danish Girl"
This one screamed Oscar bait from the start: a period drama from Oscar winner Tom Hooper ("The King's Speech"), starring reigning Best Actor champ Eddie Redmayne and focusing on the hot-button issue of gender identity through the true-life story of a Danish artist who became one of the first people to undergo gender reassignment surgery.
And yet, "The Danish Girl" might actually have been underrated as an Oscar contender after its screenings in Venice and Toronto, maybe because it's not triumphant like "The King's Speech." Redmayne will have a tough time joining Spencer Tracy and Tom Hanks as back-to-back Best Actor winners, but watch out for this one: It's the kind of moviemaking the Academy loves.
"The Martian"
"Gravity" showed that a space movie could contend for the top Oscars, even if "Interstellar" then turned around and showed that sci-fi can be a tough sell to the Academy. While "The Martian" doesn't seem as visionary as those two predecessors, it is grand entertainment from Ridley Scott (whose "Gladiator" won Best Picture), and it drew the biggest Academy crowd of the season for a Saturday night screening that reportedly saw dozens of members turned away after the 1,000-seat Samuel Goldwyn Theater reached capacity.
Also Read: Matt Damon's 'The Martian' Is This Year's 'Best Film' and 8 Other Out-of-This-World Reviews
The film was well received by the crowd, with one voter reporting with surprise that close to 100 people remained in the lobby after the post-screening Q&A to talk about the film — a sign, perhaps, that voters are seeing the movie as more than just a great popcorn flick. And that's a key, because voters will want to come down on the side of a movie that has some heft to go with its thrills and its laughs.
"Room"
The winner of the Toronto Film Festival audience award has gone on to receive a Best Picture nomination in six of the last seven years, winning three times. That could be a good omen for Lenny Abrahamson's small, dark movie, which stars Brie Larson as a woman who has been held captive in a garden shed for seven years, the last five of which she's devoted to raising the son fathered by her captor.
The film is creepy and gripping, with a moving final scene that will put voters in the right mood as they leave the theater (or take out the screener DVD). It risks coming off a little too indie and/or a little too much of a genre piece, but the actors branch should embrace Larson's performance (and maybe that of remarkable newcomer Jacob Tremblay as well), and the film could be primed to slip into that "Beasts of the Southern Wild" or "Winter's Bone" slot that has gone to a small indie a few times in the last six years.
See video: Toronto: Brie Larson on Playing Extreme Captivity in 'Room' (Video)
"Brooklyn"
Because it's been around since Sundance, where Fox Searchlight won a bidding war for the movie, "Brooklyn" might also be underrated in the race. But director John Crowley's story of a young Irish girl moving to New York in the 1950s is beautiful, lyrical and undeniably moving, with a transcendent lead performance by Saoirse Ronan.
If Searchlight can make a little noise and get voters to pay attention — and considering that they're coming off of back-to-back Best Picture winners in "12 Years a Slave" and "Birdman," here's betting they can — this quiet little movie could be a big player in categories like picture and adapted screenplay (by Nick Hornby). And Ronan, who's been on the Academy's radar since she was 13 (and nominated for "Atonement") is definitely a force in the Best Actress race.
"Carol"
Todd Haynes' period drama about a taboo relationship between two women in early 1950s New York is very small, very quiet but absolutely exquisite. I thought it was the best film I saw at the Cannes Film Festival this year, and lots of critics agreed. Cate Blanchett and Rooney Mara are sure to be high atop many best-actress lists this year.
(The Weinstein Company is campaigning for Blanchett in lead, where her competition will include herself in "Truth," and Mara in supporting, despite the latter's Best Actress prize from Cannes.)
Also Read: 'Carol' Cannes Review: Cate Blanchett and Rooney Mara Shine in Bold Romance
One potential hiccup is the extravagance of the praise the film received in Cannes. Because this is such an understated and subtle piece of work, it's possible to imagine some voters wondering what all the fuss was about when it finally screens for voters. But Weinstein has taken movies a long way in the race in the past, and this will be one of the company's best shots at awards this year.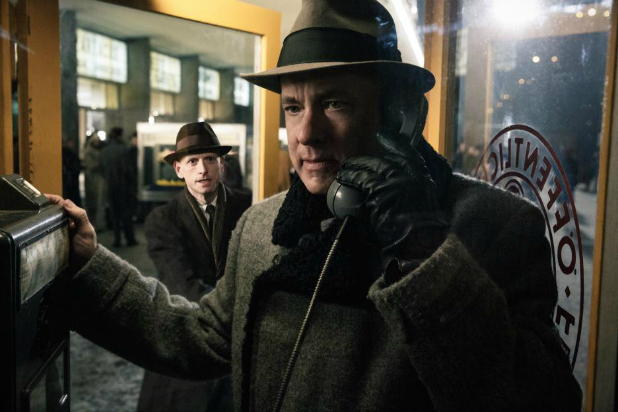 "Bridge of Spies"
Steven Spielberg's Cold War drama is impeccably crafted and slightly old-fashioned in its storytelling, which typically isn't a bad thing for the Academy. It also has moments during which it veers into Spielbergian sentimentality, which also isn't a drawback in the eyes of voters. It might not win over those who go for the more bracing allure of "Steve Jobs" or "Room," but an old-style Spielberg pleasure could easily gain favor when it comes time to vote.
Three of Spielberg's last five movies have been nominated for Best Picture, and the ones that weren't were the animated "Adventures of Tintin" and the fourth Indiana Jones movie. A drama in which a Soviet spy is a sympathetic character may find some resistance among those who championed "Lincoln" and "War Horse," but the combination of a witty script partly written by the Coen brothers, a wholly pleasing performance by Tom Hanks and a touch of contemporary resonance should help it gain some traction.
Also Read: 'Bridge of Spies' NYFF Review: Tom Hanks Is Steven Spielberg's All-American Cold Warrior
Plus, Emmy nominee and Tony winner Mark Rylance should find himself in the thick of the supporting-actor conversation.
"Inside Out"
Back in June, I said Pixar's "Inside Out" had to do five things to land a Best Picture nomination. It needed big grosses, which it got: With a domestic gross on the high side of $350 million (and a worldwide gross of close to $800 million), it's the year's third-biggest film. It needed near-unanimous critical success, which it got. It needed disappointing fall and winter releases to push it into the Top 10, which it seems to have gotten as a few prestige releases seem to be likelier acting showcases than picture contenders.
Finally, I said it needed nominations in other categories, and it needed the Oscars to use nine or 10 best picture nominees this year. We won't know about those until later, but so far so good. "Inside Out" is still far from being a shoo-in, but June's longshot is inching toward becoming a likelihood.
Also Read: 'Inside Out' Director Pete Docter: The Concept Was Easy, the Movie Was Hard
"The Walk"
The last half hour is spectacular, the first hour is problematic, and the question surrounding Robert Zemeckis' drama about wire walker Philippe Petit isn't whether the spectacle is enough to overcome the problems — it's whether spectacle is enough to attract voters who usually want more meat on the bones of their top nominees.
One thing it has going for it, though, is the emotional impact that comes from a climax staged between two buildings that no longer stand. Playing Petit, Joseph Gordon-Levitt narrates the film standing atop the Statue of Liberty, with the twin towers of the World Trade Center in the background; the conceit is annoying for much of the film, but in the final scene it pays off brilliantly and packs an emotional wallop.
MORE CONTENDERS
"Beasts of No Nation"
"I hear it's harder to watch than '12 Years a Slave,'" one nervous voter told me. And yes, Cary Fukunaga's story of a young boy forced to become a child soldier in Africa is brutal and horrifying — but also enormously powerful to such a degree that I could see it generating enough passionate support to land a nomination. (In the first round of voting, you just need to be the first choice of 300 or so voters to be nominated.)
Also Read: 'Beasts of No Nation' Venice Review: Idris Elba Creates Child Soldiers in Bold and Harrowing Drama
"Black Mass"
Will Academy members see this as a showcase for Johnny Depp's fearsome performance as Whitey Bulger, or as a richer movie that deserves to be celebrated in its own right? This is another case in which the violence could be off-putting to many voters, but passionate supporters could turn the tide.
"Suffragette"
Carey Mulligan is a sure Best Actress contender for her role in the raw period drama about the women's movement in the U.K. in the 1920s, but the film itself is also a timely look at how women are undervalued, which could hit home in Hollywood.
"Trumbo"
Jay Roach's film about blacklisted screenwriter Dalton Trumbo is light and funny while making real points about a shameful period in U.S. (and Hollywood) history, and Bryan Cranston will no doubt turn heads with an outsize performance as Trumbo.
"Straight Outta Compton"
If voters are indifferent to most of the October, November and December releases, and if they want to make a point about diversity, the summer's hit rap biopic could have a chance.
See video: Watch 'Straight Outta Compton' Trailer Recut to Ben Folds' Cover of Dr. Dre Song (Video)
"45 Years"
The Academy counts among its membership lots of actors of a certain age, who just might want to celebrate the affecting performances by Charlotte Rampling and Tom Courtenay in this intimate British drama.
"Anomalisa"
Charlie Kaufman wasn't too weird to land three Oscar nominations and to win for writing "Eternal Sunshine of the Spotless Mind," so it's not out of the question that bold voters could embrace his odd, wholly original animated film.
Also Read: Toronto: Charlie Kaufman's 'Anomalisa' Digs Into Human Meaning With Stop-Motion
"Son of Saul"
The last Best Foreign Language Film nominee to also land a best-pic nod was "Amour," in 2012, and Sony Pictures Classics released both that Michael Haneke film and this Cannes sensation.
"Mad Max: Fury Road"
If voters are disappointed with typical awards movies and want to look earlier in the year, few films received such widespread acclaim as George Miller's adrenalized reboot.
"Truth"
James Vanderbilt's drama about the "60 Minutes" investigation that led to Dan Rather's resignation has already been attacked on political grounds, and defending it would have to become a cause celebre for the Cate Blanchett/Robert Redford film to start gaining awards traction.
"Love and Mercy"
Bill Pohlad's bold look at troubled Beach Boys mastermind Brian Wilson is getting a big push, looking for voters to think back a few months to a daring and widely respected biopic.
THE UNSEEN DOZEN
Three huge Christmas-day releases await: Oscar winner Alejandro G. Inarritu's "The Revenant," with Leonardo DiCaprio; Oscar nominee David O. Russell's "Joy," with Jennifer Lawrence, Bradley Cooper and Robert De Niro; and Quentin Tarantino's "The Hateful Eight," with Samuel L. Jackson and Jennifer Jason Leigh. It'd be foolish to write off any of them.
See video: Quentin Tarantino's 'Hateful Eight' Trailer Teases Eight Strangers With One Deadly Connection (Video)
Three more films will debut in November at the AFI Fest, which has been used as an 11th-hour awards-season launching pad in the past. Angelina Jolie's "By the Sea," a relationship drama starring Jolie and Brad Pitt, will try to regain the awards mojo she didn't get with "Unbroken" last year. John Landesman's "Concussion" stars Will Smith as a doctor who investigates brain trauma in the National Football League, and will no doubt garner lots of headlines. And "The Big Short" will hope to follow "Moneyball" as an awards-worthy adaptation of a Michael Lewis book, though that would be new territory for director Adam "Anchorman" McKay.
Ron Howard hasn't been in the Oscar race since "Frost/Nixon" in 2008, but the period whaling film "In the Heart of the Sea" promises spectacle and drama. Billy Ray was an Oscar nominee for writing "Captain Phillips," but now he's a writer-director on "Secret in Their Eyes," with Julia Roberts and Nicole Kidman in an English-language adaptation of the Argentinian foreign-language winner.
If the Academy wants to goose the ratings of its show, they could do far worse than to nominate "Star Wars: The Force Awakens," or the James Bond film "Spectre," or maybe even Ryan Coogler's "Rocky" reboot, "Creed," which if nothing else could make Sylvester Stallone a supporting-actor contender, vying for his first Oscar nominations in 38 years.
See video: Sylvester Stallone Helps Michael B. Jordan Pack a Punch in First Trailer for 'Rocky' Spinoff 'Creed' (Video)
And then, to get this list to 33 entries, how about "The 33"? The Academy loves real-life dramas, and there's plenty of drama in the story of 33 Chilean miners trapped in a collapsed mine in 2010.