The whole point of Oscar season is to secure the votes of Academy members — but when it comes to the excess, the largesse and even the aftertaste of awards season, people outside the Academy are the ones who have all the fun.
AMPAS members, after all, are bound by a series of increasingly stringent campaign regulations that determine what can be sent to them, how it can be packaged and even how heavy the paper can be on which it is printed.
No such restrictions bind the studios from sending materials to voters in other guilds or in critics' groups — so in addition to the glut of yearend screeners, campaign materials often scale the heights of pomp and circumstance and silliness.
As a member of the Broadcast Film Critics Association, and therefore a voter for the Critics Choice Movie Awards, I receive this stuff on a daily basis. (Some of it is also sent to reporters who cover awards season, which means I receive it twice.) And while this year hasn't brought anything like last year's "Descendants" ukulele, here are five over-the-top moments from 2012's awards-season promotions:
1. All Lincoln, All the Time
The most avid campaigner of the season has clearly been Steven Spielberg's "Lincoln," which also happens to be something of an Oscar front runner.
"'Lincoln' letters come every other day," one Academy member told me this week of the full-court-press that DreamWorks/Disney film is making. And for those who aren't in the Academy, the film has embarked on a feverish campaign to paint the film as big, classy and different.
The non-AMPAS screener itself, for instance, came packaged in a lavish white box in a limited edition (I got number 88 out of 250), with a photo of Lincoln and his son and a quote from A.O. Scott of the New York Times. Inside were photos and more quotes cradling the screener.
(Academy members, by contrast, got the film in a plain cardboard sleeve.)
They also sent the "Lincoln" soundtrack (two copies so far), a theatrical-style program for the movie, the sheet music to John Williams' theme "The People's House," the screenplay packaged as a hardcover book (more on that later) and the "A. Lincoln Cook Book," which calls itself "a cook book of epic proportions" and also contains a "digital postcard" DVD from the Abraham Lincoln Presidential Library and Museum.
Can a Free the Slaves board game be far behind?
2. Too Many Books, Too Little Coffee Table
Got an animated movie to promote? Try a lavishly illustrated, hardcover coffee-table book. Got a comic book movie to promote? Same thing. Got a movie about the 16th President of the United States? Ditto. (Also see: "All Lincoln, all the Time.")
This year, for some reason, has seen a glut of oversized, beautiful "making-of" books. So far I've gotten two from "Brave," one from "Rise of the Guardians" and one from "Hotel Transylvania" on the animation front, plus a hefty tome entitled "The Art and Making of The Dark Knight Trilogy."
"Lincoln," not one to be left behind in any matters of promotion, packaged its Tony Kushner screenplay to look like a hardcover coffee-table book.
And I've gotten two copies of the novel "Life of Pi," one with the original cover and one with the new movie cover. But those aren't coffee-table books, so I guess they don't count.
3. Steven Soderbergh's Pitch
Personal letters from directors – which is to say, form letters that appear to be personally signed – aren't uncommon: Ben Affleck has sent one to the members of the Broadcast Film Critics Association this year, Steven Spielberg did last year on behalf of "War Horse."
But the BFCA letter from Steven Soderberg that accompanied a "Magic Mike" screener came as something of a surprise, partly because Soderberg is not one to hit the campaign trail and partly because "Magic Mike" is hardly an awards-type movie.
But Soderberg, it turned out, had a specific pitch to make: "I'm breaking my long-standing embargo regarding pleas for recognition because the core creative team of MAGIC MIKE really hopes people are reminded at the end of the year of Matthew McConaughey's performance as Dallas, which we found to be completely bananas in the best sense of the word," he wrote. "As he says in the film, 'The moon is just a chip shot away!'"
We won't know if the BFCA was listening until those nominations are announced next Tuesday – but the New York Film Critics Circle was, because McConaughey was named the group's best supporting actor on Monday.
4. The Overzealous Doc
Most of the other things I've mentioned would be campaign violations if they were sent to Academy members – but since they're not, they fall outside of AMPAS jurisdiction. But three hours after the release of an Oscar documentary-feature shortlist that included Kirby Dick's tough, impactful documentary about sexual assault in the military, "The Invisible War," Cuomo Cole Productions did violate Academy rules with an email that looked as if it had come from AMPAS, and linked to the shortlist on the Academy website.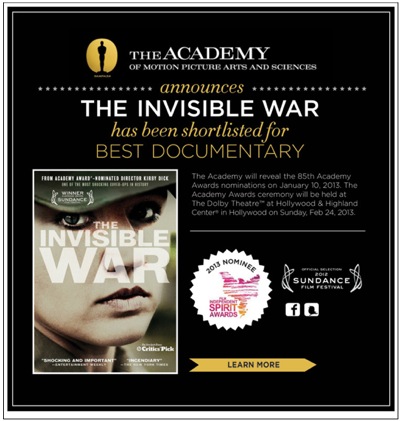 The trouble is, you can't use your inclusion on the shortlist to promote yourself. Asked if the email was legal, an Academy spokeswoman pointed to the appropriate campaign rule:
"Only documentaries that receive nominations or Academy Awards may refer to their Academy endorsements in advertising and publicity materials. A film that is selected for the shortlist may not identify itself as an 'Academy Award finalist,' 'Academy Award shortlist film' or the like except when it appears in a program consisting entirely of such films."
By now, you can expect Cuomo Cole – which did not respond to TheWrap's request for comment – to have heard from the Academy.
5. Feed Me
Animated films don't stop with coffee-table books, of course. "Hotel Transylvania" also sent out a pair of kid-sized Halloween costumes (I found an excited taker for one of them), while "Rise of the Guardians" went with a huge tin full of three kinds of popcorn.
And Pixar took advantage of the fact that St. Andrews Day, the feast day of the patron saint of Scotland, conveniently falls on Nov. 30, in the thick of awards season. On that day, they delivered a basket of "traditional Scottish delicacies," which included shortbread biscuits, butterscotch candies, 200 ml of Johnnie Walker Red Label Scotch and, um, haggis and cracked black pepper flavored potato chips.
For the record, the haggis chips aren't awful, but they do have a funky aftertaste.
But then again, so does Oscar season.