There's a moment at the end of the promo reel for "Love, Marilyn," an upcoming Marilyn Monroe documentary that will premiere at the Toronto Film Festival, when Uma Thurman, speaking in words that were written by Monroe, almost whispers these lines:
"Please don't talk about me when I'm gone."
Obviously, Monroe didn't get her wish.
As we approach the 50th anniversary of her death on Aug. 5, 1962, we're still talking about Marilyn.
Also read: Home Movie Shows Marilyn Monroe Smoking Pot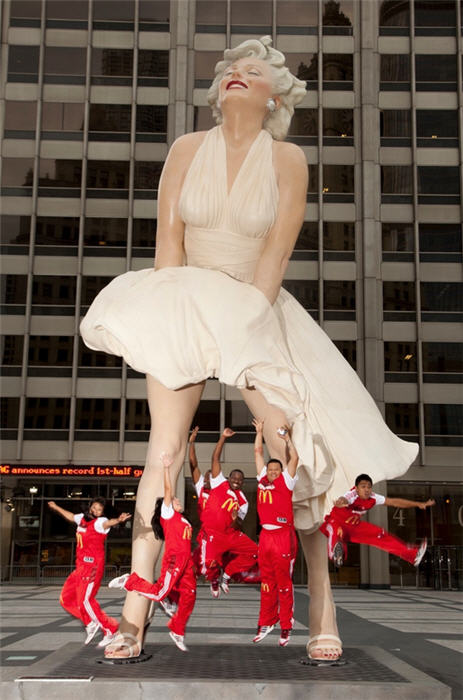 You could easily argue that one of the world's biggest stars and sex symbols only became bigger after death, when her image became forever young and the erratic behavior that marred the last years of her career only made the story of glamour, sex and sadness more compelling.
Witness last year's Oscar-nominated "My Week With Marilyn," as well as Liz Garbus' new documentary, a combination of interviews with those who knew Monroe and staged readings of her words and the words of those close to her. (Among them: Thurman, Glenn Close, David Strathairn, Adrien Brody, Paul Giamatti, Marisa Tomei and Evan Rachel Wood.)
Then there's NBC's new series, "Smash," about creating a Broadway show about Marilyn. And there's that mammoth Marilyn statue that recently made its way from Chicago's famed Michigan Avenue to Palm Springs.
From movies to songs to television shows, art to advertisements, cartoons to photo shoots to who knows how many recreations of the subway-grate shot from "The Seven Year Itch" and the "Diamonds Are a Girl's Best Friend" number from "Gentlemen Prefer Blondes," Marilyn is inescapable  — our National Blonde, even though this particular blonde didn't really seem to have more fun.
Here, to commemmorate the 50th anniversary of her death, are 50 shades of Marilyn in pop culture.
MOVIES
The place to start is the mother lode: "The Forever Marilyn Collection" (#1), a new Blu-ray and DVD box set that includes "Some Like It Hot," "The Misfits," "There's No Business Like Show Business," "How to Marry a Millionaire," "The Seven Year Itch," "Gentlemen Prefer Blondes" and "River of No Return."
Michelle Williams" src="https://www.thewrap.com/sites/default/wp-content/uploads/files/my-week-marilyn_3.jpg" style="width: 180px; height: 239px; margin: 15px; float: right;" title="" />But Monroe's own movies are only the tip of the iceberg. Michelle Williams (right) won an Oscar nomination last year for playing the actress in "My Week With Marilyn" (#2), which dealt with the rocky shooting of the 1958, Laurence Olivier-directed film "The Prince and the Showgirl."
Also read: Review: 'My Week With Marilyn' = Some Like It Not
Other actresses, most notably Teresa Russell in Nicolas Roeg's "Insignificance" (#3), play versions of Monroe; her version is simply called The Actress.
In films that reference Monroe, "Pulp Fiction" (#4) stands out for its Jack Rabbit Slim's scene, where Marilyn is front-and-center in a diner populated by pop-culture icons.
More references: In "Blades of Glory" (#5) Amy Poehler's character performed a pairs ice-skating routine as Marilyn from "The Seven Year Itch." In "I Heart Huckabees" (#6), Naomi Watts' character sang "Happy Birthday, Mr. President" ala Monroe to JFK. In Ken Russell's film of the Who's "Tommy" (#7) Eric Clapton turned "Eyesight to the Blind" from a blues song about sex to the credo of a cult devoted to Marilyn.
We should also include another mention of the upcoming "Love, Marilyn" (#8), which uses Marilyn's own journal writings to help tell her story. Blonde on blonde, to borrow a phrase from Bob Dylan.
TELEVISION
NBC's musical "Smash" (#9, left) has the blonde bombshell played, at various points during the first season by Uma Thurman, Megan Hilty and Katharine McPhee. Bonus: the show-within-a-show might really make it to Broadway one day (as might a Marilyn show Harvey Weinstein is trying to mount).
Also read: Katy Perry as Marilyn Monroe on Broadway? Harvey Weinstein Wants It To Happen
"Mad Men" (#10), meanwhile, has dealt with Marilyn in a couple of episodes, including "Six Month Leave," in which the women in the office react to her death. "Saturday Night Live" (#11) has used a variety of perfomers to play her, including "Teri Garr, Madonna and Charlize Theron, while Matt Groening has referenced Marilyn on his TV series "The Simpsons" (#12) and "Futurama" (#13), the latter of which included the character "Marilyn Monrobot."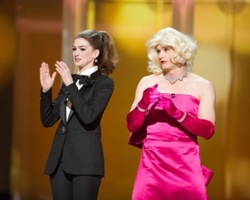 One regrettable Marilyn reference on primetime came in February 2011, when James Franco's baffling performance as host of the Academy Awards (#14) included a bit where he came onstage in drag dressed as Marilyn in "Gentlemen Prefer Blondes."
MUSIC
Marilyn was only 11 years gone when Elton John and Bernie Taupin wrote "Candle in the Wind" (#15) about her. The lyrics weren't exactly subtle ("Hollywood created a superstar/And pain was the price you paid"), but the song became one of John's standards — though its connecton to Monroe was slightly eclipsed when he rewrote the lyrics to make it a tribute to Princess Diana after her death in 1997.
Lots of other songs reference Marilyn, from Madonna's "Vogue" (#16) to the Kinks' "Celluloid Heroes" (#17) to Tom Waits' "Jitterbug Boy" (#18), in which a shady character adds her name to a long string of ludicrous boasts ("I slept with the lions/And Marilyn Monroe/ … I taught Mickey Mantle everything that he knows").
Britney Spears" src="https://www.thewrap.com/sites/default/wp-content/uploads/files/britney_as_marilyn.jpg" style="width: 250px; height: 157px; margin: 15px; float: left;" title="" />Of course, Madonna and Lady Gaga and Britney Spears and many other pop divas owe reams to Marilyn, witness "Material Girl" (#19), "Dance in the Dark" (#20) and live performances of "If U Seek Amy" (#21, left), respectively.
But the most substantial musical treatments could be Dan Bern's "Marilyn" (#22) in which the singer-songwriter posits that her life would have been better if the author she married had been Henry Miller rather than Arthur Miller, and T Bone Burnett's "After All These Years" (#23) which Burnett has said was inspired by a story he read about exhuming Monroe years after her death:
"Was she still as alluring, still as seductive?
Could she still drive you crazy by the look on her face?
Did she still have a whisper you could hear cross an ocean?
Was she still a scandal, still a disgrace?"
Extra points to Burnett for his wry, deadpan and delightful cover version of "Diamonds Are a Girl's Best Friend" (#24).
Even classical composers have been inspired by Monroe. The opera "Marilyn" (#25), for instance, was one of the centerpieces of the New York City Opera's own 50thh anniversary celebration in 1993 – but one critic called the Ezra Laderman/Norman Rosetn work "bizarre and excrusiatingly banal," and it has faded from the repertoire.
And, of course, Monroe is dead center on one of the most famous album covers of all time, the Beatles' "Sgt. Peppers Lonely Hearts Club Band" (#26) – she's right above Ringo, and surrounded by writers Edgar Allan Poe and William S. Burroughs, British comedian Tommy Handley and explorer Dr. David Livingstone.
ART
Andy Warhol's Marilyn Diptych (#27, below) from 1962, which he completed in the weeks after her death, is probably the best-known piece of Marilyn-centric art.
But he's hardly the only artist to have been inspired. Other artist who have dealt with Monroe range from Salvador Dali (#28) to Willem de Kooning (#29) to Robert Rauschenberg (#30)  to Shepard Fairey (#31) to Mr. Brainwash (#32); that list certainly includes both the sublime and the ridiculous, though you can make your own decision about what belongs where.
Does J. Seward Johnson's giant Marilyn statue (#33) that currently occupies a street corner in Palm Springs count as art? Reactions differ, perhaps less in the California desert resort than in its previous home in Chicago, but we'll let it into the category.
Also read: Giant Marilyn Monroe Statue Coming to L.A. Area
And in architecture, the Absolute World buildings (#34, left) in Mississauga, Ontario, Canada, outside Toronto, have been nicknamed "Marilyn Monroe" because of their undulating forms.
LITERATURE
Joyce Carol Oates' "Blonde" (#35) is one of the best-known and most acclaimed entries on the shelf of books that drawn on Marilyn; Oates insists that it is a novel, not a biography.
Many other writers have tried to analyze and explain Marilyn, including Norman Mailer (#36) more than once. The most intriging titled print evocation of Monroe, though, has to be Andrew O'Hagan's "The Life and Opinions of Maf the Dog, and His Friend Marilyn Monroe" (#37).
COMMERCIALS
Lots of companies have drawn on Marilyn imagery in their ads, Benetton (#38), Chanel No. 5 (#39) and Tampax (#40) among them.
But we'll highlight Absolut Vodka's Absolut Marilyn campaign (#41, right), which managed to capture something essential with nothing more than a bottle of and a little tutu.
PHOTOGRAPHY
It's impossible to even keep track of how many times Playboy magazine (#42) has restaged the shoot that gave it its first cover girl. Countless others did something similar for countless other publications; Lindsay Lohan, for instance, recreated Monroe's Bert Stern photo shoot (#43) for New York magazine.
The most intriguing Marilyn makeover, though, was Lisa Marie Presley (#44, left) made up as Marilyn by Kevin Aucoin for Herb Ritts' camera. The effect was startling, but also otherworldly in its implications: Elvis + Marilyn = a star in front of whom all other stars must bow.
MISCELLANY
Monroe put the Marilyn in Marilyn Manson (#45).
Nike combined Marilyn and Andy Warhol for its Warhol/Monroe Air Max 90 shoe (#46) – because, you know, guys in gym shoes love their Warhol.
Mattel has created a couple of Marilyn Barbie dolls (#47).
Rudy Giuliani (#48) came to the 1997 New York Inner Circle press dinner in drag as Marilyn from "Gentlemen Prefer Blondes," resulting in photos that might have chosen problematic if his presidential run had ever gotten off the ground.
And finally, Marilyn has a Twitter account – or at least, her estate does, at @MarilynMonroe (#49), where most of the tweets are promotion-oriented. But it's also not hard to find fake Marilyn Twitter accounts – including @TheMsMonroe (#50), which puts its approach this way: "It's 1962 and Marilyn Monroe Tweets regularly."
Please don't tweet about me when I'm gone?