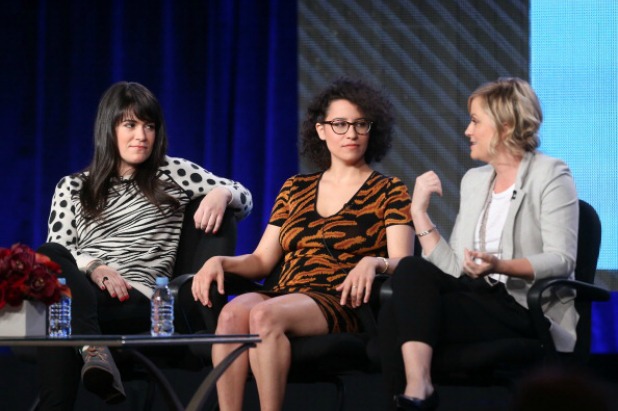 Two days before the Golden Globes, co-host Amy Poehler took time out to praise the latest addition to "Saturday Night Live" and promote "Broad City," the new series she's executive producing for Comedy Central.
How was she so laid-back before the awards?
"Heavily medicated," she joked Friday at the Television Critics Association winter press tour.
Also read: 5 TV Shows You Should Watch in Early 2014 (Videos)
She was asked about "SNL" hiring Sasheer Zamata, who, like "Broad City" stars Abbi Jacobson and Ilana Glazer, is an alum of the Upright Citizens Brigade, the school and theater Poehler co-founded.
"I'm so glad you asked that," she told a reporter, explaining that she was recently misquoted in an interview that made it seem like she had passed on a chance to comment on Zamata.
Also read: Judd Apatow and Lena Dunham Get Mad at Me For Asking Why She's Naked So Much on 'Girls'
"We all know Sasheer and her work and UCB's really proud to be associated with her," Poehler said. "She was part of our diversity program many years ago and she's an awesome performer. Congratulations to her."
She also congratulated new "SNL" writers LaKendra Tookes and Leslie Jones.
Also read: Kristen Wiig 'Excited' About New 'SNL' Hires
"Broad City" — which TheWrap named one of five shows to watch in early 2014 — stars Jacobson and Glazer as two friends struggling to get by in New York City. The first episode finds Glazer video messaging Jacobson during sex, and the pair trying to come up with enough money to go to a Lil Wayne show.
Poehler hosts the Globes with Tina Fey on Sunday. "Broad City" premieres Jan. 22, or you can watch the first episode here.