A recent storyline on CBS' "The Equalizer" that addressed antisemitic attacks on a Jewish community touched an all-too-familiar nerve with its star, Adam Goldberg. "I've exposed to that dark side of humanity to some degree," he told TheWrap. "Not in any sort of physical way but certainly in social and political ways, and certainly at various points in my career."
His role as the wisecracking Jewish Army trooper Stanley "Fish" Mellish in Steven Spielberg's 1998 epic World War II film "Saving Private Ryan" brings to mind his most "intense example" of feeling doused in hatred for his religious beliefs.
"It's not unfamiliar terrain, but in many ways, I was surprised by how I ended up sort of feeling and reacting to the material once we were shooting it," he said. Fish's death scene in the film still sends shivers down my spine and isn't for the faint of heart. In it, Goldberg's character lays wounded on the floor of a bombed building in German when a Nazi comes upon him and slowly – very slowly – plunges a knife into his chest.
That "Saving Private Ryan" scene was so traumatizing for his mother to watch during the premiere back in '98 that he said she hasn't watched the film since. She was mad that her son didn't warn her about it.
"I felt much more, kind of moved by it than I expected to, I think partly because, not unlike the character, I feel like there's a certain amount of distance I feel from my Jewishness. Although I do feel like I've owned it, and in many ways kind of been forced to own it, just by virtue of what I do for a living, but also sort of, I guess, defending myself and my culture and Jewish people at large, whether it's sort of in social media or through the work I've done as an actor," Goldberg said. "But yeah, I found it, on the one hand, depressing and familiar and on the other hand, empowering and then moving."
Whether Jewish or not, watching scenes like that in "Saving" or many in "The Equalizer" episode, emotions flip between incredibly angry and incredibly sad that hate can run that deep.
"Yeah, that's certainly how I felt. I mean, really the last several years, you know, to be frank," he started and stopped. "You know, I first started to sort of personally experience…a kind of a mind-blowing amount of, you know, sort of hate directed at me in a way, which of course I could recognize was very spammy. It wasn't really that personal, but nonetheless, I have a folder or an album, I guess, on screenshots on my phone entitled 'Nazis' to the point where I actually was considering doing a podcast where I was going to interview some of these people that were trolling me on Twitter. This was a few years ago, and I got a few of them to agree…I think every person who belongs to a culture that has dealt with cultural bias and racism and oppression on any level has certainly been subject to a lot more vitriol."
Ultimately, he decided against the podcast idea, but every once in a while he'd post screenshots of some of these interactions, and people were just absolutely floored. "Stunned," he said. "You know, like, what decade is this? And yet for me, it's like, this happens every day. I think unless you are kind of right there in the firing line, I think it's hard for people to believe."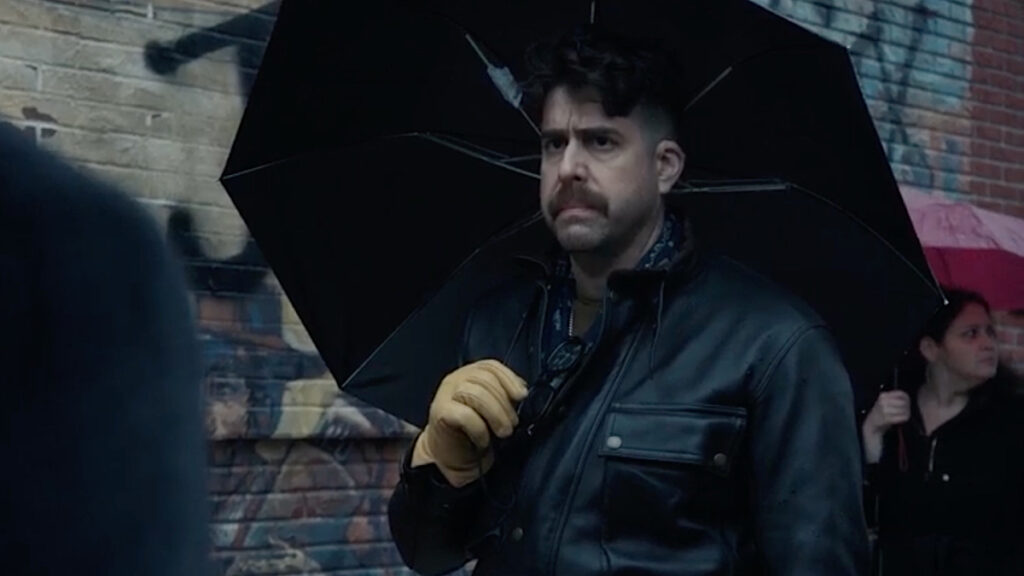 Goldberg said the sad irony about this particular form of prejudice – antisemitism – is that one of the tropes in many ways is that it doesn't exist but rather "that the Jews are controlling the narrative."
"The whole country, the whole world has, I think, been gaslit to some varying degrees in the last several years. Obviously, this was sort of one of these ripped from the headlines type of episodes," Goldberg said of "The Equalizer" episode in which his character reconnects with his Jewish faith while looking into a string of hate crimes terrorizing a local community. "But even since we've shot it there've been several more incidents and some that just go unreported."
"I guess 'hate,'" he said, "just to put it more simply, in the last several years, not that it wasn't sitting there lying dormant to some degree, but it was just…someone kicked the hornets' nest, you know?"