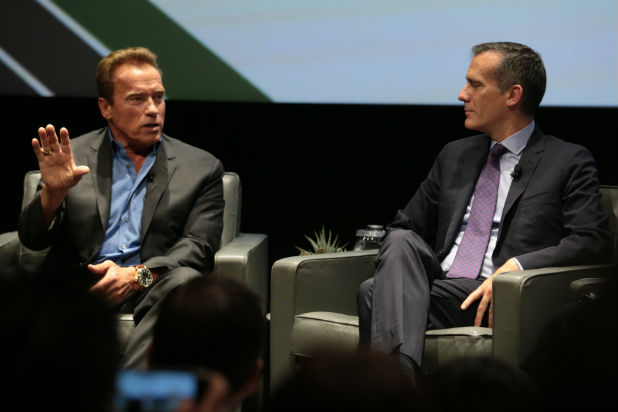 Arnold Schwarzenegger says that if he were playing a character in a movie, he could set climate-change deniers straight by putting their mouths "in the exhaust pipe."
The former California governor recalled his 2006 struggle with the federal government to pass clean air regulations when many people on Capitol Hill denied that greenhouse gas emissions were toxic.
"In movies, what you do when something like this happens is, you take those guys that say it's not a pollutant and and you hook them up with their mouths in the exhaust pipe," Schwarzenegger told a packed auditorium at talent agency CAA on Wednesday.
Also Read: Watch The Rock Butcher His Arnold Schwarzenegger Impersonation (Video)
Schwarzenegger got a big laugh from the crowd and from his fellow panelist, Los Angeles Mayor Eric Garcetti, who sat for a conversation about implications of U.S. withdrawal from the Paris Climate Agreement.
"Washington claimed … that they don't have to give you a waiver to be able to regulate your own air, if they say that co2 [greenhouse gasses] is not a pollutant. So that's what they said. Imagine it for a second, that it's not a pollutant," Schwarzenegger continued.
"In the real world, you have to go the normal route, which is to sue the federal government," he said. "It went all the way to the Supreme Court … and there they lost. Of course, we were sued immediately by every car manufacturer in the world."
Also Read: Barbara Boxer on Hollywood Elites: Meryl Streep Didn't Fail, the Democratic Party Did
Schwarzenegger said despite the headaches, he and his team demonstrated effective leadership.
"Eventually they settled, and we then did the tailpipe emissions reduction and we worked together with the Obama administration to do it on a national level. We showed really great leadership, and what we really showed was that the federal government cannot stop you," he said.
Trump's withdrawal of the U.S. from the global climate agreement in early June caused worldwide shock. Foreign leaders decried the move and Hollywood fired off enraged tweets. A sequel to Al Gore's groundbreaking climate change doc "An Inconvenient Truth" went back into the edit bay to include the update in the final film.
In addition to discussing Trump's moves, the men shared ideas about how communities can pick up the mantle for sustainability. No tailpipes were deployed in the process.