First came this prolonged standing ovation for "August: Osage County":
Above: Julia Roberts front and center (Meryl Streep was out sick), the cast, direcotr John Wells, and Harvey Weinstein flanking the class picture as the spotlights hit the royal box in Roy Thomson Hall.
Then, since it was only 8:45 PM, the shuffle-turned-hustle to beat the crowd to the Soho House after party began.
And why was this night in Toronto different from all other nights? While on all other nights, the film parties usually only take over the first floor, this Weinstein and Grey Goose bash took over the whole house – from roof to sidewalk – and filled the space.
Get used to this visual: You might be seeing a lot of these faces between now and March 2. John Wells,  Chris Cooper, Julianne Nicholson, Dermot Mulroney, Julia Roberts, Ewan McGregor, Juliette Lewis and Abigail Breslin at the "August: Osage County" after party.
In the minutes after the premiere let out, one Weinstein executive was refreshing her blackberry constantly monitoring the twittersphere's enthusiastic reaction to the first eyeballs – celebrity or civilian – to see the film. Director John Wells did not have his face in a screen ingesting the tweets, telling me (correctly) "other people are. I'd get too crazy."
While Toronto audiences were loading in to Friday's gala hit "12 Years a Slave," Wells was still working on the film that would premiere at the Fiji Water-hosted event 3 nights later. At the party, he said that when he finished at 6:00 p.m., he went home to play with his wife and kids.
While the first floor offered a feast — slow-braised goat and paella — the festivities required a trek upstairs.
Julia Roberts successfully juggled her iPhone, stylish glasses, a "glass"-glass, and a circling orbit of well-wishers in the narrow second floor dining room upstairs that included Jason Bateman and Christophe de Pous, CEO of Gucci, which co-sponsored the event with Grey Goose.
John Carney (right), whose "Can A Song Save Your Life?" sold to the Weinsteins on Saturday night, was in the fold, posing here with Juliette Lewis.
One of Roberts' lines is poised to migrate off screen and in to the pop-culture conversation. At the very least, it'll be in one of AFI's clever montages down the road: a rage-escalating, paradigm-shifting, exclamation point on a key fight with on-screen mother, Meryl Streep: "Eat the fish, bitch!"
Asked if she's prepared for people to sling the catchphrase back at her in public – like "I drink your milkshake," and "Show me the money," Roberts told TheWrap, "Not yet. Maybe in a few weeks."
Someone who's used to having their lines thrown back at them later hung with Roberts, upping the starpower even further: Taylor Swift (above right, with Roberts).
Around the time that the moguls of cheese and bread on display meant for ambiance degenerated in to actual finger food, the party was still going strong. Roberts was still on her feet with an arm slung tight around Kevin Huvane (above, with Weinstein), both of them beaming.
After 1 a.m., Swift was still biting at food in one of the Weinsteins' own reserved booths with friends as what looked like her demographic of fans waited outside by a backdoor.
"August" producer Steve Traxler, Carrie Coon, writer Tracy Letts, Lewis and producer Jean Doumanian.
Soho founder Nick Jones, James Corden attempting to kiss the ring, and Weinstein.
Meanwhile over at the Windsor Arms Hotel, Eli Roth could have been running for mayor of the Hollywood Foreign Press Association and InStyle party. Cutting through the ballroom bash he had friends and allies in all corners, including "Rush" star Daniel Bruhl (above).
Bruhl's on-and-off screen visibility (two movies and a magazine cover) is way up this week, having outlasted the Hemsworth brothers and all the other significant names at Universal's "Rush" party at the Thompson the night before.
Roth also found his friend Madalina Diana Ghenea, an Italian actress and model (left) who co-stars with Jude Law, "Game of Thrones'" Emilia Clarke, and Demian Bechir in "Dom Hemingway," introducing her to his girlfriend Lorenza Izzo.
Of the festival buzz, Bechir mentioned that his schedule has kept him out of all theaters anywhere, having only seen "Blue Jasmine" all summer.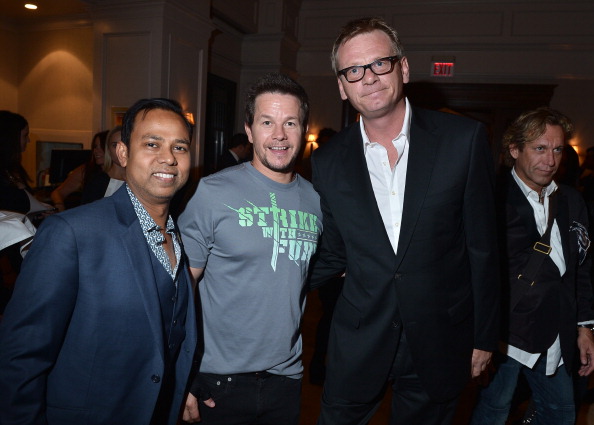 HFPA member Munawar Hosain (who's the talent community's go-to first handshake and hug at HFPA events) with Mark Wahlberg  and HFPA President Theo Kingma at the Ferragamo hosted event.
Windsor Arms owner George Friedmann also personally greeted guests in the foyer, after surviving the security phalynx outside. He welcomed Hollywood names and the Toronto socialites both with open arms. Borrowing a hotel metaphor, he pointed out that my tour guide, Toronto society columnist Shinan Govani, is the city's "skeleton key" — the one who opens all doors.
The doors were wide open for Jessica Chastain. Her late arrival was for two good reasons.
First: she was outside taking photos with fans.
Second:  She and actress Jess Weixler — Chastain's longtime friend, Julliard classmate, and on-screen sister in "The Disappearance of Eleanor Rigby: Him and Her" — had been celebrating their film's well-received three hour premiere earlier in the afternoon with their own dinner across town.
Above, "Eleanor Rigby" executive producer Kirk D'Amico, Jess Weixler, and the scene at Chase on Monday.
On stage at the Elgin theatre earlier on Monday, Chastain came to tears describing the 10 year (professional) relationship with director Ned Benson that began with her winning tickets on the radio to see his short at the Malibu Film Festival and ended with the "both-sides-of-the-breakup" saga with James McAvoy that screened on Monday.
"Rigby" director Ned Benson and Katherine Waterston.
Back at the HFPA/InStyle party, black and white photos of Barbra Streisand, Frank Sinatra, and Alfred Hitchcock at old Globes ceremonies at places like the "Cocoanut Grove Ambassador Hotel" beamed over the ballroom. With Steve McQueen and Abigail Breslin (who migrated from the "August" party) in the room on Monday night, photos from this January's ceremony could become future visual décor at the annual Toronto party.
(All photography by Getty Images.)