On Wednesday, I offered my predictions for the Oscars.
Now it's time for something different: my ballot, if I had one. Which I don't. I mean, I have a facsimile ballot that looks like the Oscar ballot, but if I'd tried to return it they would have tossed it into that super-confidential PricewaterhouseCoopers Oscar shredder where AMPAS secrets go to die.
So instead, I'll publish it. I've now seen every nominee in every category (makeup nominee "Il Divo" on Netflix Instant being the final piece of the puzzle), and here's what I'd vote for.
Best Picture of 2009: "An Education"
Here's the nice thing about the preferential system of voting – on my ballot, I can rank my favorite 2009 film, Lone Scherfig's lovely, deft coming-of-age story, in the number one spot without hurting "The Hurt Locker," which I'm hoping will win.
I'll rank "Hurt Locker" second, knowing that after a couple of rounds of counting, "An Education" will likely be eliminated from contention, and my vote will shift to Kathryn Bigelow's taut Iraq drama. And that, I imagine, is where it would stay.
Performance by an Actor in a Leading Role: Jeff Bridges, "Crazy Heart"
I love Jeremy Renner's and Colin Firth's performances, and nobody could have made "Up in the Air" work the way George Clooney makes it work. But as I wrote when I first saw "Crazy Heart" back in early November, I spent years covering rock 'n' roll and hitting the road with musicians, some of them nearly as down-and-out as Bad Blake – and there is not a false note in Bridges' performance, which is true and modest and lived-in.
Performance by an Actor in a Supporting Role: Christoph Waltz, "Inglourious Basterds"
I was going to say that I would have preferred the un-nominated Christian McKay in "Me and Orson Welles," but then I watched "Inglourious Basterds" again and realized, hell no. Waltz is just flat-out undeniable.
Performance by an Actress in a Leading Role: Carey Mulligan, "An Education"
It's a close contest between Mulligan and Gabourey Sidibe in "Precious," but in the end the young British actress, beguiling and nuanced and touching, gets my vote.
Performance by an Actress in a Supporting Role: Vera Farmiga, "Up in the Air"
I fully understand that this would be a wasted vote: Mo'Nique will win for "Precious," and I can't really argue with that. But Farmiga pulls off a tricky, delicate, unflashy role and makes it look effortless; Anna Kendrick gets the fireworks in the movie, but Farmiga quietly brings it home.
Animated Feature: "Up"
If "Mary and Max" had gotten nominated, this would have been a tough choice. But it didn't, so this is easy.
Art Direction: "Avatar"
There are certain areas in which "Avatar" is untouchable, and art direction is one of them. As I said in my predictions piece, the other nominees designed spaces and rooms; "Avatar" designed a world.
Cinematography: "The Hurt Locker"
Shooting on super 16, with as many as four cameras at a time following the action down dusty Jordanian streets and through long takes – for its degree of difficulty, Barry Ackroyd's work wins a close decision over "The White Ribbon."
Costume Design: "The Imaginarium of Dr. Parnassus"
"Bright Star" is impeccable, and I suppose some of the pleasures of "Nine" have more to do with lingerie than music or choreography. But while "Imaginarium" is kind of a delirious mess of a movie, it does have an extraordinary visual imagination, and its costumes are a huge kick.
Directing: Kathryn Bigelow, "The Hurt Locker"
For getting it made, for holding fast to a tough, naturalistic, unflinching aesthetic, for using limited resources to make the year's most gripping piece of cinema, this one is an easy call.
Film Editing: "The Hurt Locker"
A restless, immersive aproach illuminates everything from the biggest picture to the tiniest details, and keeps the tension ratcheted tightly. If the editing wasn't brilliant, the movie wouldn't work. It is, and it does.
Makeup: "Star Trek"
The two other nominees didn't stand out; "Star Trek" created the usual array of aliens, and it worked. Not the most inspiring category, but I have no trouble giving "Trek" my vote.
Original Score: "Sherlock Holmes"
I'd be tempted to vote for Michael Giacchino's "Up" if the love theme didn't remind me so much of Randy Newman's score for "Ragtime." In a refreshing, varied category, free of bombast except for the big blue movie, Hans Zimmer's radical reinvention of action-movie music as an unholy blend of Kurt Weill and the Pogues is the weirdest, most wonderful entry.
Original Song: "The Weary Kind (Theme from Crazy Heart)"
For me, this is the biggest no-brainer on the ballot. Nothing else is as central to its movie, and nothing else is anywhere near as affecting. A worthy successor to the Oscar-winning "Falling Slowly" from "Once."
Sound Editing: "The Hurt Locker"
The first time I saw "The Hurt Locker," the story had me on edge; the second time, what stood out was a remarkable soundscape absolutely crucial to immersing the audience in the world of bomb techs.
Sound Mixing: "The Hurt Locker"
The Academy often honors two different films in the two sound categories. Given the importance of the entire sonic environment to the film, and its success at creating that environment, I see no reason for a split.
Visual Effects: "Avatar"
As a movie, I might prefer "District 9." As an example of visual effects, nothing else comes remotely close to "Avatar."
Adapted Screenplay: "An Education," Nick Hornby
Hornby took a ten-page magazine article and turned it into a rich, wise, funny, moving screenplay. I love "Up in the Air," but I can't vote against my favorite author.
Original Screenplay: "The Hurt Locker," Mark Boal
He went to Iraq on assignment for Playboy, wrote an article about it, then turned around and wrote a fictionalized (hear that, Sgt. Jeffrey Sarver?) screenplay that captured a hopelessly chaotic situation with economy and punch. I've written lots of assignments for Playboy, and I've never gotten movies out of any of 'em. Damn.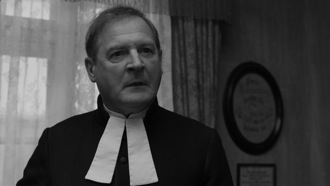 Foreign Language Film: "The White Ribbon," Germany
In a solid slate of nominees ("The Milk of Sorrow" being the only one that left me a little cold), my favorite is the provocative, leisurely, luminous and deeply disturbing (or is it deeply disturbed?) entry. Though I'd hardly quibble if "Un Prophete" won.
Documentary Feature: "The Cove"
The most touching nominee might be "Which Way Home," the most intrepid "Burma VJ." But the conceit of "The Cove" – which is part expose, part document of the covert op that produced that expose – gives it a freshness and vitality that's awfully persuasive.
Documentary Short Subject: "The Last Truck: Closing of a GM Plant"
I've said this several times: it feels like an essential document of our tough economic times.
Animated Short Film: "Logorama"
"A Matter of Loaf and Death" is wonderful, as usual for Nick Park. But this is the weirdest, freshest, most bracing of the nominees, a hard-boiled and profane apocalyptic crime story set in a world of corporate logos and mascots run amok. Deliciously perverse.
Live Action Short Film: "The Door"
The live-action short that moved me the most. Dark and delicate and heartbreaking, this tale from the days after Chernobyl is structured as a mystery of sorts. "The New Tenants" is a kick and a fun black comedy, but "The Door" has the images that'll stick with me.