Fortune favors the bold, the old saying goes, and a handful of Hollywood chieftains and stars took those words to heart in 2013.
From a former Disney Channel star who twerked away her goody two shoes image to a television honcho who went to the mattresses with cable companies, there were a number of big names who risked everything over the last 12 months. Some moves paid off, others, such as a decision by one hunky actor on the rise to abandon a starring role in a kinky drama may prove catastrophic. But whether they turn out to be winners or losers, each one took nerve.
The entertainment business is one of the most difficult industries to break into. It takes determination to wiggle in, and requires guts to make it to the top, but it takes balls to risk it all once you get there. As TheWrap continues looking back at 2013, we couldn't help but raise a virtual glass to some of the boldest moves in Hollywood. Cheers.
For better or worse, here are 10 — in no particular order — that caught our attention this year.
Les Moonves' Showdown With Time Warner Cable
Most retransmission disputes smack of hollow saber-rattling: The hand-wringing press releases. The panic-inducing, "Contact your cable operator TODAY!" ads. And, almost inevitably, the 11th-hour deal that renders all of the above moot.
For good or ill, CBS boss Les Moonves walked it like he talked it in his face-off with Time Warner Cable, letting CBS's programming go dark for some 3.5 million TWC customers for a month while he argued that the network's ratings warranted a bigger piece of the pie.
An A+ for chutzpah, but try not to let this sort of thing happen in the future, okay? Customers don't bite the bullet on their ever-more-exorbitant cable bills because they enjoy looking at a dark screen. — Tim Kenneally
Amazon swipes Viacom from Netflix:
Netflix may be making a statement about its place in the traditional television conversation (see Emmy and Golden Globe nominations for original series "House of Cards" and "Orange is the New Black"), but Amazon made a statement when it essentially swiped Viacom's properties from Netflix back in June. On the surface, it looked like Netflix simply let its deal with Viacom – which owns MTV, Comedy Central, Nickelodeon, among other networks – expire, and Amazon took the opportunity to buy. But the timing suggests Amazon outbid Netflix in what was the online retailer's largest licensing deal to date. The result was a beefed up slate of exclusive offerings on Amazon Prime, which has recently moved into the original programming space itself. — L.A. Ross
Charlie Hunnam Bails on "Fifty Shades of Grey"
If "Fifty Shades of Grey" fans were surprised when "Sons of Anarchy" star Charlie Hunnam was tapped to play kink-happy business magnate Christian Grey, they were doubly surprised when the actor abruptly dropped out of the mommy-porn adaptation. Universal and Focus blamed Hunnam's "immersive TV schedule." Hunnam himself suggested that family issues played a part in his decision.
Although Hunnam's decision can be considered both bold and wussy, it took nerve for Hunnam to walk away from the highly anticipated project. And arguably, it was a wise career move to bail on the movie. (Fans didn't exactly embrace the casting choice en masse when it was announced.) But if Hunnam's Jax Teller character ran his motorcycle club with the same kind of flip-floppery, they'd be in even bigger trouble than they are now. — Tim Kenneally
Academy of Motion Pictures Arts and Sciences president Hawk Koch re-hired the producers of 2013's widely-panned Oscar ceremony
Hiring Craig Zadan and Neil Meron to produce next year's Academy Awards less than two months after they'd done the job on this year's show was certainly a bold move by AMPAS president Hawk Koch. He not only brought back producers whose show was widely criticized for an occasionally tacky tone (such as the "We Saw Your Boobs" song from host Seth MacFarlane), but he did so three months before the end of his term as president, depriving successor Cheryl Boone Isaacs of what is normally the first job of an incoming president. For the record, the AMPAS Board of Governors heartily endorsed the move, and the Zadan/Meron Oscars also got strong ratings (as did the producers' recent live version of "The Sound of Music" and their "Bonnie and Clyde" miniseries, neither of which were well-liked by critics). So the numbers, if not the critics, are on Koch's side. -- Steve Pond
Miley Cyrus effectively kills "Hannah Montana" image by stripping down and twerking up a storm of controversy:
The 20-year-old singer (now 21) set out to destroy her connection to Disney character Hannah Montana by showcasing her wild side before the release of her latest album, "Bangerz." She did just that when she ripped off her clothing and paraded around the MTV VMA stage in a skin-colored bikini, all while backing her butt all over a married man and sexually harassing the audience with her tongue.
Was the move necessary for success, and recognition from the public that she's not a cute, little girl anymore? No, probably not. But it certainly was a bold way to re-introduce herself to the world, and has paid off. Not only has the media been talking about her every move since — priceless free publicity for a young pop star — but "Bangerz" debuted number one on the Billboard 200 chart after selling 270,000 copies in its first week. Her 2010 release, "Can't Be Tamed," peaked at No. 3 on the same chart after selling 102,000 copies the first week. Need more proof? Her singles "Wrecking Ball" and "We Can't Stop" were the second and third top-trending music videos of the year, respectively, on YouTube. -- Greg Gilman
Jeff Berg launches Resolution:
Resolution has yet to make much of an impact, but launching a new agency takes guts. Most mid-sized agencies are struggling to keep up with the likes of CAA and WME, and this wily sexagenarian still decided to start from scratch. That means the company didn't have steady revenue to fall back on. Berg was plotting Resolution while still at the agency he used to run, ICM Partners, so he got shown the door. The gall… – Lucas Shaw
Maria Bello challenges every notion of the traditional "partner" in a relationship, romantic or otherwise
Admitting you're in relationship with a person of the same sex can be hard — and possibly even harder to telling it to your 12-year-old son.
"Prisoners" star Maria Bello told her family, friends, her son, and then the world in style at the end of November by writing an incredibly moving essay for the New York Times titled "Coming Out as a Modern Family" that she had fallen in love with her best friend, Clare. After a lifetime of romantic partnerships with men, the experience led her to reconsider what a "primary partner" actually means — if anything at all — and her logic is hard to ignore. Her son welcomed the news because at the end of the day, "love is love."
"Whomever I love, however I love them, whether they sleep in my bed or not, or whether I do homework with them or share a child with them, 'love is love.' And I love our modern family," Bello wrote. "Maybe, in the end, a modern family is just a more honest family." — Greg Gilman
Fox's clean sweep through "American Idol"
When your ratings have fallen more than 20 percent, it's time to do some housekeeping. And that's exactly what "American Idol" did. It fired founding producers Nigel Lythgoe and Ken Warwick, then began restaffing from the top. — Jethro Nededog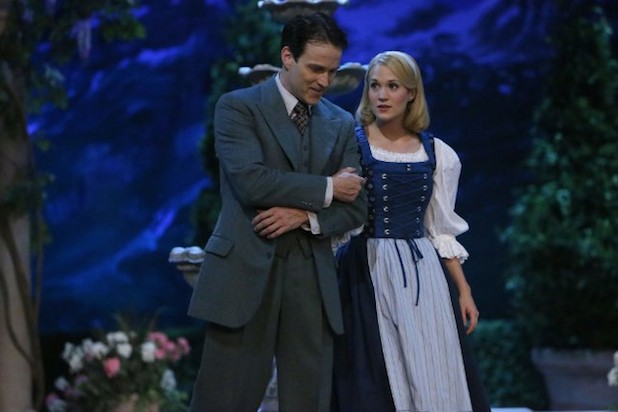 NBC risks millions on a live "Sound of Music" special, which luckily sounded more like "ka-ching!"
NBC risked more than a year of production and close to $9 million on the production. Just one airing wouldn't net their investment, even with Walmart money behind it. And if it was a failure, then there wouldn't be enough life in the thing for re-airings. Thankfully, it was a hit with 18.5 million viewers tuning in — whether people watched in earnest or just to take part in the hate-wathing. Either way, NBC will take it. - Jethro Nededog
Angelina Jolie undergoes double mastectomy to minimize the risk of breast cancer:
Angelina Jolie certainly never relied on her beautiful figure to make it in Hollywood, but it didn't hurt, either. The day her doctors told her that her breasts might hurt her health, however, the "Tomb Raider" star decided to reduce her 87 percent risk of breast cancer to just five by surgically removing the body part practically synonymous with sex appeal. She revealed the operation in a New York Times op-ed in May, writing in order "to tell other women that the decision to have a mastectomy was not easy. But it is one I am very happy that I made." It was a bold decision to ensure a longer life with her family, and even bolder to share her story with the public to let other women know that they have the same option. — Greg Gilman