The press loves sex, death and failure – so it's no surprise entertainment writers spent the summer selling stories of outsized box-office flops. Lost millions? Angry movie stars? We're all in.
Yet industry experts say the Schadenfreude is overblown: Research by Screen Engine CEO Kevin Goetz shows the ratio of hits to misses is consistent with years past.
Also read: The Summer's 6 Biggest Payoffs – and 5 Biggest Bombs
"Given the large number of releases, I don't see this summer behaving any differently than any other summer," said Goetz, who's been analyzing films and advising executives for more than two decades.
What's the deal? Has it been a good summer or a bad one?
Also read: M Night Shyamalan Ruins Will Smith, Henry Cavill Soars: 8 Burning Box Office Questions Answered
Depends on how you're feeling today. Optimists note that the box office is on pace for record grosses — and that fans are embracing Hollywood's expensive event films. Pessimists say the records are empty because tickets are more expensive and sales remain flat.
Wouldn't it be nice if there was a more black-and-white way of breaking it down?
There is — and you're reading it — TheWrap's winners and losers of Summer 2013:
WINNER: Horror.
"The Purge" cost $3 million to make and grossed $80 million at the global box office. "The Conjuring" cost $19 million to make and has already made more than $140 million worldwide. Paramount just announced it will release not one but two "Paranormal Activity" movies next year.
Do we need to continue? The strategy is clear: make a movie for nothing, market it inexpensively but effectively and walk home a millionaire. If any studio but Disney fails to at least dabble in the genre, they are foolish.
Also read: 'The Purge': Why Doesn't Everyone Make $3M Movies That Open to $36M?
LOSER: Original Movies.
All of the summer's biggest flops had one thing in common — they weren't sequels. "White House Down," "The Lone Ranger," "R.I.P.D." — all original, or at least claimed to be.
Studios enter every summer hoping they'll have a new franchise or two on their hands by August. This summer, they were banking on lavish productions such as "World War Z" and "Pacific Rim," but even those well-received films have unclear futures because they cost so much.
Production costs always rise for a sequel to a successful movie, and when you start with a $200 million budget, sequels look darn expensive. Besides "Man of Steel," the two movies that will certainly spawn a second are "Now You See Me" and cheapie "The Purge."
Also read: Bombs! Flops! Duds! How the Summer Box Office Could Still Be Biggest Ever
WINNER: Brad Pitt.
"World War Z" was the summer's biggest disaster that never happened. Reporters spent more than a year picking apart the production – its big budget, its inexperienced director, its late entrance to the zombie party.
Yet a funny thing happened when audiences actually sat down to watch the movie: They liked it. The movie went on to gross more than $500 million across the globe, validating Paramount's decision to delay the movie and conduct reshoots and Pitt's commitment to the project.
Think about Pitt's career arc. He was a movie star before he ever made a big summer movie; had to take more challenging roles to demonstrate his chops; and only then took his biggest bet as both an actor and producer – starring in a $200 million zombie movie that he wanted his kids to be able to watch. Lucky for him — nay, thanks to him — it worked.
LOSER: Ryan Reynolds.
He starred in "R.I.P.D.," one of the summer's biggest misses. It hasn't even recouped half of what it cost to make. He also lent his voice to the eponymous swift snail in "Turbo," a movie that DreamWorks Animation CEO Jeffrey Katzenebrg labeled a disappointment – while promising it would be profitable.
Those movies weren't just both disappointments. They opened the same weekend.
If there's one silver lining in this for Reynolds, it's that Hollywood might stop pretending he's a movie star who can carry a summer blockbuster. Put him in romantic comedies like 'The Proposal" or raunchy romps like "Van Wilder." Give him quality supporting roles. Push him with a drama. Stop pretending he's something he's not.
WINNER: China.
There was no more consistent storyline than the Chinese government's domination of American movie studios, who bent over backwards to secure releases and make scenes censor-friendly. But even when studios tried their damnedest, China eagerly rejected films anyway.
The explosion of the homegrown film industry in China is also cause for consternation in Hollywood executives' suites, as Chinese films — by way of release manipulation — have constituted more than 50 percent of box office grosses this year.
And then there's that pesky issue of payments — as in, studios haven't received any for months from China, which is trying to impose a 2% luxury tax on box-office receipts. Just another indication that the republic has the upper hand.
Also read: Hollywood's Trouble With China? It Has All the Leverage
LOSER: 3D.
Yeah yeah yeah, foreign audiences are eating up 3D. They also like Nutella and David Hasselhoff. There's just one problem: American audience are already over it.
Ticket sales for 3D versions of films like "The Wolverine" and "Turbo" hit new lows this summer, as 75 percent of viewers opted to see "Turbo" in regular old 2D. Or, as "the World's End" director Edgar Wright put it at Comic-Con, in "sexy 2D."
3D has existed since the beginning of cinema, and every so often Hollywood brings it back to tantalize viewers with something that seems new. In reality, it's never been more than a fad.
Winner: CAA.
Put away the claws everybody — maybe they CAAN after all. Take a look at most of this summer's biggest hits — "Iron Man 3," "Fast & Furious 6," "Man of Steel," "Despicable Me 2" — and there's one common factor — the death star.
Also read: Whodunit? Rival WME Launched CAA 'CAAN'T' Mystery Campaign
The highest-grossing movie of the summer was "Iron Man 3," which starred Robert Downey Jr. The second highest-grossing movie of summer was "Fast & Furious 6," a franchise resuscitated by director Justin Lin and starring Vin Diesel. The third highest-grossing movie of summer was "Despicable Me 2," which further bolstered the credentials of producer Chris Melendandri and his Illumination Entertainment. The fourth highest-grossing movie of summer was Zack Snyder's "Man of Steel," which turned Henry Cavill into Superman.
Everyone listed above is represented by one place — CAA.
LOSER: The Future.
"Man of Steel," "Pacific Rim," "World War Z," "This is the End" and "The World's End" all had something in common – they imagined the end of the world — and it ain't pretty. These movies weren't alone, either. People love to criticize Hollywood for being unoriginal, and here's one point where the objection is spot-on: Almost every week this summer a new movie opened in which the apocalypse either occurred or was imminent. That included a pair of comedies.
WINNER: Seth Rogen and Evan Goldberg.
Vince Vaughn and Owen Wilson looked like aging men trying to play juvenile in "The Internship" while audiences grew tired of "The Hangover" franchise. The one comedy that was undeniably fresh this summer was "This is the End," the tale of the rapture told through the eyes of six foul-mouthed celebrities.
Rogen and Goldberg, who previously wrote hit comedies "Superbad" and "Pineapple Express," made their directorial debut with this film, and its $96.5 million domestic return ensured that every studio in town will be calling their name as writers, producers and directors (they've already set up projects at three).
Also read: Universal's Turnaround Tale: How the Studio Staged the Biggest 180 in Hollywood
LOSER: Jerry Bruckheimer.
Few in Hollywood had a rougher summer than Bruckheimer. "The Lone Ranger" was the year's biggest flop, but because Bruckheimer doesn't fail, everyone pounced when he finally did. There was no hiding from the film's miserable result, which will cost parent company Disney as much as $200 million.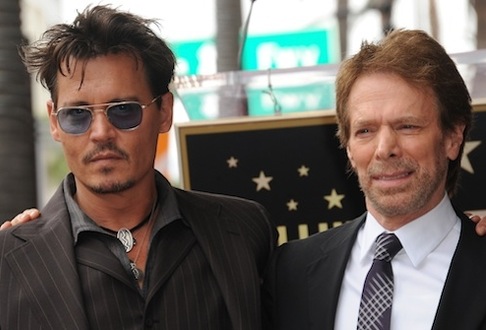 Now, as TheWrap reported last week, Bruckheimer may lose final cut on the next "Pirates of the Caribbean" film and is almost certain to see the terms of his braoder deal with Disney change when his contract expires next year.
Also read: 'Lone Ranger' Fallout: Jerry Bruckheimer May Lose Final Cut on 'Pirates 5' (Exclusive)
As one prominent producer told TheWrap: "It's sad. It feels like they are throwing him under the bus."
But let's be real. It'll take more than one miss to bring down Bruckheimer, the guy behind Disney's "Pirates" juggernaut and countless TV hits, including the "CSI" franchise.
Winner: Warner Bros. (DC Comics Edition).
Put aside your personal opinion of "Man of Steel" as a film — because as business it was one of the summer's most important successes. It successfully rebooted Superman, affording Warner Bros. innumerate opportunities with the DC universe, beginning with a "Man of Steel" sequel — and as the studio revealed at Comic-Con, that film will also include Batman.
That sets the table for a "Justice League" film, and then subsequent movies for Wonder Woman, the Flash and other members of the comic book universe's first super team.
Also read: Why 'Man of Steel' Holds the Key to Warner Bros.' Future Franchises
Loser: Warner Bros. (Executive Edition).
The implosion of Jeff Robinov was bad for the studio, bad for Robinov and bad for the industry. Warner Bros. had long been the most stable studio in town, and had a talent-friendly guy in Robinov securing a stable of directors led by Ben Affleck and Christopher Nolan.
Yet once Time Warner CEO Jeff Bewkes picked Kevin Tsujihara to take stewardship of Warner Bros. (over Robinov and TV chief Bruce Rosenblum), Robinov threw a hissy fit.
Now a very talented executive is out of a job — and Warner Bros. replaced him with another triumvirate of leaders. 'Cause that worked so well there the last time.