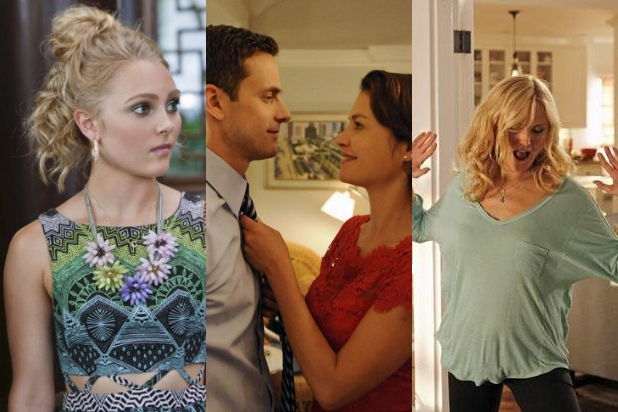 We hate to say a show is doomed. We really do. But we don't take it lightly, and we've never been wrong.
In the past, TheWrap has predicted that a total of 12 shows would be canceled – and all of them were. This season, it looks like six more are soon to shuffle off, joining fall casualties that began with "Lucky 7."
Also read: Six Shows We Thought Were Doomed, From 'Fringe' to 'The Finder'
Networks have a new face-saving way of avoiding the word "cancellation": They'll order shows like "Hostages" or "Betrayal" and call them limited-run series. But that's a hedge, and a shrewd PR move; if a show ends as scheduled, it isn't so much a cancellation as a show peacefully ending its run. And if it comes back, well … the people demanded it.
Also read: Another Six Shows We Thought We Doomed, From 'No Ordinary Family' to 'The Event'
But let's be honest. There isn't a show on television that networks wouldn't bring back for more if it scored.
"We hope to get not only two seasons, but a lot more," said "Hostages" executive producer Jerry Bruckheimer before his show aired, with refreshing honesty. "So this is not a miniseries for us."
Also read: TheWrap Report Card: 6 Shows We Said Were Doomed Were, Yep, Doomed
Unfortunately, we think "Hostages" will turn out to be a miniseries after all. Call it "cancelled" or "not returning" or whatever you want, but it leads our latest list of shows we think are doomed. Most are on fourth-place ABC, which can at least take comfort in "Agents of S.H.I.E.L.D." being a hit.
Here are this fall's unlucky six:
HOSTAGES (CBS)
The 15-episode series won't be back for more because NBC's "The Blacklist" is crushing it on Monday nights at 10. It has a 2.0 in the key 18-49 demographic in the live + 7 ratings that generously measure a show's performance over an entire week. CBS isn't known for keeping underperforming shows around, but seems content to let "Hostages" finish its run because of the star power of leads Dylan McDermott and Toni Collette — and perhaps to avoid offending the mighty Bruckheimer.
TROPHY WIFE (ABC)
Tuesday nights start very strong for ABC: "Agents of S.H.I.E.L.D." has a very strong 4.6 in Live + 7, making it the highest-rated new show of the season. But not even Nick Fury's long coattails help: "The Goldbergs," which follows it, averages a 2.7, while ratings for "Trophy Wife," which follows, plunges to a 1.9 average. (The show that once followed "Trophy Wife," "the unlucky Lucky 7,"  has already been canceled. Maybe "Trophy Wife" could hold on to more of the fanboy audience if it followed "S.H.I.E.L.D."? After all, star Malin Akerman was great in "Watchmen.") But as it stands, it would take the power of the Avengers, the Watchmen, and the X-Men to keep "Trophy Wife" from becoming an ex-show.
Also read: Sean Hayes Blames NBC for His Low Ratings, But He's Wrong
SEAN SAVES THE WORLD (NBC)
"Sean" is the lowest-rated comedy on broadcast television that hasn't been canceled yet, except for ABC's "Neighbors." Why is it still on? Because NBC has a good relationship with its star, Sean Hayes, who broke out on "Will & Grace" and produces "Hollywood Game Night." Hayes may have tested that relationship last week when he blamed NBC's low ratings for his low ratings in an interview with The TV Page. One problem with his assessment was that NBC is in first place this season, and his show is its biggest remaining weak spot. The others have been cancelled. The upside for Hayes? His show isn't bad. Maybe NBC will give it time to find an audience, despite its 1.4 rating.
Also read: With 'Betrayal,' Are Viewers Ready for a Cheating Female Protagonist?
BETRAYAL (ABC)
We wondered over the summer if American audience would root for a female protagonist who has an affair. Turns out the answer is no. "Betrayal" is another "limited-run series," and unfortunately, its prospects do indeed look limited. ABC plans to air the entire season, but don't hold your breath for more after that. It has a lowly 1.4 rating in Live + 7, so this is the end of the affair.
NEIGHBORS (ABC)
ABC kept its aliens-next-door comedy alive for a second season by moving it to the no-man's-land of Friday, where the stakes are low. But "Neighbors" is low-rated even for a Friday show, averaging a 1.2. As we mentioned above, that makes it the lowest-rated comedy on TV. We hate to rub it in with a corny joke, but hey, it's probably our last chance: The neighbors are moving out.
THE CARRIE DIARIES (CW)
We hate to put this endearing show on this list. But its second season debuted to an anemic .2 rating Friday, which is low even by CW standards. (The young network notes that much of its 18-34 target audience watches shows online rather than live.) Even the show's "Sex and the City" connections don't feel sufficient to keep it alive.