In today's Callbacks — your daily roundup of casting news from Deal Central — Eddie Murphy takes his "Nutty Professor" fat suit out of storage, Damian Chapa prepares to assault Marlon Brando's legacy, Olivia Thirlby fills in for Lindsay Lohan in "The Other Side" and documentary filmmaker Marina Zenovich starts a "Revolution" at Adam Yauch's Oscilloscope Laboratories.
• While on the red carpet promoting "Shrek Forever After," star Eddie Murphy told Access Hollywood that he has finished writing a script for "The Nutty Professor 3."
"You know what, there might be another 'Nutty Professor,'" said Murphy. "We kind of wrote something that might be kind of funny. If the studios want to do it, we'll do it. If you don't see it, the studio was like, 'This isn't funny.'"
Frankly, it wouldn't be surprising if Universal did, indeed, wind up saying that, but until they do, the studio simply confirmed to TheWrap that a third entry in the blockbuster franchise is still in active development. The "Nutty Professor" series has grossed more than $400 million worldwide, but I don't think I have the stomach to see Murphy wearing a fat suit again as Sherman Klump.
So while all those "Nutty Professor" fans may have their comedic appetities eventually satiated, those hoping for a return of Det. Axel Foley can continue holding their collective breath, as Murphy revealed that he "doesn't know what's going on with" the fourth "Beverly Hills Cop" film, meaning Judge Reinhold's fans will have to keep waiting for his triumphant return to the big screen. Boo!
Murphy reprises his role as Donkey in "Shrek Forever After," which comes out this Friday.
• Actor-director Damian Chapa will play Marlon Brando in an unauthorized biopic of the Oscar-winning actor's life.
The film promises to explore Brando's legendary career, but will focus primarily on the actor's childhood and his relationship with his son Christian Brando, who will be played by Chapa's own son, Ricco Chapa. James Bardo will play the Eurotrash drug dealer responsible for the beginning of Christian's tragic and untimely demise.
Chapa previously directed and played the title role in "Polanski Unauthorized" and "Bobby Fischer Live." He intends to base the Brando film on public domain records, and was apparently so interested in playing the iconic actor that he passed on an offer to reprise his role as embattled director Roman Polanski in a sequel. What a guy, folks!
Chapa's Amadeus Pictures and Judith Connolly will exec produce the project, which is currently in pre-production and scheduled to begin filming July 5.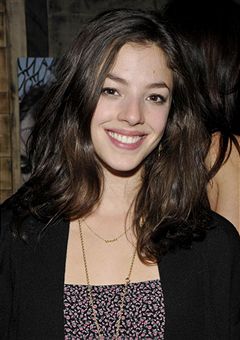 • Olivia Thirlby has "replaced" Lindsay Lohan as the lead in David Michaels' directorial debut "The Other Side," and Eddie Izzard has joined the cast.
Described as a cross between "Beetlejuice" and "Alice in Wonderland," the modern-day fable also stars Woody Harrelson, Giovanni Ribisi, Jason Lee and Alanis Morissette.
The story, written by Michaels, follows an overachieving science scholar as she solves a bizarre mystery involving the eccentric residents of a remote island where she discovers her own unexpected ties to its history. So does that mean Lohan was going to be playing a science scholar, because I would've loved to have seen that. Seriously, that's almost as unbelievable as Denise Richards playing a nuclear physicist in the forgettable James Bond film "The World Is Not Enough."
Dave Matthews already has provided Michaels with six original songs and Butch Vig of Garbage will score "The Other Side," so at least the project has those guys going for it.
Additionally, "Superman Returns" producer Gilbert Adler has joined the producing team, which includes Jory Weitz, Kent Harper and "Chinatown" producer John Molli.
Thirlby is best known as the indie darling who co-starred in "Juno," "The Wackness" and "Snow Angels." She next appears in Kenneth Lonergan's upcoming drama "Margaret" and recently signed on to play Natalie Portman's kid sister in Ivan Reitman's Paramount comedy "Friends With Benefits." She'll also battle alien invaders with Emile Hirsch in Chris Gorak's "The Darkest Hour."
• Oscilloscope Laboratories has partnered with Specialty Films to develop and produce a feature-length documentary based on Mark Harris' 2008 New York Times best-seller "Pictures At A Revolution: Five Movies and the Birth of the New Hollywood."
Marina Zenovich, the filmmaker behind the excellent documentary "Roman Polanski: Wanted and Desired," will direct the big-screen adaptation, which will tell the unique story of the five diverse Best Picture nominees of 1967 — "Bonnie and Clyde," "Guess Who's Coming to Dinner," "In the Heat of the Night," "The Graduate" and "Dr. Doolittle."
Harris' book weaves together the stories of how each film was conceived, made and released, while the documentary will seek to capture the realities of filmmaking at the time, and examine the larger story of that crucial period in Hollywood history, not to mention America itself.
Zenovich claims that the golden age of '70s cinema began with the very stories outlined in Harris' book, which I've been meaning to pick up a copy of for months.
Specialty's Rachael Horovitz will produce the documentary with Zenovich's collaborator P.G. Morgan. Oscilloscope head and Beastie Boy Adam Yauch will exec produce with partner David Fenkel.
O-scope will release the film theatrically in North America.