Above, the Class of 2011-12: As many nominees as could fit on the patio at Wolfgang Puck's Spectra on Friday night.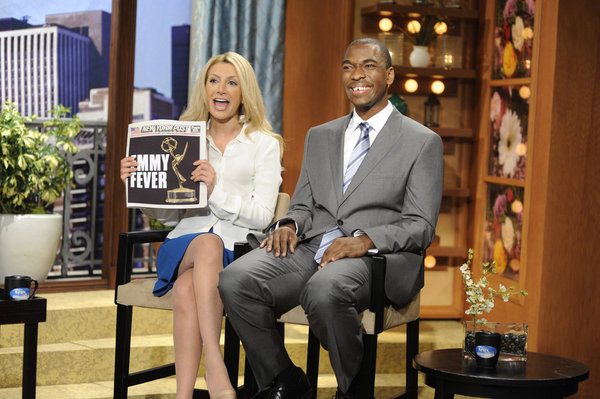 (Check out TheWrap's Complete Emmys 2012 Coverage)
Hugh Bonneville described the Emmy hype surrounding his "Downton Abbey" as being at a "fever pitch, in a good way," on Saturday afternoon.
A few hours later, in the run up to Sunday night's Primetime Emmys, the "fever" had gone national: "Saturday Night Live's" cold open. Nasim Padrad and Jay Pharoah's opening (the second-straight week for Pharoah) coincided with the west coast arrivals at NBC's party.
Earlier in the day in L.A. in the afternoon's 90-degree heat, only Damian Lewis ("Homeland") dressed appropriately for BAFTA LA's TV Tea Party.
One of the top eyeball magnets of the weekend sported a purple "Lord Vader" T-shirt. "I have an icepack underneath my shirt," Bonneville quipped.
(At right, photogenic chemistry with Damian Lewis in formal attire and Julie Bowen at the Academy's nominee reception on Friday.)
For Your Consideration 2013: Dominic Monaghan's "Wild Things"
"Unfortunately there's no English Premiere League stuff nominated, otherwise I'd go for that," Dominic Monghan tells me at the BAFTA Tea. Even if "Most Lucrative Foreign Sport" was a category, it wouldn't matter. Despite all those years on "Lost," Monaghan is not an Emmy voter, only an MPAA voter.
The English actor is going back to his roots, getting into business with BBC America. He's writing, producing and hosting a show about "animals that most people are scared of," he says. Perhaps he'll pay the $150 membership dues before next year so he can vote for himself.
"Ms. Tomlin, You Are the Best"
Unlike the Oscars which only have 20 acting nominees, the Emmys have nearly a football team's worth.
"Oh Ms. Tomlin, you are the best," Bowen, glass of white wine in her hand, told Lily Tomlin while receiving her nominee certificate at the Performers Nominee Reception on Friday. "I voted for her."
Tomlin, a new governor serving out the term of the recently deceased Kathryn Joosten, handed out nomination certificates to more than 40 nominees.
(Above, Zooey Deschanel, Jason Ritter, Amy Poehler, Jesse Tyler Ferguson, and Martha Plimpton await official certification as nominees.)
During the handout, Fox-mates Zooey Deschanel of "New Girl" and Cat Deeley of "So You Think You Can Dance" cliqued up on the risers on stage, chatting through Academy CEO Bruce Rosenblum's roll-call, until they were joined by "Veep" Julia Louis-Dreyfus to form a three-pack.
Backbencher Kevin Costner?
The above group photo may be something of a rarity: The only photo Costner (right, with Tomlin) has taken in decades in which he's shoved in the back and obscured.
As seen in the top group photo of over-40 acting nominees at the Pacific Design Center on Friday night, it was a crowded podium. "They got everybody," a guest remarked highlighting the turnout on a competitive night.
Meanwhile, over in Beverly Hills, Canon Drive was the hot corner. While the Women in Film and "Place at the Table" events went head to head inside the Montage hotel, CAA celebrated nominees next door at Bouchon.
(below left, Bryan Cranston and Kate Flannery at Women in Film and Variety party, with a make-your-own-jewelry bar from Saint Vintage.)
Simultaneously at Milk Studios, Ginnifer Goodwin, Ricky Gervais, LL Cool J, Conan O'Brien, Les Moonves, Ali Larter, Molly Sims, Alec Baldwin and a late-arriving Costner all toasted with WME.
The Joint Wrap Party
While the Performer's Nominee Reception felt like the "Hard Knocks" version of the Emmys itself – a relaxed locker room visit before the game everyone else gets to see on Sunday – EW's party a few blocks to the east felt like a champions' league wrap party.
At one point, an Emmy all-star game sprung up, with reps from the shows most likely to take the Emmy podium crammed in to a tiny hideaway together. The lineup included "Downton Abbey" (Michelle Dockery), "Mad Men" (Elisabeth Moss, Matthew Weiner and Rich Sommer), and "Modern Family" (Julie Bowen).
Entire casts – like all the male sharks on ABC's "Shark Tank" showed up together (right), but since they have a photo shoot on Sunday and already lost to "Undercover Boss" last week, they won't be attending the show.
Another cast-cluster included Paul Scheer and co-lead June Diane Raphael from "NTSF:SD:SUV," cocktailing with frequent collaborator Rob Huebel.
The party came to a boil late, after 11:30, with encouragement from DJ Mick Boogie and late-arriving talent. "Now we're cooking… now we're cooking," Silas Weir Mitchell yelled as a glass crashed near actress Kelli Garner and Johnny Galecki. Galecki's group included Simon Helberger and Melissa Rauch, the "Big Bang Theory" cast that covers EW's September 28th issue.
Everyone from Tempestt Bledsoe to Julia Louis-Dreyfus (failing to nail a self photo of herself and husband Brad Hall due to a broken iPhone flash), and Minnie Driver filled the space that would house ICM's morning brunch only hours later.
Playing Favorites
John Legend, who had his own foray in to TV this year on ABC's "Duets," played favorites at the Sunset Tower early on Saturday night (left). Besides pulling out Bruce Springsteen's "Dancing in the Dark" and the Beatles' "Here Comes the Sun" for team Showtime, he made a special plea for "Homeland."
"I don't want to play favorites, but you're my favorite show," Legend said. They also played favorites with the drinks. Behind the bar next to the Heinekens they were pouring a familiar label: Fox TV Co-Chairman Gary Newman's Jorian Hill wine, from his family vineyard with power-lawyer wife, Jeanne Newman. (20th Century Fox TV produces "Homeland.")
Back to the Future
Part I: Michael J. Fox, who is coming back to his "Family Ties" roots at NBC, with Bob Greenblatt, Tracy Pollan, and Jennifer Salke at NBC's party at Boa on Saturday night.
Part II: Look who else is back: Matthew Perry, with Amy Poehler.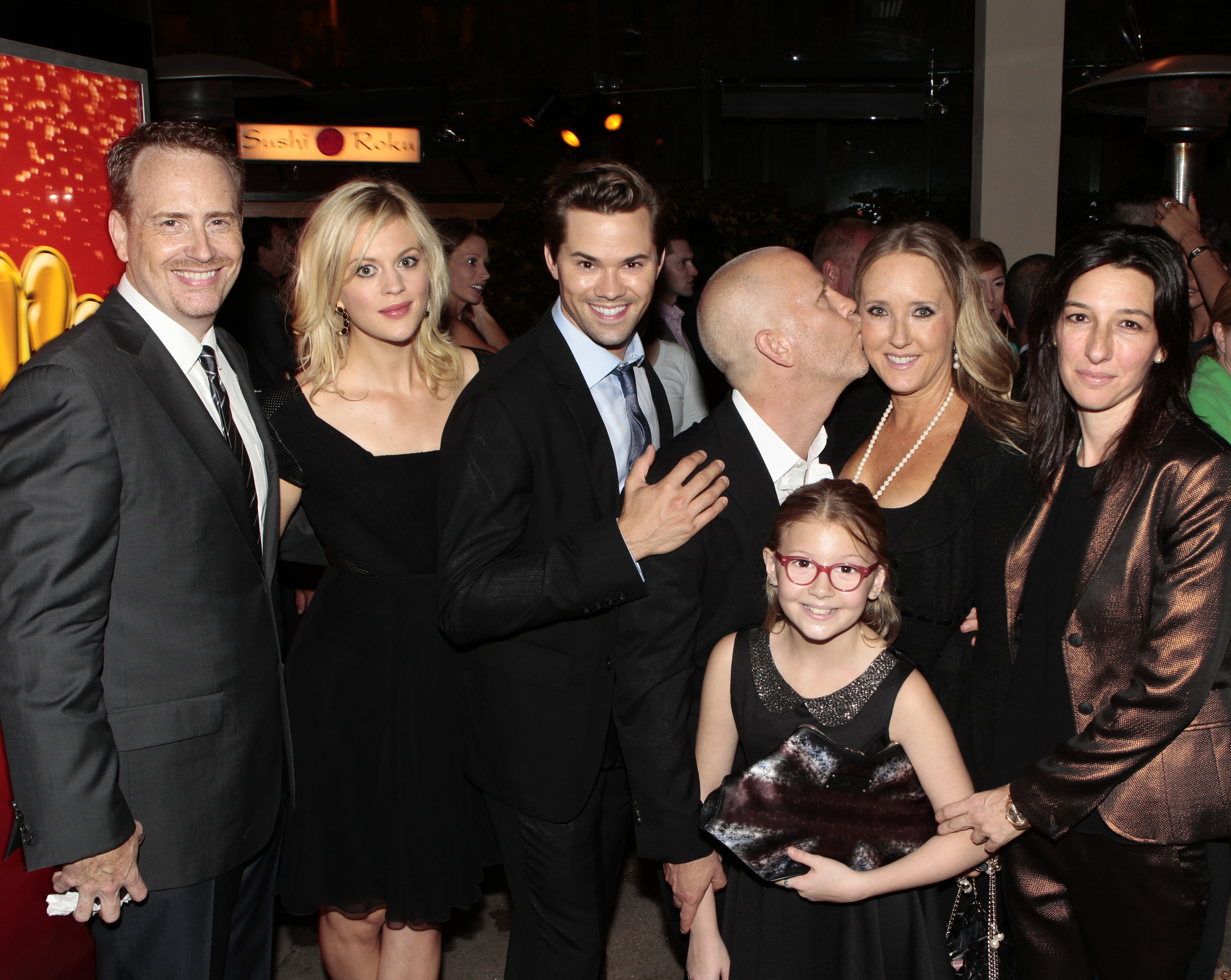 Part III: Porting their relationship from 20th TV ("Glee") to NBC, Ryan Murphy (center) delivers lip-meat and "The New Normal" to Jennifer Salke.
Meanwhile, ABC's present (Ferguson and Eric Stonestreet) with ABC's past (Dennis Franz) at the Women in Film event.
Party Puns
Thank People Magazine's StyleWatch for the first party pun of the weekend. Editor Susan Kaufman made the careful choice for the monthly's denim event, booking DJ Mom Jeans (Danny Masterson). In the second "booking pun" of the weekend, BAFTA settled on the West Hollywood's London hotel.
The Shoes Get a 10
"Dancing with the Stars" judges Carrie Anne Inaba and Bruno Tonioli turned the judging on each other at the HBO Luxury Lounge inside the Four Seasons on Saturday.
How did Carrie do on her swag selections? Bruno gave Carrie's Michael Antonio sky high heels a "slutty sexy" review, before trying to eat her quadricep.
AWOL 'til Sunday
Noticeably absent from pre-Emmy festivities: Jon Hamm, Ryan Seacrest (at Clear Channel's "I Heart Radio" fest in Vegas), Tina Fey, and Lena Dunham.
Photos by: Cover photos of Costner/Tomlin, Deschanel/Ritter/Poehler/Ferguson/Plimton, and Lewis/Bowen by Picture Group/Frank Micellotta. Sharks by Monique Moss; Bryan Cranston/Kate Flannery by Joe Scarnici/Wireimage; Mayim Bialik by Wireimage; Ferguson/Franz/Stonestreet by Jonaethan Leibson/Wireimage; SNL by Dana Edelson/NBC; Michael J. Fox, Perry/Poehler, The New Normal by NBCU Photography; Toniolo/Anaba by On3 Productions.