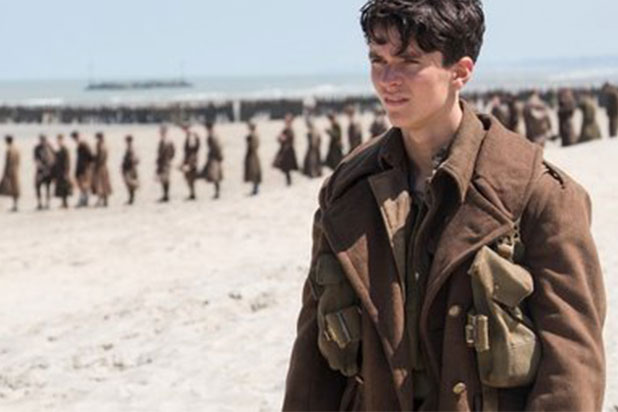 Critics are raving about Christopher Nolan's latest WWII drama "Dunkirk," which they are saying is "the best motion of the year so far" and a "visceral piece of film-making."
"Christopher Nolan's 'Dunkirk' is a stone cold masterpiece," wrote Associated Press' Lindsey Bahr, while IndieWire's David Ehrlich said, "It's the most contradictory film that Christopher Nolan has ever made, and — not incidentally — also the best."
Currently holding a score of 97 percent on review aggregator Rotten Tomatoes, "Dunkirk" scored 33 "fresh" reviews with only one "rotten" review.
Also Read: 'Dunkirk' Review: Christopher Nolan's WWII Saga Spins a Sensational Story of Struggle and Survival
"Nolan has crafted a film that's sensational in every sense of the word; it aims for both the heart and the head, to be sure, but arrives there via the central nervous system," wrote TheWrap's film critic Alonso Duralde. "It's both a triumph for Nolan and a new bar toward which future action-based dramas should aspire."
"Dunkirk" stars Fionn Whitehead, Aneurin Barnard, Mark Rylance, Tom Hardy, Tom Gynn-Carney, Harry Styles and Damien Bonnard. It will hit theaters this Friday.
Read 9 of the best reviews below.
Michael Phillips, Chicago Tribune: 
"'Dunkirk' may be his first historically based fiction, but it's his latest in a long line of survival puzzles, designed to thrill and to provoke the response moviemakers of all kinds have been after for more than a century: whew! Followed by: wow."
Dave Calhoun, TimeOut: 
"At less than two hours (brief for the director of the epic 'Dark Knight' films), with dialogue kept to a bare minimum, 'Dunkirk' provides a short, sharp dose of the oddness and horror of war, dropping us right into the fray. It's a staggering feat of immersive terror, blessed with such knockout cinematography that the movie demands to be seen on as massive a screen as possible (Nolan has shot the film in two large-frame formats, IMAX and 65mm). It looks, feels and sounds like a nightmare, balancing naked suffering (drowning, shooting, crashing, burning) with a hint of unearthliness: Nazi propaganda leaflets spookily dropping from the sky; strange foam washing up on the sand; dislocating aerial shots of sea meeting land."
READ MORE

See Dunkirk's latest POWER MOVE.
Nick De Semlyen, Empire Online: 
"A spare, propulsive, ever-intensifying combat thriller, Nolan's history lesson is both a rousing celebration of solidarity and the tensest beach-set film since Jaws."
Chris Nashawaty, Entertainment Weekly: 
"By the end of 'Dunkirk,' what stands out the most isn't its inspirational message or everyday heroism. It's the small indelible, unshakeable images that accumulate like the details in the corner of a mural. A PTSD soldier walking into the surf to his death. The sight of a hit German plane silently pinwheeling down into the sea like a paper airplane. The female nurses handing out tea and comforting words to the haunted men when they're rescued. This is visceral, big-budget filmmaking that can be called Art. It's also, hands down, the best motion picture of the year so far."
Lindsey Bahr, Associated Press: 
"Don't be mistaken: Christopher Nolan's 'Dunkirk' is a stone cold masterpiece. It's a stunningly immersive survival film told in 106 thrillingly realized minutes. Nolan puts the viewer right in the action whether it's on the beach with 400,000 men queued up and waiting for a rescue that may never come, on the waters of the English Channel in the little civilian ship headed into hostile waters with only an aging man and two teenage boys aboard, or in the air above in the two lone Spitfires that are quickly running out of fuel."
David Ehrlich, IndieWire: 
"Cleaving closer to Sartre than Spielberg, 'Dunkirk' is a stunning work of raw spectacle that searches for order in the midst of chaos. It's the most contradictory film that Christopher Nolan has ever made, and — not incidentally — also the best."
Peter Bradshaw, The Guardian :
"Christopher Nolan might have found some inspiration from the Dunkirk scene in Joe Wright's 2007 movie 'Atonement,' but otherwise he brings his own colossal and very distinctive confidence to this story. It's a visceral piece of film-making."
Brian Truitt, USA Today: 
"'Dunkirk' is also one of the best-scored films in recent memory, and Hans Zimmer's music plays as important a role as any character. With shades of Edward Elgar's 'Enigma Variations,' the melodies are glorious, yet Zimmer also creates an instrumental ticking-clock soundtrack that's a propulsive force in the action scenes. The trio of timelines can be jarring as you figure out how they all fit, and the fact that there are only a couple of women and no lead actors of color may rub some the wrong way. Still, Nolan's feat is undeniable: He's made an immersive war movie that celebrates the good of mankind while also making it clear that no victory is without sacrifice."
Bilge Ebiri, Village Voice: 
"The nerve-racking war thriller 'Dunkirk' is the movie Christopher Nolan's entire career has been building up to, in ways that even he may not have realized. He's taken the British Expeditionary Force's 1940 evacuation from France, early in World War II — a moment of heroism-in-defeat that has become an integral part of Britain's vision of itself — and turned it into a nesting doll of increasingly breathless ticking-clock narratives. Some filmgoers might be expecting a sprawling, grandiose war epic. Instead, Nolan gives us one of the leanest, most ingenious studio films in quite a while: an intercutting montage of competing timelines that expand and contract and collide in ways both inevitable and surprising. And somehow, it's also uncharacteristically intimate."