On the night before the Grammys, the home of the Golden Globes and over 175 other red carpet events of the year became "the Vanity Fair Oscar party of Grammy weekend," as manager Eric Podwall called it on the way in.
A pillar in its own right, Clive Davis' annual pre-Grammy party anchored the weekend. CBS President Les Moonves admitted he's heard Sunday's Grammys telecast (on his own network) referred to as "the Clive Davis after-party."
Dave Grohl gives John Mayer a hand.
Famed over the years for breaking new acts (like Maroon 5), breaking news (Rihanna and Chris Brown's physically violent incident occurred on the way home in 2009), or breaking taboos (continuing last year's party downstairs while authorities investigated Whitney Houston's dead body upstairs), the 2013 edition broke expectations.
In the mix, a cocktail of star athletes (San Francisco 49ers quarterback Colin Kaepernick, who got his invite post-Super Bowl), celebrity couples (Katy Perry and John Mayer), L.A. Mayor Antonio Villaraigosa, captains of the industry (Quincy Jones, Doug Morris, Neil Portnow, Sylvia Rhone, Rob Stringer) 2012 winners (Frank Ocean, Janelle Monae, John Legend, David Guetta, Ryan Tedder) and ongoing winners of the new millennium (Ryan Seacrest, Johnny Depp).
On Saturday night, the live music at the Beverly Hilton opened on a surprising note with electronic dance music and club-scale visuals from Afrojack. (Dutch producer Afrojack is much taller in person than he appears in tabloid photos with ex-girlfriend Paris Hilton.) The surprise sets continued with Patti Smith fronting a live band, The Lumineers, Usher, British chart topper Emeli Sande, Jennifer Hudson, and Gladys Knight (above).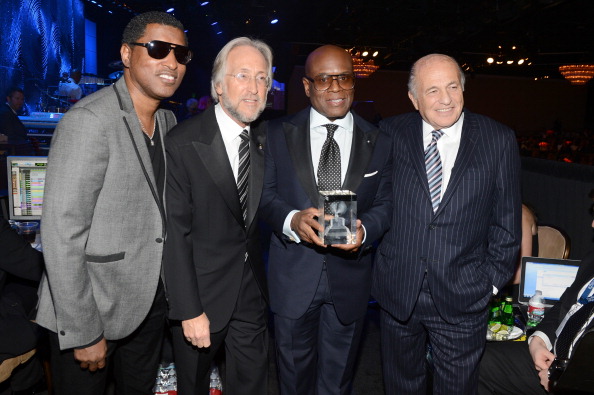 Kenneth 'Babyface' Edmonds, NARAS President Neil Portnow, Epic Records CEO and honoree Antonio 'L.A.' Reid and Sony Music Entertainment Chairman/CEO Doug Morris.
An official part of Grammys week, Epic Records CEO and recently departed "The X Factor" judge L.A. Reid picked up the President's Merit Award. But it was one of Reid's most successful artists, Usher, who won over the room as the "Confessions" singer made a confession of his own.
"It was L.A. Reid that talked me out of the (stage) name Cha-Cha," Usher said.
Here's a six-pack of lessons I learned at the center of the music universe:
It really is Clive Davis' party.
The 80-year old titan commands the room from a podium, coloring in a personal anecdote about each celebrity guest and even patting himself on the back for his own harmonization of the seating chart.
Pleased with the crowd's pop to Miguel's performance, Davis said. "It never fails. Those that I put in the front row, Andre Harrell, Puffy, and Pharell…you love live music."
While making the surprise introduction of Afrojack to introduce the show, he instructed the crowd firmly. "I want you to give your respect and your attention. Let's see why EDM (Electronic Dance Music) has soared all over the world." (Both Skrillex and Avicii were in the room, but did not get the slot.)
As the reigning godfather of the music industry, Davis has a personal connection to seemingly every person in the room, and introduces each of them publicly from the podium. For Frank Ocean, it was "Frank Ocean, welcome and good luck to you."
Later in between acts, he worked through some non-musicians: "There are two great comediennes in the world. I am happy that one of them comes every year. Say hello to the great Joan Rivers and Kathy Griffin."
Say hello to Wiz Khalifa, Miley Cyrus, and an unidentified guest.
On Earth, Wind, and Fire, Davis taught the backstory: "I auditioned them 40 years ago." Addressing Kelsey Grammer, he thanked him eulogistically: "You, who brought so much pleasure to us for so many years." And paternalistically to Katy Perry, "I read the papers and I know who you've been spending time with."
Forget a platinum record. The true certification of music success is a candle-lighting speech on Davis' annual 500-tier cake.
Cha-Cha with Quincy Jones and Puffy.
Inner Circle Advisory: Diddy is Still "Puffy"
Both Davis and Usher referred to Sean Combs as Puffy in off-hand remarks. When Usher revealed his embarrassing dance-step inspired nickname, he also admitted that not many people "besides Puffy" know about it.
Whitney Houston's Shadow Looms Large
"I am so shattered by her passing, it's almost unbelievable," Davis admitted just two days shy of the one year anniversary of her death. Though Houston's mother spoke out this week about rejecting the invitation to attend, Houston's brother Gary and sister-in-law/manager Pat were there.
For the "younger people" who might not have seen her at her peak, Davis wants Whitney to "speak for herself." He explained his aversion to tribute performances by other artists and instead played this clip of Houston performing "All the Man that I Need" for an adoring 1990s USO show for soldiers in its entirety.
It's Not a Party: "Don't Suck"
While there is cocktail mingling and lots of table-talk (both NARAS president Neil Portnow and Davis repeatedly tried unsuccessfully "shushing" the crowd over the microphone), the "party" is a seated dinner with performances. Moreover, this is business outing.
"There is absolutely an agenda," singer Jill Scott tells me. "I am hoping always to meet new incredible writers and shake hands with people I admire. Maybe they will inspire me to do something, maybe I'll inspire them. Maybe we'll think of the next great symphony together. But I'm not staying long, because my shoes hurt."
"You never know what's going to happen when you get all these artists together," Ryan Seacrest added. Boyz II Men's Shawn Stockman was more blunt. "Don't suck. This is not the room for you to suck. You want people talking about you in a good way."
"It's all fun and games," says Sujit Kundu, whose SKAM Artist agency reps many of the industry's top DJ's. "It's good that we can make money having fun," he told me early in the night, while holding the secret that his artist Afrojack would be the surprise opener.
Magic Johnson and San Francisco 49ers Quarterback Colin Kaepernick are in a "Bromance"
Last Saturday night, Kaepernick was tucked away in a New Orleans hotel room studying a playbook for the Super Bowl. This weekend, it's like an Amish rumspringa. "It's good to be out, good to see people, good just to have a good time," the tattooed quarterback said.
And of all the incoming interest his way, he made an impression on the Dodgers owner. "He has such high upside, this guy, he is going to win some Super Bowls," Magic Johnson told TheWrap. "He's so cool and calm, I'm just happy I finally got the chance to meet him."
Of all the movie stars and moguls in the room, Kaepernick's favorite meeting was mutual: "Magic Johnson told me he was a fan; I was excited to hear that."
Clive's Next Big Things:
Miguel (above left) and Emeli Sande, who performed at the London Olympics closing ceremony, co-wrote Alicia Keyes' "Girl on Fire," and came to Davis on Keyes' referral. "You will not forget where you first saw her," Davis said. "I know why she is the one to watch."
An official event of The Recording Academy, Harman, Hilton Hotels, Hyundai, and Mastercard sponsored the party.
The "after-party" airs on CBS Sunday night at 8 P.M. EST and tape-delayed at 8 P.M. PST.
Credits: Candids by Larry Busacca/Getty Images. Performance photos by Kevork Djansezian/Getty Images. Kaepernick/Johnson by self.