A funny thing happened on the way to a big, glitzy, mainstream pseudo-awards show.
A tribute to small, risky and unconventional films broke out.
The Palm Springs International Film Festival's Awards Gala, which took place on Saturday night at the Palm Springs Convention Center in the desert town 100 miles east of Los Angeles, is normally as slick and conservative as they come.
The host is the relentlessly perky Mary Hart, who rattles off plugs for a long list of corporate sponsors with the same zeal with which she introduces stars.
Those sponsors are ubiquitous, particularly Cartier, which brands nearly the entire Convention Center, a huge space with about 1,900 seats at tables that can go for up to $25,000 a table.
And to raise the money for the Palm Springs International Film Society — $1.6 million from this year's gala, festival director Harold Matzner said – the festival annually assembles a star-studded lineup of big names who agree to receive awards and in the process hope to boost their Oscar chances.
There are no voters; the process is done behind closed doors, and corralling Oscar winners-to-be gives the festival bragging rights for the following year.
"I want to thank the people who decided to give me this award," said "The Artist" director Michel Hazanavicius. "I don't know who you are, but thank you."
The 2012 honorees included George Clooney, Brad Pitt, Glenn Close, Michelle Williams, Jessica Chastain, Octavia Spencer, directors Stephen Daldry and Michel Hazanavicius, composer Howard Shore, and the creative team behind "Young Adult": director Jason Reitman, writer Diablo Cody and stars Charlize Theron and Patton Oswalt.
And when that last group accepted their Vanguard Award, Oswalt – who was assigned to speak for all of them because, he said, "the Vanguard Award winners are the drunkest of all tonight" — said they were particularly happy to receive the honor this year because of the many bold and adventurous films that were released during the year.
He mentioned his film, a black comedy with an uncompromising ending that no studio in its right mind would greenlight (except that Paramount did); Bennett Miller's "Moneyball," about a subject that is definitely not usual box-office fodder; Terrence Malick's abstract and challenging "The Tree of Life"; "The Artist," a foolhardy attempt to make a black-and-white silent film in 2011; and the sexually explicit drama "Shame."
Meanwhile, "The Artist" star Jean Dujardin called that film "a love letter from a crazy filmmaker," while Jonah Hill summed up Brad Pitt's 2011 this way: "'Moneyball' is about baseball statistics, and 'The Tree of Life' is about … I'm sorry, I've seen 'The Tree of Life' three times and I still don't know what it's about."
"Thank you Jonah, you ass," said Pitt, who then tweaked the audience that hadn't responded to the "Tree of Life" clips shown in either his or Jessica Chastain's montages.
"Like many of you here, I haven't seen 'Tree of Life' yet either, but I hear it's really good," he said.
The normally conservative show even had an indie spirit of sorts, with more than the usual amount of off-color language. Introducing the "Young Adult" honorees, actress Olivia Wilde praised the film and then said, "If you haven't seen it yet, you're an asshole." Patton seconded her comment and added, "Go see the movie, you assholes!"
There were even a couple of porn jokes: "My Week With Marilyn" star Michelle Williams recalled an advisor who told her early in her career to change her last name to something alliterative, and considering Michelle Montana or Michelle Montanya.
"I always think that I came this close to being a porn star," she said.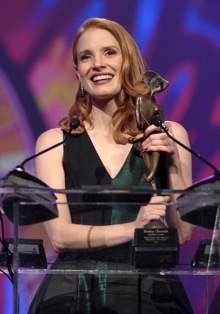 And Pitt mentioned Jessica Chastain's crazy schedule – seven movies in 2011, five more in 2012 – and said, "Usually an actor has to work in the porn industry to have that kind of success."
The show also turned into something of a game of six degrees of Jessica Chastain, whose crazy 2011, in which she had seven movies released, gave her ties to a few other honorees. She acted with both Octavia Spencer (in "The Help") and Brad Pitt (in "The Tree of Life"), and is old friends with Michelle Williams, with whom she performed and roomed at the Williamstown Theatre Festival nearly a decade ago.
In fact, Chastain and Williams squealed with delight when they saw each other in TheWrap's photo area before the show. While shooting portraits for a portfolio in an upcoming print edition, the two traded reminiscences about their summer at Williamsport, where they both appeared in a production of "The Cherry Orchard."
"You always wore that grey hoodie," laughed Chastain. "You were so indie even then."
Also in TheWrap's area off the Convention Center lobby, Chastain introduced herself to Glenn Close and professed to have been a huge fan for years; Judy Greer showed off the ring from her recent wedding; and Robert Forster arrived with a large contingent from "The Descendants" – George Clooney, Shailene Woodley, Greer, Matthew Lillard and Nick Krause – and admitted that he was hoping for a Best Picture nomination for the film, a deft but tricky balancing act from director Alexander Payne.
"I guess you're not supposed to say that," the veteran actor said. "But I want us to be nominated, and I think we've got a pretty good chance. It would be the first movie I've ever been in to get a nomination."
The awards themselves got off to an emotional start when the night's first honoree, Octavia Spencer, teared up right at the beginning of her speech. "I didn't think I was going to be this emotional this early in the process," she said. By the end of her speech, though, she'd regained her sass as she mentioned fellow honorees George Clooney, Brad Pitt, Stephen Daldry and Michel Hazanavicius.
"I would be remiss if I didn't say, 'I'm single, gentlemen,'" she said.
Her romantic life then turned into a running joke for the rest of the evening – including a warning from Hazanavicius' significant other, actress Berenice Bejo ("Octavia, I want to tell you that this man is my man") and a more liberal attitude from Hazanavicius himself ("And Octavia … I am married, but I'm French").
"Extremely Loud & Incredibly Close" director Stephen Daldry and "Hugo" composer Howard Shore both paid tribute to the murdered publicist Ronni Chasen, a longtime PSIFF organizer. Glenn Close may have been in Palm Springs because of "Albert Nobbs," but she did imitations of both her "Fatal Attraction" character Alex Forrest and "101 Dalmations" villain Cruella de Vil in her otherwise heartfelt speech.
Adrien Brody began his tribute to one honoree by saying, "What would the movies have been like over the past 25 years without Gary Coleman?" A pause. "I mean, Gary Oldman."
And when a batch of clips from Oldman's films finished playing, with shots of the actor's work in "Sid and Nancy," "Prick Up Your Ears," "JFK," "Bram Stoker's Dracula," "The Professional," "The Contender," "True Romance," "The Dark Knight" and the new "Tinker, Tailor, Soldier, Spy," among others, Brody shook his head.
"Holy shit, that's a reel!" he said.
Oldman was one of several honorees who joked about how the award, a glass sculpture by Dale Chilhuly, looks like a bong. "I may smoke this later," he said, before saying that he never thought of being named an International Star, which was the name of his award.
"I couldn't have imagined as a child anyone knowing who I am beyond the end of our street," he said.
Michelle Williams (left) gave a beautifully eloquent and touching speech about trying to find her way "in a world where sameness and safety has a monetary value," and said she wished Monroe "in her life would have experienced what I am tonight."
At the end of the night – which came about two-and-a-half hours after the show began – George Clooney summed up the prevailing sentiment that had come from a lot of the honorees who'd been saluted for making small, adventurous movies.
"The truth is, you really don't have to do this for us," he said, holding up the trophy. "Most of us really do love what we do … The truth is, we'd do it for free, and to stand up here and get an award is icing on the cake."
(Photos by Getty Images. Clooney and Chastain: John Shearer; Williams: Frazer Harrison)