In the world of short films, a crucial deadline is looming.
Thursday at 5 p.m., submissions for the "best animated short" and "best live-action short" categories are due at Academy headquarters. If you want to be considered, AMPAS needs a copy of your film, with subtitles if it's not in English, along with the entry form.
But just because you made a short film doesn't mean you're eligible. When it comes to shorts, you need to either have your film exhibited publicly in a Los Angeles County theater for three days, or you need to have won a top prize at one of about 65 qualifying film festivals.
And -- this part is key -- you also need to not have shown your film on television, or on the Internet, or "publicly anywhere" before the qualifying run or the festival win. That's an Academy regulation that usually results in a few submissions being disqualified during the vetting process that will follow the October 1 deadline.
When it's all said and done, we'll probably end up with a Pixar film competing with hand-drawn stick figures on Oscar night, with Wallace and Gromit (right) up against Sudanese children brought to life by Scandanavian animators.
At that point, though, all the nominees will have received the kind of boost that can be an immeasurable help to young filmmakers.
"Usually when you make a short, you do the festival circuit and just try to get people to see your movie," said Rob Pearlstein, who received a nomination for his comic short "Our Time Is Up" a few years ago. "But there are only so many festivals out there, and I thought we'd gotten to the end of our run. And then the nomination came along, and suddenly there are all these new ways to get a bigger audience."
Those ways include a theatrical run of all the nominated shorts via Magnolia Pictures, and availability on iTunes. They also include exposure to the industry, and the kind of networking opportunities that can be invaluable unless you already work for Pixar.
The same year that Pearlstein was nominated in the live-action category, the animated short nominees included a pair of student film projects, UCLA student Shane Acker's "9" and Scottish film student Sharon Colman's "Badgered."
Colman called the Oscar experience "surreal" -- and she came out of it with a job at DreamWorks, where she's been working as a story artist on the studio's 2010 animated feature "How to Train Your Dragon." Acker, meanwhile, just released his own feature-length version of "9."
In other words, that Oscar nomination can do wonders for a short film. "When people come to me with a short film that's been nominated," says an Oscar consultant who has worked on many short films, including winners, "I say to them, 'I won't tell you that I can help you win. But I can help you use that nomination to get a higher profile and get more work."
But how do you get that nomination? It starts with the qualifying process -- which, according to Jon Bloom, a longtime (though not current) governor from the Academy's Short Films and Feature Animation branch, usually results in about 80 films competing in the live-action category, and 40 to 50 in animation.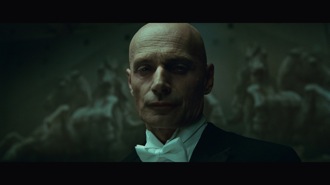 The film festival route, he says, generally supplies a little less than half of those nominees. About 65 festivals have been accredited by the Academy; they range from the big ones – Cannes, Sundance, Venice, South by Southwest – to smaller festivals around the world.
More than half the accredited festivals are outside the United States. (View the approved film festivals.) Pictured at left is multiple festival winner "Next Floor."
An alternate route is theatrical exhibition, which is easy for companies like Pixar: the animation studio attached "Partly Cloudy" to its big summer feature, "Up," and instantly qualified the film.
For a smaller film, it means striking a deal with a theater to show the film twice a day for three days. In past years, theaters were occasionally caught showing the shorts when the theaters weren't open to the public, so the Academy rules now include the phase "publicly exhibited for paid admission" (boldface theirs).
Laemmle now routinely reserves afternoon slots for short films at theaters like the Sunset 5 – and for movies that might have the potential for TV, DVD or Internet income, a quick theatrical run is sometimes used to clear the way for subsequent distribution without running afoul of AMPAS rules. (It's also a smart way to qualify if you can afford it and aren't willing to gamble that you'll actually win a film festival.)
Eligible films will be viewed, and scored, by committees of volunteers from the Short Films and Feature Animation branch; the six-to-10 films with the highest scores make the shortlist. The shortlist is then shown to a bigger pool of branch members at all-day events in Los Angeles, New York and San Francisco, to determine the final nominees.
As for who'll end up on the shortlists, and who'll get a nomination … well, of course it's too early to do much more than guess. But, keeping in mind that the branch could still determine that some of these films aren't eligible, we'll go ahead and make some guesses.
In the animation category, of course you can't overlook Pixar, which has nine nominations and three wins (though none since 2000). "Partly Cloudy," by far the most-viewed short in contention though its availability on iTunes and its theatrical showings with "Up," is clearly a strong contender.
Aardman Animation's Nick Park has already won three Oscars for two "Wallace and Gromit" shorts and one feature, and he's back in the mix this year with those characters' new short, "A Matter of Loaf and Death."
Moving to smaller films, two-time nominee Don Hertzfeldt's studiously low-tech "I Am So Proud of You" picked up awards at several festivals and has the kind of emotional clout that often wins in this category.
Another big winner on the festival circuit was a true hybrid, the animated short documentary "Slaves" (right) from Scandanavian filmmakers Hanna Heilborn and David Aronowitsch. It's eligible in both the animated short and short documentary categories, and has to be considered a player if it's submitted in the animated race.
Other possibilities, based on festival reception, include Fabrice Joubert's "French Roast" and Dennis Tupicoff's "Chainsaw."
On the live-action side, there's no Pixar to serve as the 800-pound gorilla. Most of the films that have qualified via the festival route come from outside the United States, which makes sense because most of the nominees in recent years have done so as well.
"Next Floor," a drama from French-Canadian filmmaker Denis Villenuve, is a grotesque look at over-consumption that has become perhaps the year's biggest live-action winner on the festival circuit. (photo on previous page)
"Love You More," British director Sam Taylor-Wood's 70s'-set drama about a couple who meets in a record store while trying to buy the new Buzzcocks' single, is another contender … though one has to wonder if the Buzzcocks will mean much to most Academy members.
(CORRECTION: The producer of "Love You More," Adrian Sturges, tells me via email that the film, while it won two qualifying film festivals, is ineligible. It qualified and was submitted last year but didn't make the shortlist; Academy rules do not allow re-submissions.)
Gregg Helvey could make the jump from Student Academy Award winner to Oscar nominee with his socially conscious "Kavi." Juanita Wilson's "The Door" and Benh Zeitlin's "Glory at Sea" both won multiple festival awards.
But really, at this point, who knows? The entries will be in by tomorrow afternoon, the branch will go to work, and Oscar's perennial tiebreaking categories will take shape.
In the meantime, here's a partial list of the films that, near as I can determine, have qualified:
Live-action shorts:
AHENDU NDE SAPUKAI (I HEAR YOUR SCREAM), Pablo Lamar
ANGELS DIE IN THE SOIL, Babak Amini
BELIEVE, Paul Wright
BOUTONNIERE, Coley Sohn
CELESTIAL AVENUE, Cameron Cairnes & Colin Cairnes
COMO TODO EL MUNDO, Franco Lolli
DANZAK, Gabriela Yepes
A DAY'S WORK, Rajeev Dassani
DENNIS, Mads Matthiesen
DEVIL'S DAIRYMAID, Kym S. Farmen & D.A. Johnston
THE DINNER, Karchi Perlmann
THE DOOR, Juanita Wilson
EERSGEBORENE (FIRST BORN), Etienne Kallos
THE 8TH SAMURAI, Justin Ambrosino
40 DEGREES A LA SOMBRA, Flavio Gonzalez Mello
FRANKIE, Darren Thornton
GILLES, Constant Mentzas
GLORY AT SEA, Benh Zeitlin
HOTEL, Tim Conrad
IN THE DARK, Alex Fazeli
INSTEAD OF ABRACADABRA, Patrik Eklund
JOS KAADUN, Hannaleena Hauru
KAVI, Gregg Helvey
KUNJO, Terrie Samundra
L'ARBITRO (THE REFEREE), Paola Zucca
LE FEU, LE SANG, LES ETOILES, Caroline Deruas-Garrel
THE LEGLESS BOY CANNOT DANCE, Michel Lipkes
LES MIETTES, Pierre Pinaud
A LETTER TO UNCLE BOONMEE, Apichatpong Weerasethakul
LOVE YOU MORE, Sam Taylor-Wood
LUOLA (CAVE) Panu Heikkil
MAN, Myrna Joseph
MIENTE, Isabel de Ocampo
MIRACLE FISH, Luke Dolan
THE MORSE COLLECTORS, David Cooke
MY NAME IS DOMINIC (TOUS LES ENFANTS S'APPELLENT DOMINIQUE), Nicolas Silhol
NECESSARY GAMES, Sophie Hyde
NETHERLAND DWARF, David Michod
NEW BOY, Steph Green
NEXT FLOOR, Denis Villeneuve
O SAPATOS DE ARIESTEU, Luis Rene Guerra
OCIDENTE, Leonardo Sette
OTTANA, Pietro Mele
PRINCESS MARGARET BLVD., Kazik Radwanski
SEPTEMBER, Stewart le Marechal, Esther May Campbell
SHORT TERM 12, Destin Daniel Cretton
SIDNEY TURTLEBAUM, Tristam Shapeero
SKY PEOPLE, Shanti Thakur
THE STARS DON'T TWINKLE IN OUTER SPACE, Peter Thwaites
THE TAXIDERMIST, Bert & Bertie
THIS IS HER, Katie Wolfe
TIERRA Y PAN, Carlos Armella
TIME AND AGAIN, Antonio Mendez esparza
VEGILA (WAKE) Michele Rho
WHATEVER TURNS YOU ON, Declan Cassidy
WHO BY WATER (QUEM POR AGUA), Bill Morrison
Animated shorts:
ALICE'S ATTIC, Robyn Yannoukos
ALMA, Rodrigo blaas
ARENA, Joao Salaviza
THE CAT PIANO, Eddie White & Ari Gibson
CAGES, Juan Jose Medina
CHAINSAW, Dennis Tupicoff
DEAR FATTY, Hsin-I Tseng
DIX, Fabrice Le Nezet, Francois Roisin, Jules Janaud
FRENCH ROAST, Fabrice O. Joubert
THE HAPPY DUCKLING, Gili Dolev
HUNGU, Nicolas Brault
I AM SO PROUD OF YOU, Don Hertzfeldt (left)
KANIZSA HILL, Evelyn Lee
LAS PELOTAS, Chris Niemeyer
HOMBRE SIN SOMBRA, Jose Estaban Alenda
LIES, Jonas Odell
MUTO, Blu
O PONOZKACH A LASKE (ABOUT SOCKS AND LOVE), Michaela Copikova
PAJAMA GLADIATOR, Glenn Harmon
PARTLY CLOUDY, Peter Sohn
PATIENCE OF THE MEMORY, Vuk Jevremovic
PHOTOGRAPH OF JESUS, Laurie Hill
PLEASE SAY SOMETHING, David O'Reilly
SEBASTIAN'S VOODOO, Joaquin Baldwin
SHAMAN, Luc Perez
SHE WHO MEASURES, Veljko Popovic
SKHIZEIN, Jeremy Clapin
SLAVES (SLAVAR), Hannah Heilborn and David Aronowitsch
SLEEPING BETTY, Marcel Jean, Claude Cloutier
UNDONE, Hayley Morris
WALLACE AND GROMIT: A MATTER OF LOAF AND DEATH, Steve Pegram, Nick Park, Bob Baker