"You're known as a comedian. How challenging was it to take on a role as dramatic as this one?"
Mo'Nique considered the question. She didn't say anything for five, 10, 15 seconds. She looked lost in thought, and then broke her silence softly, slowly, deliberately.
"If I say it wasn't challenging," she said, with just the hint of a smile, "then I sound vain."
The audience at the Pacific Design Center, which had just given Mo'Nique, co-star Gabourey Sidibe and director Lee Daniels standing ovations for their film "Precious," burst out laughing.
Most of the people in the room – which was full of members of the Hollywood guilds – knew the subtext:
That Mo'Nique, the comic actress and BET host, has largely been absent from the promotional trail for "Precious" since the movie came out of nowhere to win the audience award and prompt a battle between studios at Sundance.
That she'd been criticized for diva tactics, for reportedly demanding money to appear on the film's behalf.
That some had wondered if she was hurting her Oscar chances by not doing interviews and post-screening Q&A sessions and TV appearances.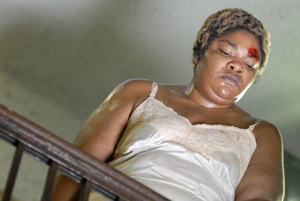 That her behavior could somehow, improbably, overshadow a fearsome, riveting performance as the title character's monstrous mother.
But Mo'Nique came to L.A. over the weekend for the AFI Fest gala premiere of "Precious" on Sunday – and that afternoon, not only did she show up at a guild screening of the film, she absolutely stole the show.
She did so not with diva antics, but with thoughtful, entertaining and even modest comments on the film, her director and co-stars, and her own performance.
It's been clear for some time that Sidibe increases her Oscar chances every time she opens her mouth and shows that she's a composed, funny young woman nothing at all like her sullen, damaged character – in other words, that she's an actress, not a neophyte chosen to play herself.
And on Sunday afternoon, Mo'Nique showed that she can effortlessly dispel the talk about her attitude, and put the focus right back on her performance.
At the Pacific Design Center, on a panel with Daniels, Sidibe, actresses Paula Patton and Sherri Shepherd, screenwriter Geoffrey Fletcher and singer-songwriter Mary J. Blige, Mo'Nique received a standing ovation when she walked onstage, then tried to deflect some of the attention by pointing to Sidibe.
She talked about Daniels' pitch to her when he offered her the role of a woman who not only physically and verbally abuses her pregnant, virtually illiterate daughter, but is complicit in sexual abuse as well: "I have something for you, but it might f— up your career."
She talked about understanding the character because of abuse in her own family, and about learning to love the woman she played. She said it was crucial to leave the character behind when Daniels called "cut" – a task that was relatively easy, she said, except in the scenes where she had to direct abusive language at a young Downs Syndrome child.
And at the end of the Q&A, when asked about the challenge of playing a dramatic role, she brought the house down with a self-deprecating anecdote.
Filming the scene where her character screams abuse at Precious from the bottom of the stairs, she says, Daniels was particularly impressed by a moment where she grabbed her heart and leaned forward shaking, with her back to the camera.
Daniels thought the move was a masterful expression of the character's rage – unaware, she says, that Mo'Nique and Sidibe had both decided that the best way to deal with the brutality of the scene was to have fun with it when the cameras weren't pointed their way.
"I grabbed my heart and bent down because I was laughing, and I didn't want him to see," she said, describing how Sidibe was out of camera range at the top of the stairs, grinning and wagging a finger as Mo'Nique hurled invective her way.
She laughed. "I heard him telling a couple of people how great I was when I did that, and finally I just had to tell him. I couldn't continue to let him believe I was such a brilliant actress."
Now, the question is whether the Oscar voters will think she's brilliant, or take her word for it that she's not.
Mo'Nique, by the way, wasn't at theWrap Screening Series last Tuesday when "Precious" screened at the Arclight. But I got a few words with Daniels and Sidibe in the lobby restaurant before the Q&A began: