Over 240 acts and 450,000 attendees from 100 countries will converge at the Las Vegas Motor Speedway this weekend for Insomniac's 23rd Electric Daisy Carnival, the largest such festival in North America.
A dusk-til-dawn multi-stage music festival, EDC makes money (over $2 billion in economic impact for Las Vegas since 2011) and makes fans happy.
But in a time when streaming services are an increasingly large piece of music industry revenue, hip-hop is the dominant genre in youth culture, and the pop-EDM acts like The Chainsmokers, Zedd, and Marshmello don't speak to a large part of this devoted audience (and aren't on the lineup) where does the single genre dance music festival stand?
Also Read: Idris Elba Set to Expand DJ Career at EDC Las Vegas 2019
Before the lasers and confetti cannons go off in Las Vegas, here are the lessons we've already learned that can be exported to the larger music and media industries.
1. Promoters that know their audience can sell a lot of tickets and grow, even as subculture
It is a risky proposition to put festival tickets on sale six months before revealing the lineup, which Insomniac did. Yet, they sold out more general admission tickets (approximately 128,000) and did it quicker than last year. It's notable for the year-over-year growth as hip-hop surged forward as the undisputed prime mover of youth culture. Coachella, which released extra tickets for the second weekend with Kanye West's "Sunday Service," did not sell out.
2. There's a significant opportunity to promote female producers and artists
Although the festival audience is split evenly between male and female, the on-stage representation is nowhere close. Last year, with 15 female artists out of about 250 performers, it represented the largest showing to date. (That 15 included a booking fluke — an unknown teenager scheduled for an early main stage spot.) The audience is there for women artists. What label, management company, or entrepreneur is going to put as much effort in to filling this void as others did developing Blackpink? Calling Michelle Pesce, Ana Calderon, Daisy O'Dell and L.A.'s "woman." collective.
It's hard to pinpoint where the breakdown in the supply chain comes from. Insomniac recruits artists from all over the world and in local scenes in the U.S., the gender mix (anecdotally) feels more balanced. Lisbona Sisters (above), Charlotte de Witte, and Amelie Lens are three acts on this bill to keep an eye on.
Also Read: WGA Study Finds Women Make Up Less Than One-Fourth of All TV Showrunners
3. The festival winners are boulders rolling downhill
As the U.S. festival landscape contracts, recent developments fortify and ratify the two dominant players – Live Nation and AEG – as the establishment winners. In their shadow, the original U.S. festival brand (Woodstock) couldn't even get to an on-sale date this summer before a cancelation announcement.
Insomniac entered a partnership with Live Nation in 2013. Since then, international versions have sprung up in Mexico, India, Japan, and a new EDC Korea this Labor Day weekend. EDC's main competitor, Ultra Music Festival in Miami, had a logistically-disastrous outing in March and just announced it is on the hunt for a new home. Caution, the leaders are pulling away.
4. "The Death of Genre" is real
Both the New Yorker and Vox's "Switched on Pop" podcast have recently chronicled the "death of (music) genres" in recent weeks, citing the rap-country breakout "Old Town Road," body-positive energy blast Lizzo, and the surprising cross-playlist success of home-schooled Billie Eilish. While all electronic music may sound like "oontz oontz" to the uncalibrated ear, don't tell that to the headliners (fans of EDC). The only thing 238 artists playing here have in common is that none of them have "DJ" in their name. (There are only 2 "DJs" out of 240 performers.)
The topic of genre blur leads us to hip-hop at the rave …
5. A$AP Rocky illustrates the "death of genre"
The "Good for You" rapper popped up out of nowhere with Australian psychedelic band Tame Impala during their headlining set at Coachella last month. Above, he sits front row at a fashion show with Laura Dern and Gwendoline Christie. Now, he's commanding one of the most prime bookings available: 1 a.m. on Saturday night on the multi-media Cosmic Meadow stage. This timeslot leads in to a massive fireworks show that envelopes the performance's closing moments. More familiar faces like Illenium and Porter Robinson have previously occupied this choice real estate.
6. The "bizarre" collaborations are now the new normal
Don't dismiss Bill Nye the Science Guy hosting the opening ceremony as a pure stunt booking.
Perfectly synchronized beats replicated with studio quality sound at aircraft carrier decibel levels is the pulse of dance music, but also the ultimate convergence of science and sound. Add in large-scale stage production (hauled in by 500 semi trucks) and this festival is arguably an engineering exhibit masquerading as a carnival. So, Nye is actually playing in his own lane. Also, he may be a closeted fan. Last year at a difference festival, Nye produced a cold open video message for a set by Dillon Francis.
7. Festivals still need to sell a non-musical signature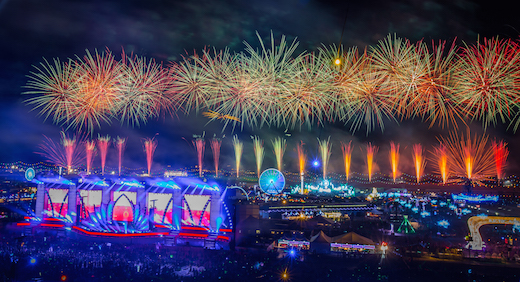 From Lollapalooza's skyscraper backdrop to Bonaroo's late-night sets, the successful festivals all have their signature iconography. Here at EDC, it's the fireworks. For 10 minutes in the middle of the night, there are 11,600 blasts that span across 1,200 acres of stages, art cars, and rides. The festival's nickname "under the electric sky" is well earned.
8. It's not just for kids
The average age at the Electric Daisy Carnival is 28. As an 18-and-over festival, it may be hard to see any nods from the time before Nirvana through the sea of very "spirited," very costumed, and often emotional Gen-Z fans (especially the "trance family").
Yet, there's an undercurrent of discerning clientele here. In parallel to the campgrounds and carnival food, there is helicopter transportation, elevated skydeck bottle service tables, rockstars and mainstream celebrities undercover as guests, VIP risers, and echoes of Hollywood glamour in the most unlikely places: As a former professional party goer, I can attest that the VIP bathrooms here are the same bathroom trailers I'm familiar with from the Elton John Oscar Party.
9. Livestream rights are an increasingly significant piece of business for content creators and distributors
A year ago, Beyonce's Coachella performance broke livestream records. That "Homecoming" legend has grown since, with the Netflix documentary, merchandise, and Goldenvoice regurgitating her pyramid set pieces to the fields a year later as instant historical artifacts. People lined up to take pictures. Then this year, YouTube more than doubled the view count to 86 million without her. At YouTube's recent upfront, they touted their rights deal for Lollapalooza alongside shows with Kevin Hart.
Now, if a festival isn't streamed, it's automatically second tier. Insomniac has cultivated this space aggressively, streaming more local festivals like HARD Summer and regional ones like EDC Orlando. This weekend, Insomniac and LivexLive will produce four simultaneous channels, show full sets, and start two hours earlier than before.
Also Read: Justin Bieber Partners With YouTube for Project Launching in 2020
10. Location matters
Even Fyre fraudster Billy McFarland knew this when he touted an exotic island "once owned by Pablo Escobar." Only in Vegas would the mayor proclaim a week long celebration for this.