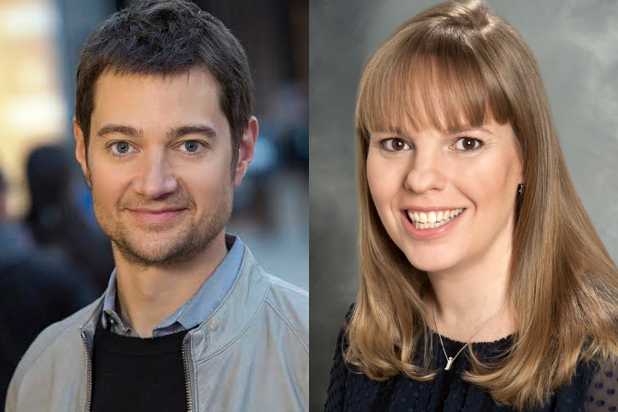 El Rey Network has promoted Chad Blankenship to senior vice president, Marketing & Communications, and hired Katie Lanegran as Public Relations vice president.
Both will work in New York, though Robert Rodriguez's 24-hour English-language network is based in Austin, Texas.
Blankenship previously served as vice president of Marketing for El Rey, while Lanegran was a 15-year veteran at SundanceTV. Lanegran will report to Blankenship, who will continue to work under network Vice Chair Scott Sassa.
Also read: Robert Rodriguez, Bob Orci and Gabriel Luna on Gauging 'Matador's' Success Without Ratings
Blankenship currently oversees all consumer and trade marketing, promotions, social media initiatives, public relations and El Rey Network's Austin-based creative teams.
Lanegran will spearhead all communications strategies, oversee talent relations and will be responsible for the execution of key industry events. Additionally, she will manage all awards campaigns as well as initiatives surrounding international distribution, licensing and corporate communications.
Sassa said in a press release: "El Rey is different than almost all networks because our founder Robert Rodriguez is a creative with a distinct brand, Chad's clear understanding of El Rey's and Robert's DNA has allowed him to amplify El Rey's unique brand proposition through his oversight of our well-received launch. We have engaged our core viewers and experienced a level of buzz and awareness commensurate with much more established networks. This promotion is an acknowledgment of what he has already brought to the table and what he will contribute in the years ahead."
Also read: 'Matador' Stars Gabriel Luna, Tanc Sade Predict World Cup Winners
"Working for Robert and Scott has been an exceptional experience and I am proud of what we have accomplished — particularly in garnering both attention and momentum for our original scripted series 'Matador' and 'From Dusk Till Dawn: The Series,'" Blankenship added. "This is an exciting time to be in television and we are at the forefront of something particularly special at El Rey. I am thrilled to be a part of this next and very exciting chapter in our evolution."
On Lanegran's hire, Blankenship said: "Katie's strategic vision and track record of success, combined with her deep understanding of the intersection of film and television, will be a huge asset as we build our brand through El Rey's unconventional and engaging content. We are thrilled to have her join our very talented and dedicated team."