Lionsgate has released another photo of Elizabeth Banks as Rita Repulsa from the upcoming "Power Rangers" reboot.
In the image, Banks is seen behind some glass enclosure. It is not clear what exactly is going on, but it looks like Rita Repulsa is planning her escape — and she knows exactly how to do so.
The team of multi-colored Rangers consists mostly of relative newcomers: singer Becky G as Yellow Ranger Trini, Ludi Lin as Black Ranger Zack, Dacre Montgomery as Red Ranger Jason, Naomi Scott as Pink Ranger Kimberly and RJ Cyler as Blue Ranger Billy.
---
See Photo: 'Power Rangers' Movie Gives Fans Closer Look at New Costumes
---
Bryan Cranston will return to play the Rangers' mentor Zordon — the Oscar-nominated actor once voiced roles on the popular 1990s kids show on which the movie is based.
The tone of Lionsgate's big-budget production is much edgier than that of the original television series, which has been reflected in the film's costumes — previewed for fans in early May. Costume designers have thrown away the spandex, designing harder-looking armored suits.
---
Also Read: Bryan Cranston Compares 'Power Rangers' Movie to 'Dark Knight'
---
"Power Rangers" is set for a March 24, 2017, release.
See the new picture of Rita Repulsa below.
https://www.instagram.com/p/BJJn5umgO8f/?taken-by=powerrangersmovie&hl=en
'Power Rangers': Where Are the Mighty Morphin Actors Now? (Photos)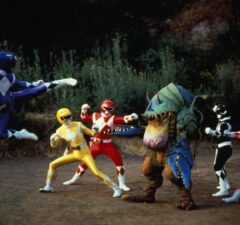 (Tap photo and swipe to view gallery)