The Dominion lawsuit has revealed what Tucker Carlson, Sean Hannity and Laura Ingraham really think of their viewers
Sometimes life really does imitate art. And sometimes that art is a 66-year-old Elia Kazan movie that hardly anyone remembers anymore.
I'm talking about 1957's "A Face in the Crowd," Kazan's darkly brilliant mid-century media satire about an unscrupulous, guitar-strumming Arkansas drifter named Larry "Lonesome" Rhodes — played by Andy Griffith, in an early, pre-Mayberry starring role — who becomes a populist radio and television sensation by bamboozling his millions of adoring fans.
Become a member to read more.
Until, that is, Patricia Neal, who plays his long-suffering producer, grows so disgusted by the egomaniacal monster she's created that, at the end of the film, she sabotages his career by leaving a microphone open during the closing credits of his hit TV show.
"Good night, you stupid idiots," Rhodes whispers under his breath as he grins into the camera, unaware that his viewers — "those morons out there," he calls them — can hear every word he's saying. "I can make them eat dog food and they'll think it's steak," he goes on, as Kazan cuts to a montage of shocked and disgusted TV viewers across the country angrily switching off their sets.
Remind you of anything?
It should, because that's pretty much the plotline at Fox News right now. Newly unsealed court filings in Dominion Voting Systems' blockbuster $1.6 billion lawsuit against the network — documents that include private text messages from Tucker Carlson, Sean Hannity and Laura Ingraham, among others — are laying bare to the public just what Fox News' prime-time stars really thought about the Stop the Steal dog food they were feeding their viewers in the weeks and months after the 2020 election.
"F—ing lunatics," Hannity, in a Dec. 22 text, described Sidney Powell and Rudy Giuliani — you know, the Trump attorneys he'd been inviting onto his show every night to peddle a bonkers conspiracy theory that Dominion's ballot-tabulating machines had been programmed by long-dead Venezuelan dictator Hugo Chavez to flip votes from Trump to Biden.
In other text messages, Ingraham called Powell "a complete nut," adding "Ditto with Rudy." Maria Bartiromo went with a slightly softer "kooky" to describe the Dominion conspiracy theory. John Fawcett, one of Lou Dobbs' producers, characterized it as "compete bs." And Carlson, the alpha Fox, host of the network's most popular show, described Powell and Giuliani's claims as "totally off the rails."
And yet, while on the air, every one of these supposed purveyors of truth pretended to their viewers that the Dominion conspiracy theory not only had merit but might well represent, in Carlson's words, "the single greatest crime in American history."
"Tonight, every American should be angry," fumed Hannity while the cameras were rolling. "You should be outraged. You should be worried. You should be concerned at what has happened in the election."
Off the air, he was texting his coworkers that Giuliani was "acting like an insane person," and later admitted to Dominion's lawyers in a deposition that "the whole narrative that Sidney Powell was pushing, I did not believe it for one second."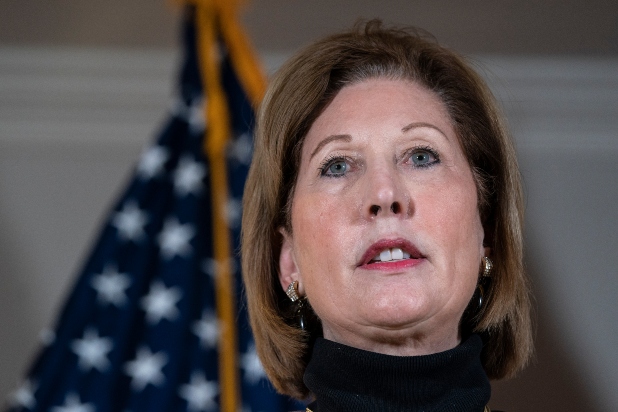 To be fair, none of them pulled a full Rhodes — they never actually referred to Fox viewers as "stupid idiots." Indeed, in one text Carlson described them as "good people" who believed the lies they were being told about election fraud.
Still, Carlson's contempt for his fans — and the truth — came out in other ways. In the days after the election, his main focus seemed to be on how Fox's slipping viewership — as hordes of viewers, infuriated by the network's early call that Biden had won Arizona, fled for the even more unhinged conservative cable outlet Newsmax — was impacting Fox's share price. Indeed, judging from his text messages, Carlson was more than willing to toss truth under the bus if it meant propping up Fox's profits.
On Nov. 12, after Fox reporter Jacqui Heinrich posted a fact-checking tweet debunking Trump's bogus claims that Dominion had swung the election for Biden, Carlson all but blew a gasket. "Please get her fired," he wrote to Hannity and Ingraham on a text chain. "Seriously… What the f—? I'm actually shocked… It needs to stop immediately, like tonight. It's measurably hurting the company. The stock price is down. Not a joke."
Heinrich, mercifully for her, wasn't fired. Possibly because she deleted her 100% accurate tweet the next day.
Of course, if all this really were a revival of "A Face in the Crowd," right about now we'd be cutting to a montage of Fox viewers angrily switching off their TV sets, disgusted by the duplicity and mendacity of their freshly unmasked idols. But, alas, life doesn't always unfold as neatly as a Budd Schulberg script, and not even Kazan could have anticipated our current world of siloed cable-news audiences.
Sadly, it's likely most Fox viewers still have no idea they've been lied to, since the Dominion lawsuit revelations have barely been covered on the only outlet most of them ever watch. (The company's only response, via a press statement, has been that it's within Fox's first amendment rights to report the news as it sees fit, and that the Dominion lawsuit "mischaracterized" what transpired on its airwaves). Indeed, just a day after the unsealed court papers were made public, Carlson — a guy who we now know privately considered Trump "a demonic force, a destroyer" — was spreading Trump's same old off-the-rails conspiracy theories.
"There are so many unanswered questions — some of them lingering," Carlson dissembled through his teeth on his show last Thursday. "How, for example, did senile hermit Joe Biden get 15 million more votes than his former boss, rock star crowd-surfer Barack Obama? Results like that would seem to defy the laws of known physics and qualify instead as a miracle. Was the 2020 election a miracle? Honestly, we don't know, and we don't expect to get an answer to it tonight."
Give him a guitar and an Arkansas accent and he's Larry "Lonesome" Rhodes all over again.