Gen Art, which held an annual film festival in addition to showcasing fashion design, music and visual arts, has shut down all its operations.
The 16-year-old, New York-based arts and entertainment organization released a statement on Wednesday that read, in part, "After struggling for the past 18 months since the economic crisis, Gen Art has finally succumbed to the recession."
Over the past two years, the company had cut its budget, laid off some workers and put others on four-day workweeks. Last June, a fundraiser for Gen Art attracted the likes of Adrien Brody, William H. Macy, Zac Posen, Nick Cannon and Adrian Grenier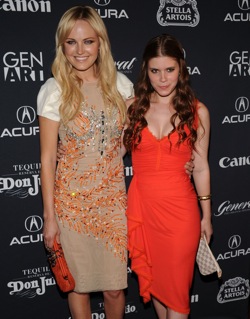 The final straw, said Gen Art founders Ian and Stefan Gerard in the letter posted on the organization's website, came when "a major, new corporate partnership unexpectedly collapsed a few weeks ago." Without the expected income from that partnership, the company, which reportedly receives 80 percent of its budget from corporate sponsors, could no longer continue.
Gen Art's 15th Anniversary Film Festival took place in April. Screenings included premieres of Josh Radnor's "happythankyoumoreplease," James Keach's "Waiting for Forever" and Adrian Grenier's "Teenage Paparazzo."
(Photo of Malin Ackerman and Kata Mara at the Gen Art "happythankyoumoreplease" premiere by Bryan Bedder/Getty Images)
In addition to the film festival, Gen Art produced more than 100 fashion, film, music and art events each year.
Other film-related events to have struggled financially in recent months include CineVegas and the Palm Beach International Film Festival.
"When you look around, everything is a little leaner," said Tribeca Film Festival co-founder Jane Rosenthal during that recently-concluded fest, which still has a number of major corporate sponsors, including American Express. "But if we can't do as many films, we can still do what we do."