Once in a while at Cannes (though definitely not very often), the focus can shift away from the films and the deals and the moguls, and onto a guy who wrote about film. It happened on Thursday afternoon, when the American Pavilion hosted a panel in honor of the late critic Roger Ebert, a fixture on the Croisette before his death in April.
Panelists Kenneth Turan of the Los Angeles Times, Michael Phillips of the Chicago Tribune and Eric Kohn of Indiewire spoke of their memories of Ebert both at Cannes and elsewhere – and at the end of the discussion and Q&A on a terrace now named the Roger Ebert Conference Center, the panelists and audience trooped outside to pose for a "500 thumbs up" photo.
Before that, though, the press' focus was on Alexander Payne's "Nebraska," the black-and-white road movie that won mixed but generally favorable reviews after its early-morning screening.
Also read: What the Critics Are Saying About Alexander Payne's 'Nebraska': An Oscar Contender?
The director and his cast convened for a press conference (left) after the screening but before the film's evening premiere. Payne is never one let an obvious or dumb question go unremarked-upon – at Toronto a couple of years ago, he was downright withering when the festival's Cameron Bailey ventured that the director was attracted to flawed characters in moments of crisis, pointing out that the description pretty much applied to all drama.
So when the first question at his Cannes press conference asked why he'd made the film in black and white, his remark was a deadpan, "I wasn't expecting that question at all."
But, of course, he was expecting it, and he did answer it. "This modest, austere story seemed to lend itself to being made in black and white, a visual style perhaps as austere as the lives of its people," he said, according to Kyle Buchanan at Vulture.
He also said that he had to make the movie for less than he would have if he'd opted to shoot in color. "It took some discussions with … Paramount … to get them to agree to let me make it in black and white at a budget with which I could make a decent film."
Star Bruce Dern, for his part, said that he had found a father figure in Payne, and that he wanted to set up his daughter Laura with former "Saturday Night Live" star Will Forte, who plays Dern's son in the film.
Another marquee press conference was for Jerry Lewis (below), who received a special Cannes tribute in the form of a screening of "Max Rose," in which he stars. But the reporters hadn't seen Lewis' new film before the press conference, because a planned morning screening was cancelled. Surmised Jeff Wells, "The only presumption that makes sense about why the 11 a.m. press screening for Daniel Noah's 'Max Rose' was cancelled is that the sales guys were afraid that the critics would savage it and that they might be forced to take less money as a result." And then a commenter on Wells' Hollywood Elsewhere site immediately raised a good point: "You know it's a bad sign when you're afraid to show a Jerry Lewis film in France."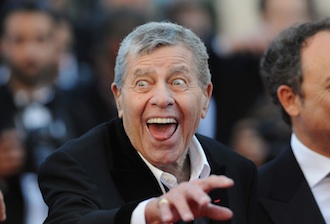 Lewis, though, said the film is "an incredible movie that's going to give a lot of people a lot of pleasure." According to Andrew Pulver in the Guardian, he "regularly had the French press corps in stitches," including with a response to a question about his former partner, Dean Martin: "He died, you know."
Still, a few eyebrows were raised when Lewis said that women doing broad comedy "bothers me." And when asked who his favorite female comics were, he responded, "Cary Grant and Burt Reynolds."
With only two days of screenings left before the jury begins deliberations and the winners are announced, talk is naturally turning to what's going to win the Palme d'Or. In the New York Times, Manohla Dargis thinks it'll be one of four films – or, at least, she thinks that other people think that it'll be one of the four. That quartet is the Coen brothers' "Inside Llewyn Davis," Paolo Sorrentino's "The Great Beauty," Abdellatif Kechiche's "Blue Is the Warmest Color" or Alexander Payne's "Nebraska," which strikes me as overestimating the Sorrentino and underestimating Asghar Farhadi's well-regarded "The Past," which was seen bringing juror Nicole Kidman to tears.
Dargis, by the way, likes "Nebraska" a lot, and she likes "The Great Beauty" a lot ("an outlandishly entertaining hallucination"), and she doesn't seem to like "Blue Is the Warmest Color" very much at all.
But others did. Kechiche's three-hour coming-of-age story, adapted from a graphic novel by Julie Maroh, quickly became one of the buzziest titles at Cannes, and not just for its reported 20-minute lesbian love scene. "Driven by a subtle and naturalistic star-making (and possible Cannes award-winning) performance from its young lead Adele Exarchopoulos (left), this is the kind of film experience you hope to have when you come to a film festival," wrote Craig Kennedy at Awards Daily. (Still, he did wonder why the teenage girls in the film "handle themselves with the confidence of porn stars" in the film's extended sex scenes, "and that borders on the unbelievable."
But many others were even more enthusiastic; in a five-star review in Time Out London, Guy Lodge wrote, "Kechiche has fashioned an intimate epic in every sense of the term, its every subtle emotional turn rendered widescreen on Exarchopoulos's exquisitely expressive face."
On the other hand, former Entertainment Weekly critic Lisa Schwarzbaum tweeted this: "#FakeCannes #28 Fact: 9 out of 10 male film critics prefer art movies about hot naked lesbian action to art movies about poverty. Kechiche!"