Well, Sofia Coppola can rest easy: Paris Hilton loved "The Bling Ring."
And maybe now Cannes' Un Certain Regard section can go back to showcasing art movies rather than playing host to platinum heiresses.
Thursday night's premiere provided an unusual shot of glitz for Un Certain Regard, which typically takes a back seat to the main competition and the out-of-competition star vehicles.
But the second day of Cannes was a day when the main competition showcased Francois Ozon's enigmatic "Jeune & Jolie" and Amat Escalante's brutal "Heli," giving UCR an opening to take some of the spotlight away with "The Bling Ring" and the Sundance sensation "Fruitvale Station."
And while the critics chimed in, and TheWrap's Sasha Stone offered her own take on the film, we had yet to hear from Hilton about the film that deals with a gang of San Fernando Valley teens who got their kicks breaking into the houses of celebs like Paris and Lindsay.
Also read: Cannes Review: 'The Bling Ring' Rips Open the Fame Game
Hilton makes a cameo in the movie – and more crucially, she allowed Coppola to use her real house for the scenes in which the teens find a key under the doormat and go through Hilton's belongings.
Some reviewers wondered if Hilton realized how flamboyantly narcissistic she appeared by letting Coppola film a house of such surpassing extravagance, including countless images of Hilton herself in photos and paintings and even on pillows.
But Paris is hardly the self-conscious type, and after seeing the film she tweeted, "I loved The @BlingRingMovie! Sofia Coppola is such a talented director. @EmWatson and the rest of the cast were amazing! #AMustSeeFilm."
That tweet, by the way, came three hours after this one: 

"Omg! The power went out in my hotel half way thru getting my hair curled. This is a nightmare, running so late for The @BlingRingMovie."
And after hitting the "Bling Ring" after-party, Hilton offered another breathless report that she'd met "one of my idols." No, it wasn't Asghar Farhadi or Arnaud Desplechin or even Steven Soderbergh or the Coen brothers – it was "the amazing Christian Louboutin," the shoe designer whose wares get their own shout-out in the film.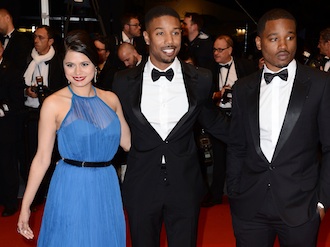 But cinema fans on the Croisette don't have to spend all their time thinking about designer shoes and wondering what Paris Hilton thinks of the race for the Palme d'Or.
Ryan Coogler's drama "Fruitvale Station," for instance, came to Un Certain Regard. The story of the last day in the life of a young African-American man who was killed by police in Oakland, the film won both jury and audience awards at Sundance – and according to Jeff Wells, it went over like gangbusters at the Salle Debussy.
(Photo, left to right: Actors Melonie Diaz and Michael B. Jordan, director Coogler)
"It's an awards-level steamroller, that's for sure," he wrote. "Perhaps more on the level of critics groups and Spirit Awards rather than Oscars due to the limited box office … but maybe not."
Over in the Directors Fortnight section, "Waltz With Bashir" director Ari Folman screened "The Congress," one of the more conceptually intriguing films in Cannes. Part rotoscope animation and part live action, the film stars Robin Wright as "herself" – or, at least a version of herself who agrees to be scanned and digitized so that she can become a CG creation and remain ageless onscreen.
Guy Lodge called it "bold, brave and distinctly weird," though he thought it went off track when it shifted to the animated section. "It's precisely as bonkers as it sounds," he wrote, "and at two hours, both wearisome and claustrophobic … But … there's something exhilarating – mesmerizing, even – about "The Congress'" most ludicrous flourishes."
Other films to screen in the last day included Chinese director Jia Zhang-ke's "A Touch of Sin," which has indieWIRE wondering why the Chinese government has yet to censor a film that paints such a bleak, violent picture of life in the country.
Meanwhile, the Irish bookmaker Paddy Power has opened betting on the Palme d'Or, with Asghar Farhadi's "The Past" and Hirokazu Koreeda's "Like Father, Like Son" currently installed as co-favorites at 3/1 odds. (The former screens on Friday, the latter on Saturday.)
Behind them sits James Gray's "The Immigrant" with 4/1 odds, then a big jump to Arnaud Desplechin's "Jimmy P" at 8/1 and Steven Soderbergh's "Behind the Candelabra" and Nicolas Winding Refn's "Only God Forgives" at 10/1.
Another 13 films are spread out between 12/1 and 33/1 before you get to Paddy Power's last-place contender: Roman Polanski's "Venus in Fur" at 40/1.
A Paddy Power spokesperson cited "the early Cannes buzz" in explaining the odds.