In this weekend edition of Oscar news 'n' notes from around the web, China gets political with its Oscar submission, and Robert Duvall's Oscar chances are put on hold.
While I was posting my update to the foreign film race on Friday, six more countries made their choices. And others have come in since. A quick roundup: Albania: "Alive," in which a centuries-old blood feud ensnares a young student. Argentina: "The Secret in Their Eyes," Juan Jose Campanella's widely-acclaimed drama about a 30-year-old murder. Croatia: "Donkey," a family melodrama that takes place during wartime. The Czech Republic: "Protector," about a journalist who works with the Nazis to safeguard his Jewish wife. Iceland: "Reykjavik-Rotterdam," a thriller with action divided between the two titular cities. Macedonia: "Wingless," about a young man dealing with a collapsing life and a grave prophecy. Russia: Karen Shakhnazarov's "Ward No. 6," based on a Chekov short story about a mental institution. (indieWIRE has the list.)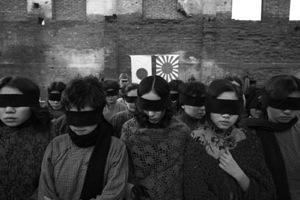 Meanwhile, China picks "Forever Enthralled," a bio of a Peking Opera performer from director Chen Kaige. The director has pedigree ("Farewell My Concubine"), but the film is certainly a safe choice, and a snub of the harrowing and gripping "City of Life and Death." That movie, chosen by critics as the second-best film at Toronto, was politically dicey, as it dealt with Japanese atrocities in Nanking during World War II. Of course, anybody paying attention to China would realize that the choice would be based at least as much on politics as on artistry. (Hollywood Reporter) ("City of Life and Death" photo: National Geographic Entertainment)
Oh, by the way: "City of Life and Death" just won the top prize at the San Sebastian Film Festival. (Variety)
Not to be outdone, Israel ignores "Lebanon," the war-movie-set-inside-a-tank that's gotten hefty buzz and won the Golden Lion Award at the Venice Film Festival, in favor of "Ajami," which Yair Raveh describes as "'The Class' with drugs and guns." "Ajami" got the nod by winning the top prize at the Ophirs, Israel's version of the Oscars. The Academy has nominated Israel's last two submissions, "Beaufort" and "Waltz with Bashir," but gritty, low-budget crime dramas are not usually prime Oscar-bait in the foreign language category, as the makers of last year's "Gomorra" can certainly testify. (Cinemascope)
Robert Duvall joins Annette Bening on the list of veteran actors whose Oscar-caliber performances won't be in the running this year. Sony Classics, which bought the rights to Duvall's film "Get Low" but already has several horses in the Oscar race, has bumped the picture to mid-2010, saving themselves some Oscar-campaign money and taking Duvall out of what already looks to be a crowded category. No sooner had Sony Classics made the movie than their film "Lebanon" lost to "Ajami," removing another of their contenders from the race. Maybe they should have waited before announcing their decision … (In Contention)
Kris Tapley lobbies on behalf of Nick Cave and Warren Ellis' score for "The Road" … and then says the Academy's music branch won't appreciate it. (In Contention)
Anne Thompson passes along what she learned opening night at the New York Film Festival. To summarize: good movies (including Alain Renais' "deliriously wacky" "Wild Grass"), great posters, good audiences, great parties, and they love film critics. (Thompson on Hollywood)
Thompson also steers us in the direction of the weekly Top Ten Online Film Trailers Chart at Visible Measures. It's certainly no surprise that the number one most-viewed trailer of the week is "Twilight Saga: New Moon" – but for those of us with Oscar tunnel vision, it's a little disheartening to see the list bursting with movies with no discernible Oscar chances whatsoever: "2012," "Zombieland," "Saw VI," "Surrogates" … I count two potential contenders in the top ten: Michael Moore's "Capitalism: A Love Story," which'll have to fight through a substantial Moore backlash and some lukewarm reviews if it wants a nomination, and Spike Jonze's "Where the Wild Things Are," which is still a big wild card but just might (I hope, I hope, I hope) become a player.