HBO's upcoming film "Phil Spector" has taken a different tack from all the other recent movies that have been based on true stories.
That's because the film, which takes place during the trial of record producer Phil Spector for the 1993 shooting death of Lana Clarkson, insists in its opening credits that it is not based on a true story.
"This is a work of fiction," reads a card at the beginning of the film, which was written and directed by David Mamet. "It's not 'based on a true story.'"
This, even though Spector and Clarkson are characters in the film, in which music-producer Spector is accused of the murder of Clarkson.
Continues the disclaimer: "It is a drama inspired by actual persons in a trial, but it is neither an attempt to depict the actual persons, nor to comment upon the trial or its outcome."
Of course, that language hasn't stopped Spector's wife, Rachelle Spector, from complaining that the film unjustly portrays her mercurial husband, played by Al Pacino, as "a foul-mouthed megalomaniac." And it hasn't stopped friends of Clarkson, including her former publicist, Edward Lozzi, from slamming the movie for suggesting that she might have pulled the trigger herself.
That kind of criticism isn't unusual; in recent months, the Oscar-nominated movies "Zero Dark Thirty" and "Lincoln" and the Best Picture winner "Argo" all faced criticism over perceived distortions and inaccuracies.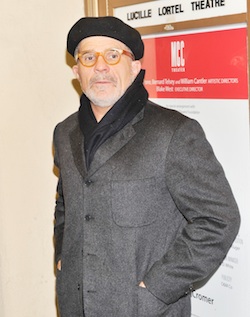 But the disclaimer with which "Phil Spector" begins is unusually forceful. By contrast, "Argo" begins with the card "Based on a true story" and "Zero Dark Thirty" with the line, "The following motion picture is based on first hand accounts of actual events." (Both admit to fictionalized characters or incidents at the end of their final credits.)
HBO's recent film "The Girl," based on the shooting of the Alfred Hitchcock film "The Birds," contained no disclaimer at the beginning of the film, and only two lines at the very end: "This film is a dramatization based on certain facts. Some of the names have been changed, and some of the events and characters have been fictionalized for dramatic purposes."
But with the more recent events of "Phil Spector," Mamet told TheWrap that HBO raised the idea of a disclaimer early in the process.
"I think that someone in the legal hierarchy at HBO wanted some sort of disclaimer, and I kind of thought that was a good idea," said Mamet (above) in an interview with TheWrap on Tuesday.
"Every time I see the phrase 'based on a true story,' as an audience member I kind of blanch. I don't care if it's based on a true story, I care if it is a true story."
But the director can't expect audience members to treat the film as fiction when it uses the names of real characters and the setting of real events, can he?
"No, you can't expect that," conceded Mamet. "The point of the disclaimer is not to change anybody's minds. It's to suggest a legal position.
"Listen, this is not going to cause anybody to put aside their intellect any more than 'based on a true story' would. They're still going to look at the thing on its own merits."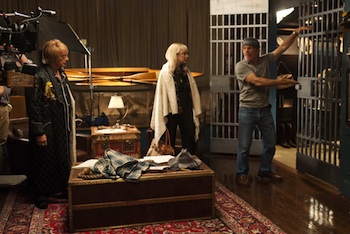 Mamet's film focuses not on the trial itself, which is a matter of public record, but on the interaction between Spector and his attorney Linda Kenney Baden, played by Helen Mirren. Baden herself served as a consultant on the film, but could not tell Mamet or Mirren anything about conversations that are protected by attorney-client privilege, even though those conversations, as imagined (or fictionalized) by Mamet, make up much of the film.
"Phil Spector" has received largely positive reviews in advance of its March 24 premiere, though the opening disclaimer itself was labeled "mealy-mouthed" in a negative Variety review.