This story first appeared in the Actors/Directors/Screenwriters issue of TheWrap's Oscar magazine.

One of the films, a crime thriller, is set in small-town Texas. Another is a cerebral sci-fi drama about the first contact between humans and an alien race. A third takes place in the woods and off the grid. And the last is set in urban New Jersey amid the turmoil of the 1960s.
But "Hell or High Water," "Arrival," "Captain Fantastic" and "American Pastoral" all do something similar: They tell us about the times in which we currently live. They may do so indirectly, hiding behind period or genre conventions, but they are timely.
"These things don't come out of a vacuum," "Captain Fantastic" writer-director Matt Ross told TheWrap. "In the same way that 'Hell or High Water' is a very intelligent film that reflects on the banking crisis and predatory lending wrapped in a heist movie, a lot of the films that deal with our past are actually reflecting on how we're dealing with those very issues today."
These are movies for now, so TheWrap talked to screenwriters Ross, Taylor Sheridan, Eric Heisserer and John Romano about slipping state of the union addresses into their work.
Also Read: Jimmy Kimmel Reveals His Oscars Hosting Pay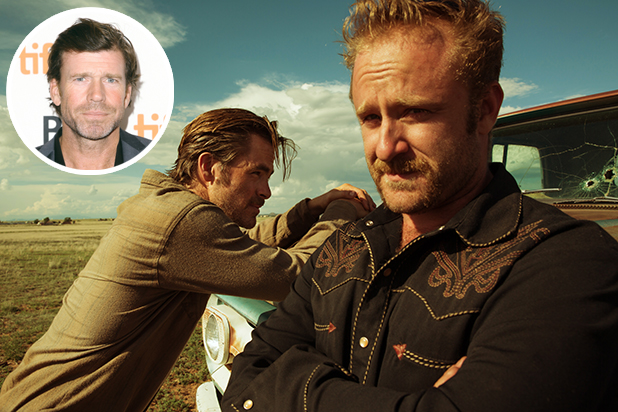 Taylor Sheridan, "Hell or High Water"
"Hell or High Water" comes at the perfect time, according to screenwriter Taylor Sheridan. "We just went through the election, it was a pretty painful one, and the country feels more polarized and more torn apart than before–there's so much apprehension," Sheridan said.
"I've heard people say 'Hell or High Water' is the voice of this frustrated, forgotten middle class. I thought it would be unifying, and I think it can [help us] recognize, 'Oh wow, poor is just poor, and corporate greed is corporate greed. Look how similar we are.'
"One of the big points that I tried to make was, 'Look at the suffering on the reservation, look at the suffering in this small town–it's the same.' So let's address the suffering, let's not blame one specific group."
The film, which has been described as a modern Western, stars Ben Foster and Chris Pine as brothers who rob banks to save their family's ranch in West Texas. There are underlying tones of what it means to be a father, a sentiment that Sheridan calls autobiographical.
"At the time I wrote the screenplay, my son was a year old," he said. "That whole notion of failing as a father and the consequences my actions are going to have on his future was really pressing down on me.
"I was a 40-year-old actor who quit acting to write a screenplay, It was a difficult time for me and I think that comes across in the way I wrote the character [played by Pine]."
Also Read: 'Hell or High Water' Review: Jeff Bridges Pursues Chris Pine in Smart, Exciting Western
Sheridan used his personal life as source material for other characters and plot points as well. "My cousin had been a federal marshal for 30 years and he was forced arbitrarily into retirement because of his age." In the film, Jeff Bridges' character, Marcus, is a Texas Ranger close to retirement. "At the same time, I'm getting phone calls from friends I grew up with who are ranchers and are losing everything because of this drought demolishing the land with no food and these fires."
But the film isn't just about people losing property to corporate greed or about one specific class. "I never considered 'Hell or High Water' a white, working-class film," said Sheridan. "To me, it's strangely a movie about cowboys and Indians. It's about people living in an area that was a battlefield 100 years ago, but now it's a new battlefield–but the army is different, and the people who are left don't know how to fight this army." –BV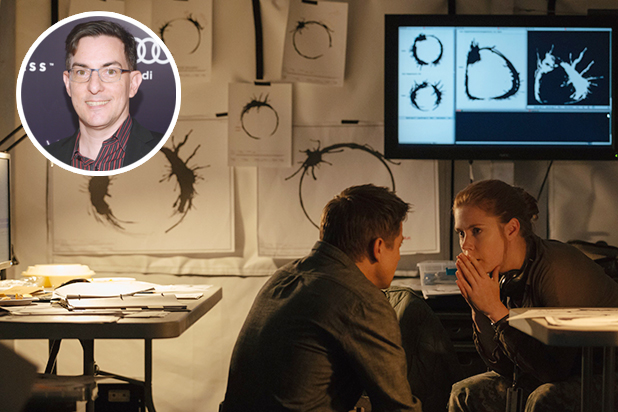 Eric Heisserer, "Arrival"
Sometimes it takes a good alien movie to remind you of what's happening on Earth. In Denis Villeneuve's "Arrival," extraterrestrial beings shake up the world, forcing us to reexamine how we work together–or more importantly, how we don't.
"It's always a good time to remind ourselves of the necessity of clarity and communication, especially when there's a language barrier or cultural differences," screenwriter Eric Heisserer told TheWrap. "We will all take something different from it, and right now so many of us have a political filter running 24-7. I think that's mainly because when you talk about communication, you can't help but think about the political ramifications."
In the film, linguist Louise Banks (Amy Adams) gets enlisted to communicate with galactic beings called heptapods that have arrived on Earth in 12 ships scattered around the globe. Every country finds a way to speak with the ship that landed within its borders–but instead of working together, the individual countries cut off communication with everyone.
"We did attempt to show how there was a misunderstanding of what other countries were doing because we were experiencing all of that through the filter of our own American intelligence bias," Heisserer said.
Also Read: 'Arrival' Director Denis Villeneuve on How It Feels Relevant Post-Election
"Arrival" is based on "Story of Your Life," a short story by Ted Chiang. Heisserer, whose previous films included "The Thing," "Final Destination 5" and the 2010 reboot of "A Nightmare on Elm Street," had been carrying Chiang's book around for years, but he was constantly rejected by producers until he mentioned it to Shawn Levy and Dan Levine at 21 Laps Entertainment.
While Chiang had done extensive research for his short story, Heisserer had to take creative liberties, specifically with the language of the heptapods. "I wound up creating my own version of the written language, the circular logo brand," he said, and when production designer Patrice Vermette tackled "the language at a deeper level, he built 100 distinct logo brands that served as a dictionary, a base, for the film to use."
Heisserer took one other creative liberty: In "Story of Your Life," humans talk to these aliens light years away using video-call technology. In "Arrival," the heptapods land on our planet. "I knew that the more they had a physical presence and a presence that could be misconstrued as intimidating," he said, "the better the movie worked as a piece of drama." –BV
Matt Ross, "Captain Fantastic"
When actor-writer-director Matt Ross began working on "Captain Fantastic," the story was inspired by his own thoughts about fatherhood–but he soon realized that he might actually be writing about bigger themes. "The thing I was most aware of consciously was wanting to ask questions about how we parent, why we make the decisions we do, and the effects those things have on our children," he said. "But if you extrapolate that concept, it's about the effect our decisions have on those around us."
And if you extrapolate further, he realized, that meant he was writing about how we educate our children, how we curate the pop culture that comes into their lives and how most Americans live in a virtual world of screens and mobile offices. And that realization meant something very specific when it came to casting the lead role of a father who raises his children off the grid, in the wilderness and away from the distractions of civilization.
"A lot of our great actors are British or Australian," he said, "but I wanted to cast an American actor. This is an American story grounded in our culture, so I wanted someone not just saying the words, but someone who knows and feels the culture."
The actor he cast, Viggo Mortensen, had spent time growing up in Denmark and Argentina, but he locked into Ross' story of a father who is so sure he's chosen the right path that he can't see how destructive some of his teachings can be to his children.
"The initial draft was quite different, because I was playing with a different type of father," said Ross. "And I realized he needed to be a little more extreme, to put the questions in sharper relief. I wanted it to be a transformational journey, a journey of maturation."
And at the end of that journey, "Captain Fantastic" finds a conclusion that feels quietly satisfying, hard-earned and not cheap. "I always envisioned a kind of quotidian moment," he said. "I thought that if it did work, it would be neither happy nor sad, but just true. After this grand adventure, I wanted to have silence and a moment to sit with these characters. I wanted to allow the audience to think about where they started from and where they went, and to decide for themselves whether it was happy or sad or both." –SP
Also Read: Viggo Mortensen Explains Why 'Captain Fantastic' Is 'Sure to Offend' (Video)
John Romano, "American Pastoral"
Philip Roth's novel "American Pastoral" starts in post-World War II New Jersey and comes to a head during the turmoil of the 1960s, but that doesn't place Ewan McGregor's movie at a remove from what's happening today.
"It speaks to where we are now — how could it not?" said screenwriter John Romano, who adapted Roth's book about a golden-boy high school athlete, nicknamed "the Swede," and his stormy relationship with a daughter who falls into the counterculture movement of the '60s. "It is a book by a genius who meditates deeply on the nature of American politics."
"American Pastoral," he said, does not deliver a verdict on who was right and who was wrong in that turbulent decade — instead, "Roth is speaking to the way ideology can blind you and commit you to patently stupid things. What Roth sees and speaks to, and what Donald Trump has exploited in an unforgivable way, is how people committed to causes can sometimes in their ardor bring tremendous destruction.
"Even if your heart is in the right place, it can lock you into a kind of purblind faithfulness to cast-iron ideas that damages the back-and-forth arguments by which we govern ourselves. "It becomes us against them, and that very dysfunctional dialogue has led to a moron with orange hair claiming the difference between us and speaking with no ideological consistency."
Also Read: 'American Pastoral' Toronto Review: Ewan McGregor Travels to Philip Roth Country, and Fits Right In
While Roth's book is not an obvious candidate for adaptation — it opens with more than 100 pages of musings that are largely absent from the film — Romano said he found a way through the novel without too much trouble.
"There's no magic about adapting," said the former literature professor whose other work includes the film "The Lincoln Lawyer" and episodes of "Hill Street Blues," "Party of Five" and "Hell on Wheels." "First, you accept the dark knowledge that you're going to leave out things that you love as a reader, which is an irredeemable element of tragedy with a writer like Philip Roth.
"And you know with the same certainty that movies are held to a much stricter narrative rule. Just the physical experience is different: You're not going to get up from that chair until you see a beginning, a middle and an end, which is not how you typically read a novel. So when you're adapting a book, you need a through-line, which is mostly an emotional one. In this case, the through-line is a father-daughter story with tremendous emotional force.
"And once I saw and committed to that, it was simply a matter of saying, 'What really feeds that story?'" –SP
Click here to read more of TheWrap Magazine's Oscars Issue.