"The Help" enjoyed a strong box-office debut over the weekend — but it also got what could be a big boost from a screening that didn't add a nickel to its $25.5 million gross.
The ensemble film, which was adapted from Kathryn Stockett's bestselling novel set in civil rights-era Mississippi, had its free screening for Academy members at AMPAS's Samuel Goldwyn Theater on Saturday afternoon. According to a member with no stake in the success of the film, it drew an audience that arrived early and filled the 1,000-seat theater to as much as 90 percent capacity, an extremely good showing for a 4 p.m. matinee.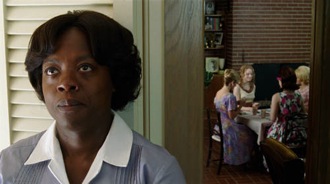 Another member said the theater probably wasn't 90 percent full, but that attendance was definitely larger than usual.
(By contrast, the Sunday afternoon screening of "The Whistleblower" filled no more than 25 percent of the theater.)
Members in attendance "absolutely loved" the film, according to one voter, with substantial applause and no walkouts during the near two-and-a-half hour running time. Another reported that applause was particularly heavy for actresses Viola Davis, Octavia Spencer and Jessica Chastain, but not for director Tate Taylor.
That second member thought the film would be divisive "the way all other white guilt films are" come awards time. But the member who estimated the crowd at 90 percent (and who loved the film) called it a "shoo-in" for a Best Picture nomination, based on the reaction at the Goldwyn.
It's worth noting, though, that an extremely positive Goldwyn screening is not always a guarantee of Oscar success: "Michael Jackson's This Is It," for one, had a famously successful Academy screening but didn't land any nominations.
Disney, meanwhile, now has to figure out how to position the film's large (and largely female) cast – particularly Davis, who could conceivably be campaigned as either Best Actress or Best Supporting Actress.
The ultimate decision rests with the Academy's actors branch, whose voters are instructed to slot performers into whichever category they see fit regardless of "for your consideration" ads.
But Disney can certainly nudge – and for the moment most signs point toward the company nudging Davis toward the Best Actress category, where she'll be competing against her castmate Emma Stone (who has a far smaller chance of a nomination). If they go for the alternative and push her as a Best Supporting Actress nominee, she'll be up against co-star Spencer and maybe a handful of others as well, including Chastain and Bryce Dallas Howard.