Even in a lineup filled with a number of tough, brutal documentaries on important issues, "The Act of Killing" stands out at this year's Toronto International Film Festival. An examination of the lingering aftermath of the little-known mass killings in Indonesia in 1965, it paints a raw, surreal, horrifying and transfixing picture of a society where the killers live with impunity – their crimes ignored by some and celebrated by others.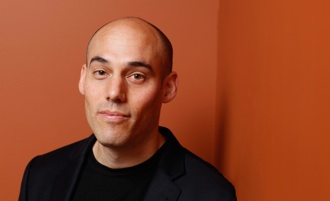 What makes Joshua Oppenheimer's film so disturbing is that when he began talking to those involved in the anti-Communist purge, they bragged about their murders and wanted to recreate them for the camera. So Oppenheimer (left) helped the men, former gangsters in Northern Sumatra, restage the killings in what they saw as a celebratory, Western-style movie, complete with bizarre musical numbers and graphic restagings of the violence.
"I have not seen a film as powerful, surreal and frightening in at least a decade," said director Werner Herzog of "The Act of Killing," which came to Toronto after debuting at Telluride. "It is unprecedented in the history of cinema."
Also read: Marion Cotillard Beautifies a Doc-Dominated Day in Telluride
The film, which is looking for distribution, has screened four times in Toronto and has a final screening on Sunday. It has left audiences shaken and appalled – and also drawn interested observers like the two men from the Indonesian embassy who approached Oppenheimer before a Monday morning screening.
"I was a wreck because of those embassy guys," Oppenheimer told TheWrap afterwards. "They came up to me and said, 'We're following this film very closely,' but they said it in a way like, 'We're following you very closely.'"
The film was directed by Oppenheimer and co-directed by Christine Cynn and Anonymous, with other unnamed collaborators throughout the credits. All of those, said Oppenheimer, still live in Indonesia, where he expects the movie to be banned and where it wouldn't be safe for the filmmakers once it is seen by the regime that has protected the killers for decades.
"There are human rights groups, film organizations, student groups all working together to bring out the film," he said. "I think we've created an allegory for impunity that is so extreme, yet so true, that it will force younger students, filmmakers, people who have the ability to make a difference in their country's attitude, to understand what is going on."
What is going on is a staggering system in which the torture, imprisonment and killing of up to 1 million people accused of communist ties or sympathies has been largely ignored for decades. The Indonesian army, which ordered the killings after a failed coup, outsourced much of the dirty work to different groups across the country – and in Northern Sumatra, the task fell to the so-called "movie theater gangsters," local thugs in Medan who were obsessed with American films and who ran a black-market movie-ticket business on the side.
Also read: Toronto Deals: 'Imogene' Sells to Lionsgate in Toronto
Oppenheimer said he learned about the story while trying to interview survivors, but most felt too threatened to speak out. One finally told him that the way to tell the story was to film the killers. "I said, 'How am I going to do that?'" he remembered. "One guy said, 'Oh, the guy who killed my aunt lives two doors down,' and another said, 'The guy who killed by dad is two doors in the other direction.'"
Oppenheimer only had to pretend to film villagers herding goats outside one killer's house when the elderly man came out, asked what he was doing and invited him in. While the perpetrator's eight-year-old granddaughter sat in a chair bored by a story she'd clearly heard plenty of times before, the man described — and then started to re-enact — how he'd drowned hundreds of members of the palm oil plantation worker's union, which was accused of being pro-communist. Subsequent meetings with other killers — including, finally, Anwar Congo, the head of the gang — found those men wanting to re-enact their murders as well.
"I was not getting memory, I was getting performance," said Oppenheimer. "I was not getting testimony, I was getting boasting." Suddenly, he knew that there was his movie: "The killers live among the victims are are still in power and still boasting about what they did. And they were trying to package everything they did as if it were heroic.
"So the questions became, how do they want to be seen? How do they see themselves? How do they think the world will see this? Those are questions of the imagination."
The imagination of the gangsters, he found, was formed by American movies – by Westerns, by gangster movies, even by Elvis musicals. "These guys drew from the movies," said Oppenheimer. "They got methods of killing from the movies, and they got a detachment from reality from the movies."
But while they loved American movies, they had no concept of documentaries – so when Oppenheimer filmed them reenacting the killings and torture sessions, they wanted it done like a proper gangster movie or action thriller. In Indonesia, though, performance is filtered through a surreal, extravagant sensibility – so after staging a strangulation or throat-cutting, they'd then do a lavish musical number representing the victims thanking their generous killers before going to heaven.
Also read: At Toronto Film Fest, Nick Cassavetes on Incest: 'Who Gives a Damn? Love Who You Want'
It makes for an unconventional documentary, particularly when the subjects look at the camera and address Oppenheimer as if he is their ally and collaborator. But the director doesn't apologize for going along with his subjects, or for breaking the impartial-observer rules of some docs.
"My general feeling about documentary is that it's a misnomer. Documentary is a genre that pretends to be documenting a pre-existing reality, but the moment I start filming with a camera, I create a movie atmosphere. So why go to such lengths to pretend this is a reality where I'm not there?"
Instead, he said, he wanted to use the film to "create the reality that is most insightful to the question we're trying to answer: How does this person want to be seen by others? I wanted to know how profoundly they mis-imagined themselves, and I wanted to show the colossal failure of imagination and morality that could lead to the celebration of mass murder as a social norm, and as an instrument of terror to threaten the survivors."
One of the most disturbing sequences in the film comes when the gangsters go on an Indonesian television show to talk about the movie they're making. The hostess, as chirpy as Mary Hart or Billy Bush, grins and prattles on about how her guests "found a new, more efficient system for exterminating communists. A system more humane, less sadistic and without excessive violence … but you also just wiped them out!"
"It was difficult for me, because I was hearing things that were very disturbing, but I had to be non-judgmental," said Oppenheimer, who worked on the film for seven years. At one point, he said, he and his production manager dropped off Congo after the gang leader had danced around the rooftop where he'd strangled hundreds, and then broke into tears in the car.
But Congo, in the end, turned out to be the most interesting of the subjects. Early in the film, he confides that he has nightmares about his victims. Later on, he finds re-enacting the killings very difficult – and after he muses that he now understands what the victims felt like after playing the subject in a torture/murder scene, Oppenheimer has to gently remind him that what the actual victims felt was far, far worse.
"By the end or the process, Anwar knew that he'd chosen to show us his brokenness, his deathliness," said Oppenheimer. "I think Anwar and his friends have escaped justice, but they haven't escaped punishment. By the end of the film they're almost shells of humanity."
Also read: Toronto Film Fest: Robert Redford, Will Smith, Soho House and Somali Pirates
Congo, in fact, has a wrenching scene late in the film where he finally seems to comprehend what he's done, retching and gagging and staggering around the roof where earlier he'd shown off the best way to strangle a man. "Anwar on the roof is not just a haunted man, I think he's kind of a spectral dead man," said Oppenheimer.
Congo has yet to see the film – he asked why he wasn't invited to Toronto, and Oppenheimer said he had to explain that the North American audience would not welcome the gangster or see him as a hero.
"I don't see you that way, either," Oppenheimer added, "and the movie doesn't see you that way."
He does plan to send Congo a DVD – but not until the film has been shown in Indonesia. "If he gets the DVD the whole paramilitary group gets the DVD," said Oppenheimer, "and they will then be able to campaign against the film before the human rights groups that are trying to bring out the film will be able to do it."
The trailer, he said, has already made an enormous stir in the country.
"It's been very painful to be at Toronto and at Telluride with this," said Oppenheimer, "because I see how disturbing this film is to people. And I'm also experiencing a lot of the pain that I felt over the seven years, concentrated into the aftermath of each screening. And that's really difficult, to be honest.
"But if you're making an film about genocide and you're not having that kind of effect, then what are you doing?"