How 'Pose' Fills Gaps in the TV Landscape: 'Representation Really Does Matter'
This story about "Pose" first appeared in the Comedy/Drama/Actors issue of TheWrap's Emmy Magazine.
For Steven Canals, who originated the idea for the FX series "Pose" while in a screenwriting class at UCLA more than a decade ago, the basic question has always been a simple one. "Every story that I've ever written has always been, 'Where are the gaps in the TV landscape?'" he said.
"And the reason why I felt that there was a value in telling this story is that historically we've not seen black and brown queer and transgender people on television."
Ryan Murphy agreed, and signed on to bring Canals' idea to the screen. To do so, he and Canals and executive producer Brad Falchuk helped assemble the largest group of queer and trans actors, writers and directors ever on a single Hollywood project.
Four of those actors spoke to TheWrap about the series, which is set in the underground ballroom culture during the late '80s, when African-American and Latino members of New York's gay community competed in vogue battles just as the AIDS crisis was ravaging its members.
Also Read: 'Pose' Co-Creator Steven Canals on the Need for Allies in Hollywood: 'I Pitched It 150 Times Before I Heard That One Yes'
Tony-winning theater actor Billy Porter "(Kinky Boots") plays Pray Tell, the acid-tongued emcee of underground balls whose personal life is shaken by his HIV diagnosis.
Do you feel a special responsibility in being part of this series?
Yes, I do. I came out in 1985, '86, right in the middle of the AIDS crisis. And as a black, gay, Christian man in America, I didn't have many people to look up to. Representation really does matter. It's intentional. What we're doing is intentional. What I am is intentional.
Was the theater the place you found a community?
Yeah, yeah. The arts in general. In Pittsburgh, theater was the creative field that I fell into. It was the space where I could figure out how to dream beyond my circumstances. Theater saved me.
Did your dreams extend beyond the stage?
They've always been really big, but with this show Ryan Murphy did teach me to dream the impossible. I had big dreams, but they were always springboarded off of something that I had already seen. I was always dreaming of me being able to fit into something that already existed. Now I know how to dream bigger than even that.
And the thing I love about "Pose" is the depth. You get to tell the real stories: "At what cost do we dance before you and entertain you? What life is lived behind that?" These are human beings. And that's what I've always dreamed in my life, to be seen as a whole person, not just compartmentalized for entertainment purposes.
You're the one main cast member who was around in the period when the show is set, the plague years.
I am the one who experienced it in real time. I think it's a real gift to have lived long enough to see this day, and to represent all of my friends who I miss so much, who need their story told. We need to be reminded of the whole generation we lost.
Also Read: 'Pose' Renewed for Season 3 at FX
Dominique Jackson can be both majestic and cruel as Elektra, the imposing and imperious leader of the House of Abundance. Growing up in Trinidad and Tobago in a family that would not accept her gender identity, Jackson suffered bullying and abuse until she moved to the United States and discovered her community.
In the final episode of Season 1, did you get as big a kick as the audience did out of Elektra finally getting to cut loose and assert herself again?
I'm happy that you enjoyed that. But for me, it is life. It is reality. A lot of my sisters actually go through these ups and downs in life. So it was entertaining for you guys, and that was amazing. But one of the most important things to know is that for some, it's entertaining, and for others, it's educational, and for others, it's an honor.
So this part carries a real responsibility for you.
There's always a responsibility. This is a part that honors, educates, entertains and empowers my community. To some people it's like, "Yeah, you're there." But to us, it's like, "We survived. We lived." And to be acknowledged in this way, where our story's being told on television, that is not just acknowledgment, it's empowerment.
Was it easy to trust that the producers of "Pose" would represent your community well?
Of course not. I'm a black trans woman. I don't give my trust to anyone. But it was quite easy, actually, to be able to say, "I trust you" when I saw that they were employing people that were of my community, people that have lived this life. It was not just a façade, it was about really understanding and caring about our story.
Also Read: LGBTQ Hollywood: 18 Stars Who've Come Out Since Last Year's Pride (Photos)
What did the ballroom culture mean to you in your own life?
It meant everything to me. If it was not for ballroom, I would probably have been one of those people that are ashamed of existing. I stand on the shoulders of each and every person who helped me, and that is why I am able to be a part of this.
Newark-born Mj Rodriguez set her sights on acting at the age of 11 in a New Jersey performing-arts high school, and won a 2011 Clive Barnes Award in an Off Broadway revival of "Rent." In "Pose," she plays Blanca Rodriguez-Evangelista, a trans woman who leaves the House of Abundance to form her own competing house.
When you first read for "Pose," did you have any sense of what the show would be like?
To be quite honest, I didn't. I just knew that it was going to speak about the African-American trans community — and with that being said, I knew it would be in the ballroom scene, because African-American women of color and people who are of the trans experience were mostly involved in the underground ball scene in New York City.
Were you wary of getting involved?
I wasn't wary, because I had my foot in the culture already. I just knew that there was a duty to be a part of it, because somebody had to tell it the right way.
What was the most challenging part of the experience for you?
I'm not an emotional creature when it comes to crying. I'm very emotional and mushy when it comes to hugging, touching. But crying and getting into that vulnerable space of letting people see that I'm hurt was hard. I've held that in for a long time.
And what was the most fun?
I just love walking the balls. I used to vogue, but to walk, you have to have that confidence. I thought I had confidence when I was young, but I walked once and got chopped severely and never did it again. It felt good to be accepted back into that world.
The nature of the role is that you don't just have to walk — you have to be good at it.
You have to be damn good at it. There's a confidence that has to be built up in the ballroom scene, so you can then have that confidence to walk out in the real world and not worry about what people on the corner would say. I feel like that's what ballroom does: It sets you up to be strong in the real world, where there are things that come at everyone every single day.
Also Read: Gay Hollywood: 41 Out and Proud LGBT Stars (Photos)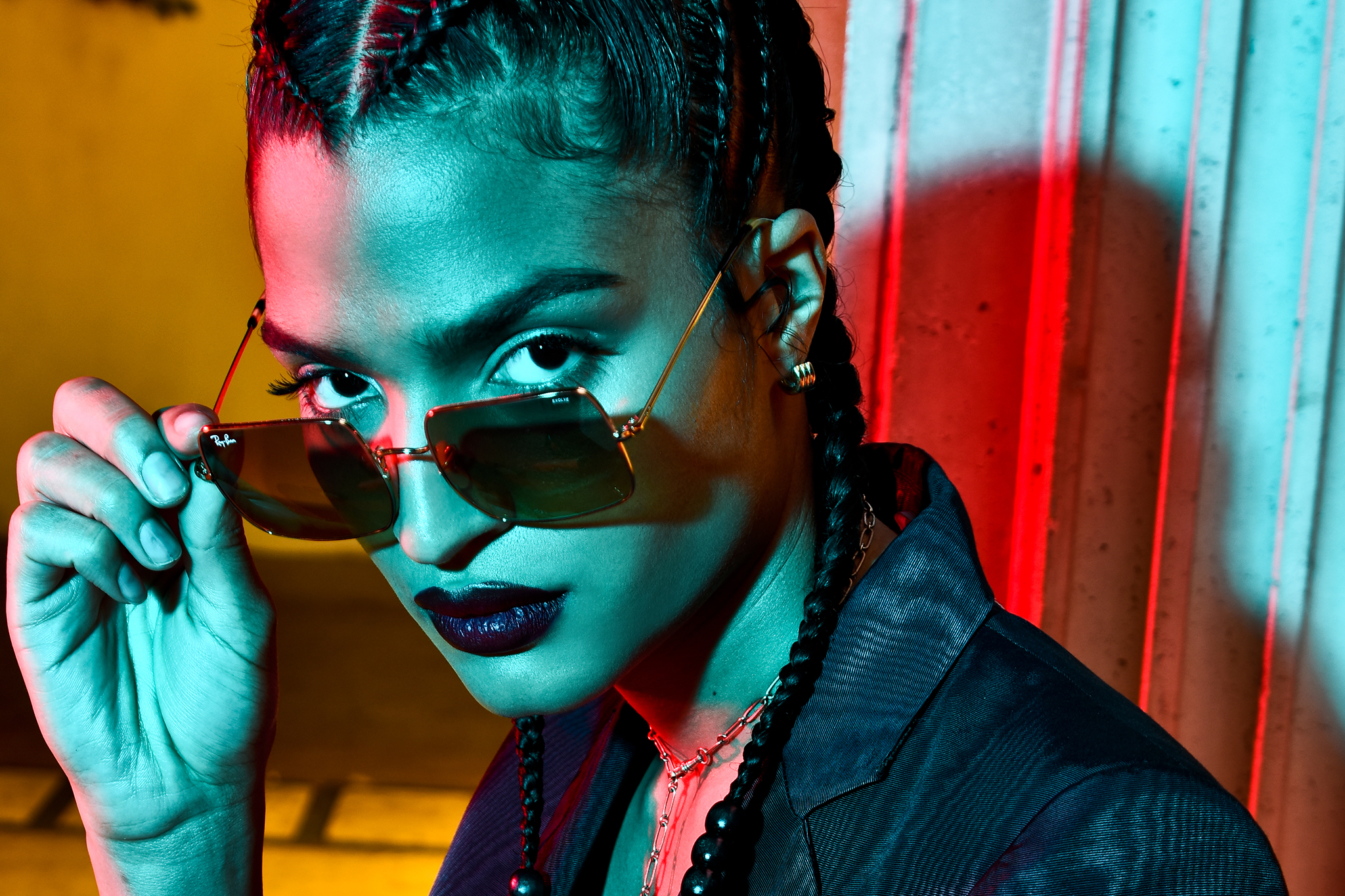 The Bronx-born actor and model Indya Moore, who identifies as non-binary, was included on the Time 100 list of 2019's most influential people. On "Pose," Moore plays Angel Evangelista, a transgender sex worker who becomes the mistress of Stan Bowes (Evan Peters), a young recruit in the Trump organization.
What did you know about "Pose" when you went in to audition?
We knew it was Ryan Murphy, and we knew that Evan Peters was going to be in it. I remember feeling really nervous, because I associate them with "American Horror Story." I knew they were casting queer and LBGT people, and I thought, "Oh, my God, they're going to kill us all!"
I wanted to audition for Blanca, but they also wanted me to do Angel. So I did, and they seemed very happy about it. Then I auditioned again in this bigger room with all these people who looked rich and important. Steven Canals was the only person who looked just like me, could have been my sibling.
And after I auditioned, Ryan stood up and said, "I have nothing" and then sat back down. I was like, "What does that mean? Should you have something? Was there something I should give you, Mr. Ryan Murphy?" But I left feeling good.
Also Read: 'When They See Us' Cast on the Nightmares of Ava DuVernay's Real-Life Drama
Why didn't you want to play Angel initially?
The character description of Blanca was a trans woman who didn't like the way her house was being run, and I connected with that so much. And I remember Angel's description was highlighted around her beauty, and I was like, "I don't want to be that girl. I don't feel that way about myself."
But my audition for Angel was a scene with Stan at the diner table, where she says, "Do you think of me as a real woman?" What Angel communicated was something that affirmed what I felt about my identity as a trans person, and how I wanted the world to see me and treat me and respect me.
It resonated with me because of what I went through and the battles that I faced. Angel talked in the scene about scavenging on the fringes of society, and that exchange affirmed my battles and everything I went through trying to get what I wanted for my existence, for my life in the world, for trans people.
To read more of the Comedy/Drama/Actors Issue of TheWrap's Emmy magazine, click here.