At long last, author Isaac Asimov's iconic sci-fi book series is coming to the screen with the premiere of "Foundation." The large-scale science-fiction show draws from Asimov's book series, which was first published as a series of short stories in the 1940s before being collected in the 1951 novel "Foundation," which eventually grew to add multiple sequels and prequels.
The TV series, which hails from creators David S. Goyer and Josh Friedman, promises to chronicle the 1,000-year saga of The Foundation, a band of people exiled from the Galactic Empire who set about to shore up the galaxy's collected knowledge and protect against its destruction.
Jared Harris stars in the TV show as Hari Seldon, a mathematics professor whose prediction of the Empire's downfall puts him in danger. Lee Pace, meanwhile, plays Brother Day, a clone of the galaxy's first Emperor who protects his own sacred bloodline above all else.
Now that Hollywood's adaptation has arrived, but you may be wondering how to watch the "Foundation" TV series — where it's streaming, how many episodes it will entail, and how those episodes will roll out.
"Foundation" is an Apple TV+ original series, and thus will be streaming exclusively on Apple TV+ starting September 24 with the premiere of the first two episodes. It is not streaming anywhere else, so the only way to watch "Foundation" is by subscribing to Apple TV+. The first season consists of 10 episodes in total, and new episodes will be released weekly one at a time following the two-episode debut on September 24.
Goyer — who serves as the series' showrunner — revealed previously that he hopes to tell the entirety of Asimov's story in a total of eight seasons with 80 episodes in all. Apple hasn't yet confirmed additional seasons of "Foundation," but should this debut season prove successful it's clear Goyer has plenty of ideas on how to continue telling this story.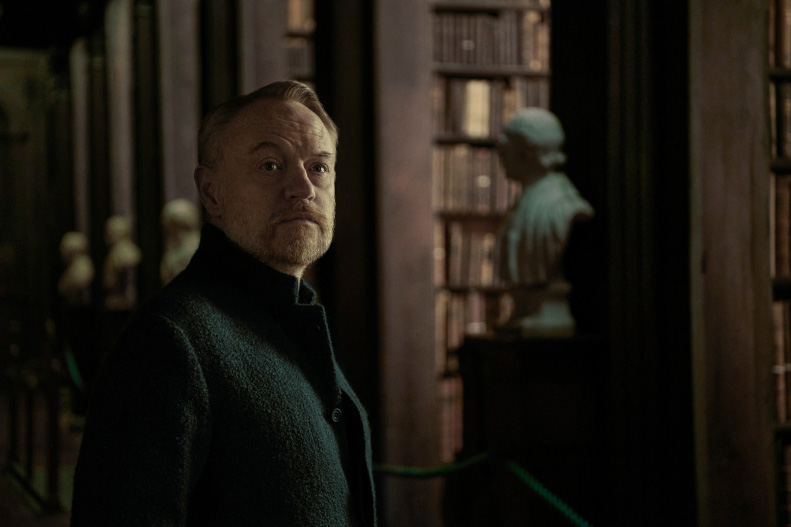 "Foundation" is one of Apple TV+'s largest-scale series so far. The streamer found Emmys success last weekend with comedy "Ted Lasso," and while it serves as the home for other sci-fi-tinged shows like the Jason Momoa-fronted "See" (now in its second season) and "For All Mankind" (renewed for a third season), "Foundation" has the scale and scope of something more in the vein of HBO's "Game of Thrones."
Hollywood has been trying to adapt "Foundation" for years. In 1998, New Line Cinema planned a trilogy film adaptation, and when that failed to materialize Columbia Pictures unsuccessfully developed its own adaptation. In 2014, "Westworld" co-creator Jonathan Nolan signed on to write and produce a TV series version for HBO, but that iteration stalled out. Soon after, Skydance Television secured the rights, teamed up with Apple, and now an epic adaptation of "Foundation" has finally come to fruition.